Charleston, Myrtle Beach, Columbia, Greenville…what do all these cities have in common? They're all better than anywhere in North Carolina! Ahh, we're just kidding. But in all seriousness, if you're from any of these cities or anywhere else in SC, chances are you're here looking for a list of the best South Carolina dating sites.
And guess what? That is exactly what we have for you here. Our team has compiled (and regularly updates) a list of the best dating sites in South Carolina for singles of all ages. Additionally, we've included some dating tips, resources for singles, data on the single population in the state, and some links to free trials at the top dating apps.
The Top 5 Dating Sites in South Carolina
---
Dating In South Carolina – What You'll Find in This Guide
An updated list of the top dating sites in SC (above)
Demographical breakdown of the singles community within South Carolina
What cities and metropolitan areas online dating is most popular in within the state
Tips for singles in South Carolina to find love, relationships, casual dating, or marriage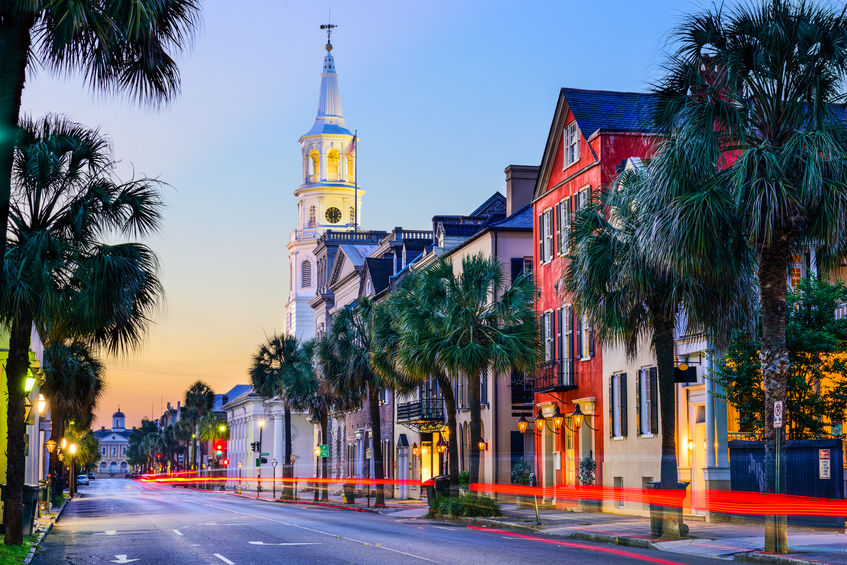 ---
Demographics of the SC Singles Community
More women than men? Over half the women in South Carolina are unmarried? Yes, and yes! Learning as much as you can about the singles community in your state can really help you get a good view of what you're walking into. Below, our research team breaks down a ton of really cool facts and figures about South Carolina singles.
Total Population
Population in South Carolina by Gender
There are 142,355 more women in South Carolina than men.
51.4% female
48.6% male
Overall Singles by Gender
53% of women in South Carolina are single (Unmarried)
49% of men in South Carolina are single (Unmarried)
Population in South Carolina by Age
Median age = 39.7 years old (1.5 years older than the national average)
13.2% aged from 20-29 years old
12.4% aged from 30-39 years old
12.3% aged from 40-49 years old
13.3% aged from 50-59 years old
24.1% aged 60+ years old
% Households With Internet in SC
75.3% of households in South Carolina with internet access
Source(s): Census.gov
---
SC Cities With the Most Interest in Dating Online
If you're from Charleston, Myrtle Beach, or Columbia—you're going to like what we're about to share. Our team took a look at internet search trends within the state over the past year. Why? We wanted to see which areas had the most interest in online dating. In other words, what parts of South Carolina were hotspots for singles looking to let technology help them find love.
And as you might already have figured out, Charleston, Myrtle Beach, and Columbia took the top three spots. Does this mean if you live anywhere else in the Palmetto State you're out of luck? Not at all. The only purpose of this study was to find the overachievers and the hot spots. Here's the full results.
Charleston SC – (100)
Florence-Myrtle Beach SC – (68)
Columbia SC – (60)
Greenville-Spartanburg SC-Asheville NC-Anderson SC – (52)
Augusta GA – (29)
Savannah GA – (10)
Charlotte NC – (8)
---
Tips for Singles in South Carolina
Know what you want. – South Carolina is packed full of a diverse group of singles. You have beach lovers, city-slickers, young, old, college students, blue-collar folk…you've literally got it all. So, what this means is that you need to take a minute and determine what type of singles you're looking for. Whether you're dating at a bar or using the best South Carolina dating sites we've recommended, this information will help you have better success.
Be proactive but patient with the process. – While the fishing analogy for dating is a good one, it's not a perfect analogy. In fishing, you often drop your line in and then just sit and wait. While that could work with online dating in South Carolina, it's not the best course of action. Instead, you need to be proactive by filling out your profile completely, sending messages, sending flirts, and responding to interested singles. On top of that, be patient. Rome wasn't built in a day, and it might take a few for you to find love. Be okay with that, and you'll have a great experience!
Take advantage of South Carolina Dating Sites. – Yes, we are partial to using South Carolina dating sites to find love. But that's not just because that's our preference! We have seen first-hand the benefits that these pieces of technology can bring to the table. If you're serious about turbocharging your quest for love or to find someone to spend time with, online dating apps are the logical next step!
---
Free Trial Accounts for Online Dating