Columbus is a city both lush with green parks and brimmed with exciting things to do. Though there are a lot of historical and trade details that resulted in Columbus being the capital of Ohio, we like to think it is because the city is so representative of every single detail that makes Ohio great. The diverse people, gorgeous scenery, modern career opportunities, and general economic growth and stability that rivals other large US cities… Columbus really has it all.
So, the city may not be looking to add another bragging right to its belt, but we have one anyway. They are a great city for singles to date and find love! With the help of high-quality dating apps, locals can easily find matches to help them experience the romantic side of the city. If you want to see our choices for the best dating apps in Columbus, or see some great tips for your night out, just keep reading.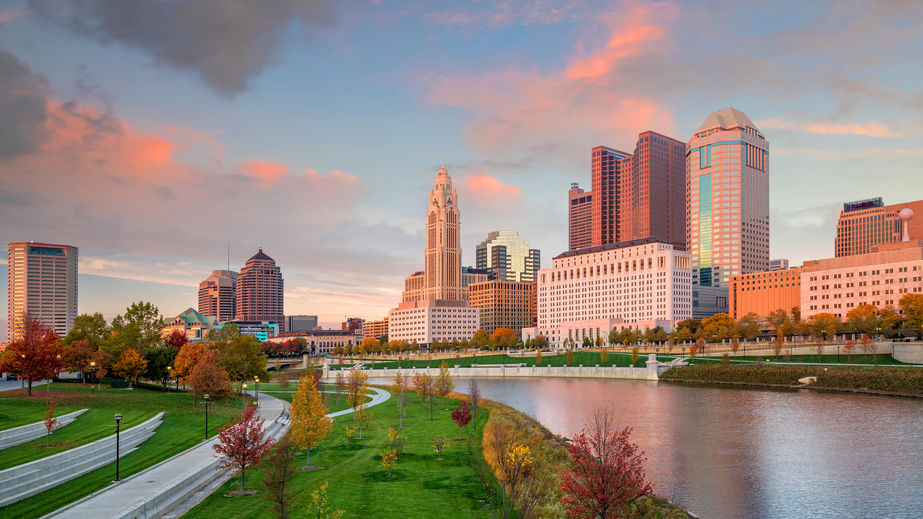 The 5 Best Dating Apps in Columbus
---
Key Takeaways about Dating in Columbus, Ohio
Tons of places for indoor and outdoors dates
Over 60% of men and women in Columbus are single
Super low cost of dating (compared to other big cities)
---
How Columbus Stacked Up In Our Best Cities For Singles Research Study
We wanted to help singles across the US learn about dating in their area. That's why we took the 100 most populous cities in the US and compared them across three areas – dating pool, amenities/ safety, and dating cost. After finishing our study, the 14th biggest city in the US turned out to be the 7th best city for singles.
Not only does Columbus have a huge pool of eligible singles, the city also scored well regarding the overall cost of dates. You'd like to see all the details on how Columbus compared to the other cities, just follow this link to our full article.
---
The Perk of Online Dating in Columbus
Online dating is a great option in Columbus because of the low median age of the state's citizens (and singles). Everyone is so tech savvy, that you are far more likely to find a great date online than in person. You can narrow your search down to exactly who you are looking for and you already know any matches are looking for someone too.
It saves you so much embarrassment and heartache compared to shooting your shot with strangers at the club.
If you're considering online dating, check out our list of apps above!
---
The Best, Cheap, Date Night Ideas for Columbus Singles
Take a Brewery Tour
The breweries and distilleries in Columbus are not only filled with some of the best tasting beverages in the state, but they also offer free tours on various days of the week! Add those two things together, and now you've got yourself a cheap and thirst-quenching date idea.
Swim in a Sea of Books
Okay, not literally. But if you head over to The Book Loft in the German Village you can wander among their 32 rooms of books, stacked ceiling high. You don't have to pay a thing to check out this bibliofile wonderland, and you might find a treasure to take home for under $20.
Enjoy the Parks
There are over 15,000 acres of parkland in Columbus, and at any given time they may be hosting Shakespeare in the park, outdoor movies, or any other number of entertainment events. Check local calendars for fun events you can attend, or just enjoy the beauty of Ohio's nature landscape.
Have a Starlit Night of Romance
The John Glenn Astronomy Park might be one of the most unique places to hold a date in all of Ohio. Now, we know the park is a little bit of a drive from Columbus (~40 miles), but the park is open every single day of the year and costs nothing to enter. So, your only cost could be the cost of gas. Take a drive through the astronomy park and let the beauty of the bright stars take your evening to a new level.
Have Fun While Giving Back
Do you love animals? Do you want to have a great time while helping out some furry friends? Take your date to a local shelter and volunteer to walk the dogs or play with the cats. You can bond over some cute critters, and the animals will have better chances of being adopted thanks to the extra socialization!
Bowl, Skate, Putt, and More
There are so many fantastic gaming establishments in Columbus. You can choose to go bowling, play some miniature golf, take your date on in foosball, or even show off your arcade prowess at 16-Bit Bar + Arcade.
---
Online Dating in Columbus FAQs
Are These Dating Apps Safe?
Yes! The apps on our list have some of the best security and moderation out there. While it is the users responsibility to behave safely when interacting with others, the mods work hard to try and keep scammers and miscreants out of the singles pool. Here are some tips to remember:
Never share your personal or financial information with your matches.
Report anyone who is behaving inappropriately to the mods.
Set up your first real-world date in a public place and let a friend know where you are going.
Why Are These The Top Dating Apps?
We chose these apps because they have huge user pools, the best moderation and security, top-quality search features, and intuitive platforms.
Is Online Dating Expensive?
The price for dating apps varies widely, but many of them offer free trials/ limited functionality memberships. The prices for the apps typically range from a few dollars a month to around $30 a month. Some people might find that expensive, but when you compare it to the cost of going out every weekend looking for dates, it really is only a drop in the bucket.
---
Written By: Brandi Brown
Brandi Brown is a daytime copywriter and nighttime novelist. Her projects range from marketing content and commercial scripts all the way to narrative poetry and short fiction. Her debut novel, Bleached, is set to release in 2021.
✉ Contact Brandi: [email protected]