Dating in North Carolina can be tough, but the fact you're here with us today probably means you already know that! But never fear, we're not here with just doom and gloom today; we've come with some hope. Thanks to the best dating sites in North Carolina, finding love, friends, marriage, or casual dating is easier than ever!
In this guide, our team breaks down several key resources for people looking to connect with North Carolina Singles. We'll talk the best dating apps in NC, data on the singles scene, and link you to some additional resources that can help to turbocharge your search for love in the Tar Heel state.
The Best Dating Sites in North Carolina
---
Why We Like These Dating Apps
An impressive number of quality North Carolina singles from all around the state
The ability to send messages and respond to matches on the go from mobile
Affordably priced membership plans in case you decide to upgrade
Helpful free trials to let you determine which NC dating apps are right for your needs
Fun, safe, and inviting environment to meet other NC singles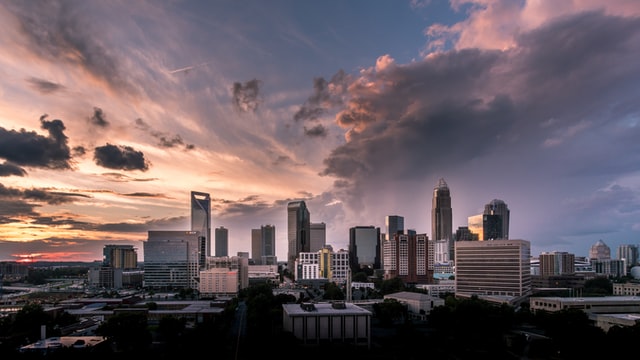 5 Cities in NC Make the List of Best Cities for Singles
It's impressive when one city in your state makes the list of the best cities for singles in a recent data study. But five? That's beyond impressive. We almost need two hands to count them all! Here are the five cities that made the list and where they finished in the overall rankings. Feel free to click the above link to get more in-depth details about the results.
10th – Raleigh
25th – Greensboro
34th – Winston-Salem
38th – Charlotte
65th – Durham
Where is Online Dating Most Popular in North Carolina?
What a fun question, right? Ever wonder which cities in your state have the most interest in online dating? Heck, if it's a city you live in or close by, that could mean an ever better shot at meeting that special lady or fella' online.
The answer to the question lies in Google search traffic volumes. By looking at the major metro areas where online dating topics are searched the most, we can see which areas have the most interest.
The top 3 winners taking home a podium finish are Wilmington, Raleigh-Durham, and Greensboro-High Point-Winston Salem!
Here's the full breakdown of the results:
Wilmington NC – (100)
Greensboro-High Point-Winston Salem NC – (71)
Raleigh-Durham (Fayetteville) – (NC 68)
Greenville-New Bern-Washington – (NC 52)
Charlotte NC – (52)
Florence-Myrtle Beach – (SC 9)
Greenville-Spartanburg SC-Asheville NC-Anderson SC – (8)
Norfolk-Portsmouth-Newport News VA – (2)
Why are their South Carolina cities on the list? Remember, the data is pulled by major metropolitan areas. Sometimes, parts of one city are connected in with a major metro that is technically in another state. We just wanted to point that out for full clarity.
North Carolina Singles Dating Statistics
Total Population
Population in North Carolina by Gender
51% women in North Carolina
49% men in North Carolina
Overall Singles by Gender
71% of women in North Carolina are single
65% of men in North Carolina are single
Population in North Carolina by Age
14% aged from 20-29 years old
13% aged from 30-39 years old
13% aged from 40-49 years old
13% aged from 50-59 years old
16% aged 60+ years old
% Households With Internet in NC
78.3% of households in North Carolina have internet access
Source(s): Census.gov
Dating On the Go – North Carolina Dating Apps
We mentioned that one of the reasons we're such raving fans of these North Carolina dating apps is the ability to date on the go. We wanted to take a quick minute and dig into what that means a bit more. No, we don't mean having to roll your desktop computer around on a trailer behind your car. We're talking about the ability to respond to messages, search through matches, send flirts, and set up dates from your mobile phone!
Does this mean you have to download an app? Not necessarily. Some of these NC dating sites have apps, and some work directly from your browser. With the browser option, there's no downloads and everything automatically resizes to fit your screen! It makes finding love on the go incredibly easy, and it's one of the main reasons we chose these dating app options.
Getting Started With Free Dating Sites in North Carolina
Want to take things out for a test drive before you commit? We totally get that! And thankfully, the best North Carolina dating sites get it too. Each of the options we've recommended comes with some form of a free trial, some more robust and some more limited than others. For most of them, you'll be able to set up your profile, upload pictures, and really get a feel for how it all works. Some may even let you start searching singles and possibly even respond to messages!
To get started, head back to the top of this guide and select one (or more) of the options you want to try. It'll take just a few minutes to get set up and check things out for yourself!