Which is harder – spelling Albuquerque correctly on your first try, or finding the perfect romantic partner in Albuquerque on your first try? It's a trick question, they are equally difficult. However, it is much easier to get good at spelling than it is to get good at dating. Especially if you feel like you've run out of reputable singles in your local dating pool.
That's why we find that dating apps are so helpful for Albuquerque singles. However, not every dating site is created equal. If you are looking for love in New Mexico, we have the best dating apps for you.
The 5 Best Dating Apps in Albuquerque
---
Key Takeaways about Dating in Albuquerque, New Mexico
Dating is really inexpensive, overall
The number of date night locations are severely limited
Rideshare services are more fairly priced than some other cities
It can be hard to meet new singles without the help of dating apps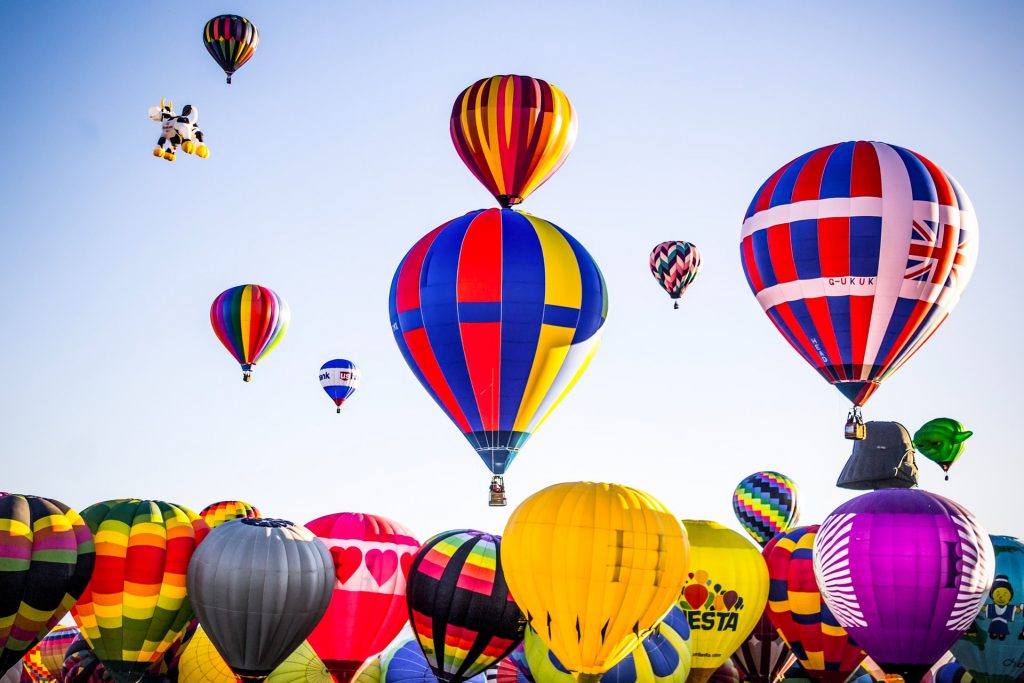 How Albuquerque Stacked Up In Our Best Cities For Singles Research Study
Dating in Albuquerque is peculiar. It is affordable to go out and there are plenty of high quality singles around, but the area still has a few pitfalls that make dating pretty difficult. That's probably why the city is only ranked #37 on our list of the 100 best cities for US singles.
Our study compares the 100 most populated cities in the US on the grounds of dating amenities, dating cost, number of singles, and more. Want to see more info on how your city did? Check out our full study, here.
Albuquerque Date Night Ideas
While we wanted to include a hot air balloon ride (after all, we're talking about the best Albuquerque date ideas), we decided to take another route. The following are three non-balloon-related activities, but one will still take you 10,000 feet in the air.
Brunch in Paris in Albuquerque
No, we're not asking you to board a ten-hour flight or drain your bank account, especially for a first date! But you can impress that special someone with a trip to Paris, courtesy of Electric Playhouse.
You might know it for its interactive games and immersive dining experiences. Now, Electric Playhouse adds to the one-of-a-kind events ideal for Albuquerque date ideas by introducing a new brunch dining experience starting in 2021.
Brunch in Paris will provide you both with a 360-degree Parisian experience, complete with a four-course meal. If brunch doesn't fit into your schedule, though, you can still keep Electric Playhouse on the list for other immersive dinners or its "meal and a match" sporting events.
Participate in Foul Play
Grab your Sherlock hat, magnifying glass, and appetite for a date night at Foul Play Café at the Sheraton Albuquerque Downtown.
For $52.99 per ticket, you'll enjoy a full meal (beef, chicken, or vegetarian), including soup, salad, and dessert.
The highlight of the evening is the interactive murder mystery, though. Every show is different with part storyline and part improv, encouraging you to work with the actors and audience members to solve the mystery.
When you're first getting to know each other, a date with some built-in conversation starters is always helpful. Besides, who doesn't love a good mystery?
Tram Ride and Dinner at Sandia Peak
You don't need a balloon ride to provide you with some picturesque scenes of your hometown.
The Sandia Peak Aerial Tramway takes you 10,000 feet up to the crest with an 11,000 square mile panoramic view. It might seem a little touristy, but you live in a beautiful setting and probably don't take advantage of it as much as you should, right?
Online advance purchase tickets are $25 roundtrip. You could throw in some hiking if you want to spend more time outdoors or dine with the view at Sandia Peak's Ten 3, serving both casual and fine dining options.
Where to Meet Singles in Albuquerque
It might surprise you to learn this, but Albuquerque has a large number of places, events, and businesses aimed at helping singles find love. So, we thought we'd list the options you have and give you a breakdown on their pros and cons.
1. Online Dating Apps
Dating apps are the best way to meet singles in Albuquerque. That's because they put all the power back into your hands, so long as you use them properly. Let's look at the pros and cons of dating apps.
Pros:
You won't waste time on singles with no compatibility
You can meet the love of your life from the comfort of your couch
The cost of a dating app membership is cheaper than going to the bar or club every weekend
The apps on our list have great results when it comes to happy relationships and marriages
Cons:
You need a PC or mobile phone to use
You need to choose an app that is best for your age-group and relationship goals
2. Speed Dating
Speed dating is a little bit old-school, but does have the distinct perk of making dating feel like a game. Albuquerque has a surprising number of speed dating opportunities, but before you grab a number and get in line, let's look at some pros and cons.
Pros:
You'll likely meet other singles who enjoy extroverted activities
It is a way to making dating a group activity for you and friends
Tends to be moderately inexpensive
Cons:
Very small pool of singles to choose from
Don't statistically result in lasting romances
No accounting for personality compatibility
3. Singles Bars
There are plenty of singles bars around Albuquerque, so you won't need to look far for a place to drink and meet singles. Of course, bars are pretty low on our list because their cons tend to really outweigh their pros.
Pros:
You can still enjoy your night out if you don't meet anyone
You can bring your single friends along and make an evening of it
Cons:
You are more likely to meet some real weirdos
It is one of the least successful ways to meet compatible singles
It isn't a good option for those who don't or can't drink
It can be expensive
Must be 21 to enter
4. Clubs
Clubs are pretty similar in pros and cons to bars, but they do have a few key differences. If you like to dance, you definitely want to check these out!
Pros:
There is a lot of fun to be had whether you drink or not
Clubs can mix a night out with friends with a night of finding romance
Cons:
You are not meeting people based on their personality or level of compatibility
It is more dangerous to go home with people from a club or bar
It can cost a lot to gain access to a club, let alone purchase drinks
They tend to only be open certain days and times
Are sometimes open to minors, which is a recipe for disaster
5. Singles Meetup Events
Technically, speed dating is a single's event. However, organizations and community centers tend to host dating events throughout the year. These types of gatherings are especially popular on Valentine's Day.
Pros:
Depending on the event, these can be a really safe way to meet singles
You can find events through companies, clubs, and places with which you are familiar
You can meet people you might not otherwise
Cons:
These events can be far and few between
You usually have to sign up pretty early to get in
You might end up meeting the same few people over and over
FAQ About Dating in Albuquerque
Is it Expensive to Date in Albuquerque?
No! It is shockingly affordable to date in Albuquerque.
Are Online Dating Apps Worth My Time?
Absolutely. Dating apps let you find matches based on true compatibility instead of who happens to be at the bar the same day as you.
Which Dating App Should I Choose?
Choosing the right dating app takes a little trial and error. You can get more information on each app and who they cater to right here on our site. You can also try out the free trials at each of the sites on our list.