People who have never lived in Minnesota (or a neighboring state) just don't understand how amazing it is to have someone special to cuddle up with when it's negative a billion degrees outside and there's six feet of snow everywhere. Unfortunately, the dating scene in the state has a lot of things that make finding that match way harder than it should be.
This is the main reason we wrote this guide—to introduce you to the technology that can help you find love (or at least someone temporary to keep you warm) in Minnesota. The best Minnesota dating apps help to bridge the gaps and correct the issues that make dating in the state so hard.
Let's all put down our snow shovels, grab a coffee or a mini-soda (get it?) and begin this journey together. Our team is going to showcase the top dating apps in Minnesota, talk to you about what the dating scene in the state is really like, and fill you full of data that will help you to know how to get the results you're looking for.
1. Zoosk Leads as Top Dating App for Minnesota Singles

When we start talking about the dating scene in Minnesota, we're going to touch on something that you may very well be aware of already. Singles in the state are polarized when it comes to their relationship goals. In other words, they're either heavily looking to settle down, get married, and pop out some kids, or they're looking to have some casual, non-committal fun and take things at their own pace.
If Minnesota singles are so wildly different in their goals, how do you pick a dating app that is best for both worlds? Thankfully, Zoosk exists. Normally, we're pretty hard on dating apps that try and "do too much" and be "everything to everyone." Zoosk, however, masterfully offers a great service to singles looking for love and singles looking for Mr. or Ms. right now—all at the same time. In fairness, we do think they're better on the less-commitment side of the aisle, but there are success stories from people looking for long term.
And with over 30 million members (no, not all in Minnesota, but a ton are) and clear filters and options for wildly different relationship goals—Zoosk is easily the best Minnesota dating app, even if we don't know what they name means.
2. eHarmony – Best for Marriages in Minnesota
When we talk about the dating scene in Minnesota, you'll see that over 50% of the population is already married, which signals to us a state where things like commitment and real relationships are important. As the "site most likely to lead to happy relationships", eHarmony looks to be the perfect fit for Minnesota. And with over 2.3 million messages sent weekly, it's clearly an active userbase.
What's also neat about eHarmony is that you can search for singles in the neighboring states easily or even up into Canada and Winnipeg if you're interested in love across the border. Premium memberships at eHarmony start around $40 per month, and you are going to need to upgrade in order to make any real connections. Additionally, you'll be able to see other users in your area with a free account, but their pictures will be blurred until you upgrade and you won't be able to communicate. These aren't necessarily bad things; they're just things to be aware of to set the right expectations.
Here's our true take on this. All in all, eHarmony is the prime choice for Minnesota singles who want something more out of their love life. It may cost a few bucks more than other app options, but the value you receive and the potential results from the elevated dating pool are worth every cent.
3. Higher Bond – Best Minnesota Christian Dating App

Higher Bond is a dating app launched in 2022 (very new) that caters to the more serious side of Christian dating. Currently, many of the Christian dating apps on the market like the newer Upward or the long established Christian Mingle err more on the side of casual. Higher Bond, on the other hand, takes aim at helping Christian singles who value their faith as extremely important to them and their relationships.
And in Minnesota, over 74% of the population is Christian and 46% of adults in the state say that religion is very important (28% say somewhat important). So you can see why an option like Higher Bond would be a pretty adequate fit for a large sect of the population.
One thing to be aware of is that we mentioned Higher Bond is pretty brand new. While this is exciting, it can also mean occasional software bugs and a smaller membership size. The good news, though, is that Higher Bond is currently offering their service for free as a result of this, so you don't have a whole lot to lose and can probably deal with any small glitches that come with a new app.
If your faith matters to you in a mate, check out Higher Bond.
4. Catholic Match – Top Pick for Catholic Singles in Minnesota

Behind Protestant, Catholic is the largest faith group in the state of Minnesota. Catholic Match is a dating app designed specifically for this group of singles in the state. As the largest Catholic dating app in the world, there's a lot to like. First, the site uses a proprietary matching algorithm (called Match Portrait) to help make better connections. Second, Catholic Match has a robust library of articles and training courses to help you date better as a Catholic Single.
What is a little odd is that while most of the courses in the app are completely free, there are a few random ones that are for sale. We think that maybe this was something they tried years ago and just never removed from the platform, but hard to say. Regardless, most of the supportive teaching material on Catholic Match is free to use.
And most important of all, Catholic Match has a track record of success that has even gotten the app noticed and endorsed by Catholic leaders making it a stellar fit for Catholic Singles in Minnesota.
5. OKCupid – Best Minnesota Dating App for Progressive Singles
When it comes to politics, ideals, and beliefs—Minnesota is a pretty polarized state. The bigger cities tend to be more on the side of change and moving away from the traditional status quo, where the outskirts and smaller towns tend to be a bit more on the conservative side. What on Earth does this have to do with dating? Well, we wanted to include a Minnesota dating app that caters to those more on the progressive side of things.
OKCupid has been around since 2004 and has always strived to be on the forefront of diversity and inclusion within the dating world. For example, in 2013 the company announced that it was the first to include 22 different gender options and 13 different orientation options. Stats wise, the company claims there were over 91 million connections made last year between singles, though, we don't really know what classifies as a connection.
OKCupid is definitely not going to be a great fit for everyone, but for a lot of the singles within the bigger cities of Minnesota—it probably will be.
Additional Resources for Singles in Minnesota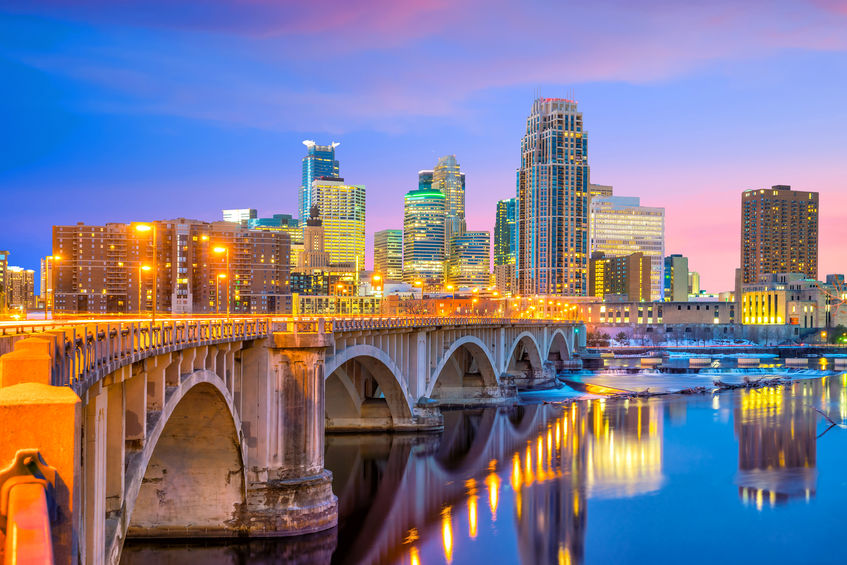 3 Reasons We Like These Minnesota Dating Apps
I think it's just so important to share the reasons our team chose certain apps and not others. Without that transparency, rankings and recommendations are about as worthless as they come. This is why I've included four of the main factors that went into this list. It's certainly not all of them, but a big piece of the process.
1. Casual and serious options to match a polarized population.
As mentioned, many of you may be here for wildly different relationship goals. Maybe you want something serious, or maybe you just want to get out there and get your feet wet? Regardless, we included dating app options that are masters of each end of the spectrum as well as one (Zoosk) that caters will to both.
2. An intense focus on user security.
There's no sense in wasting a minute of your time with a dating app that's not safe. Period. Hard stop. The dating apps and sites we've recommended here take this aspect of their businesses seriously. This means reinvesting a large chunk of their resources in technology and processes to keep you safe. This is also one of the main reasons you won't find any 100% free Minnesota dating apps listed because they just don't have the resources to be as proactive as we'd like to see them.
3. Track records of success with matchmaking.
We could have retitled this as "is the dating app any good at what it claims to be good at?" It's so easy for apps to talk the talk, but we really want to see quantifiable results. For example, eHarmony has helped over 2 million people find love. Amazing. Zoosk has over 3 million messages sent daily. Also amazing. These are the sort of track record data details we feel should (and do) carry a lot of weight.
What is Dating in Minnesota Like?
The "happening Minnesota dating scene" is a phrase you probably don't hear that often. And while we know a lot of people like to hate on the quality of things here—it's really not that bad. People are meeting, connecting, and finding love. It just might not be as flashy or prominent of a scene as you might see in other states.
This begs the follow up question—what is the dating scene in Minnesota really like? Well, here's what we've seen.
Transplants dating may be slow to integrate. – Minnesota natives tend to be a "keep to ourselves" type of people. That means that people from out of state moving here may have to work a little harder to build friend groups and find romantic connections.
Cuffing season is real here. – If you aren't familiar with the term, it refers to people wanting to get together throughout winter and the holidays mainly driven by the weather and a fear of holiday loneliness. Guess what? This is huge in Minnesota, as it usually is in states where the winters are quite frigid.
The "winter coating" trend is also a real thing in Minnesota. – Along with cuffing season comes another trend that is one singles need to be on the lookout for—winter coating. This term refers to people reaching out to their exes during cuffing season. Two takeaways from this. One—if you're getting the urge to reach out to someone you aren't with anymore and it's purely for seasonal reasons, resist the urge. Two—be on the lookout for your exes reaching out to you during this time of the year. Chances are they're not looking for something longer term than winter even if they say so.
The clichés that everyone is too nice affects the dating scene. – I have to agree with the clichés that most people (not everyone) in Minnesota is super nice. Unfortunately, this has a bit of a negative effect on the dating scene. People here tend to be a little more hesitant to speak their mind or share their true feelings. Be on the lookout for sugar coating or people doing things just to avoid conflict.
Politics are in play in the cities and the suburbs. – While Minnesota is known for being a fairly liberal state, that doesn't ring true for the suburbs and more rural areas. What this has to do with dating is that many people in the state do seem to care more about their stances on issues when it comes to choosing a partner. While we think you can totally date someone from a different political party, not everyone in Minnesota agrees with us.
You'll meet a lot of single lifers. – "Yea, I'm going to move somewhere without snow or winter." How many times have you heard this from someone who just never seems to pick up and leave Minnesota? These "lifers" tend to be the majority and not the minority in the state—and that's okay. We share this in case you're someone who wants to try living somewhere else so that you're aware to check if the person you're interested in is really interested in ever leaving the state.
People's relationship goals are quite polarized. – We touched on it but just adding here for completeness. Singles in Minnesota seem to be pretty dead set on what they want out of a relationship. It's either hardcore looking for love or leave me alone casual. We respect anytime someone knows what they want. Just don't try and start a relationship with someone with a different goal and don't use a Minnesota dating app that doesn't match what you're looking for. If you're looking for you husband on Tinder or a quick connection on eHarmony, you're going to have a bad time.
Minnesota Singles Dating Statistics
Want to know a little more about the Minnesota singles population and community before you get started? We don't blame you! Whether you're brand new to the state or you've been here your whole life, learning about who is out there can really help you get a leg up on the search.
Total Population
Population in Minnesota by Gender
It's just about an even split of men and women in the state
49.9% women in Minnesota
50.1% men in Minnesota
Overall Singles by Gender (Unmarried percentage of the population)
48% of women in Minnesota are single
47% of men in Minnesota are single
Population in Minnesota by Age Group
The median age in Minnesota is 38.8 (identical to the National average).
12.6% aged from 20-29 years old
13.6% aged from 30-39 years old
12.2% aged from 40-49 years old
12.5% aged from 50-59 years old
23.7% aged 60+ years old
% Households With Internet in MN
82.9% of households in Minnesota have internet access
Minnesota Cities With the Most Interest in Online Dating
As we hinted in our intro, we think that data holds the key to helping singles better understand the environment they are in which can bring confidence and…well…understanding. With that in mind, let's dig in a little.
Our team decided to take a look at the data and get to the bottom of which cities in Minnesota are most interested in online dating. What we did was look at the volume of internet searches for online dating over the past 12 months from each city and metropolitan area. Below, you'll see which two cities came out on top. Oh, and just in case you're worried because you don't live in any of these areas—don't be. There are singles all over the state. These are just the areas with more search traffic over the past year.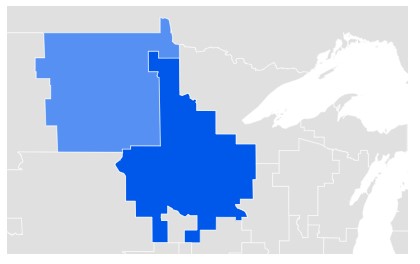 Minneapolis – St. Paul MN (100)
Fargo-Valley City ND (52)
As you probably expected, the primary interest area is in the Minneapolis and St. Paul area. Maybe that's why both cities were in the top five list of best cities for singles (teaser for the next section)? And the reason you see an area that includes North Dakota on the list is because the study was broken down into major metropolitan areas, which sometimes cross state lines.
How MN Cities Ranked on the List of Best Cities for Singles
Next stop on the Minnesota data express? Well, how about the whole state of Minnesota?
In a recent study on the best cities for singles in the USA, our team of researchers looked at the 100 largest cities in the country and how they ranked in quality for single men and women. Two cities from Minnesota made the list, and they made the list with a big splash. St. Paul came in at 5th place with a very strong showing in all categories. The city did particularly well in the dating amenities category.
But the city that did the best was Minneapolis, which ranked #1 in the entire United States for cities for singles! That's not #1 in Minnesota, but that's #1 in the entire U.S. Bravo Minneapolis.
1st – Minneapolis
5th – St. Paul
Free Dating Apps in Minnesota
One of the more popular searches we see from people in Minnesota is a look for any free dating app options in the state. Technically, yes, there are some options that are completely free like Plenty of Fish. The problem, though, as we already stated is that free dating apps don't have the resources and money to invest in a quality and safe online dating experience for you. Period.
In other words, you are going to get what you pay for. And if you're not in the mood to rifle through fake accounts and fight off spammers and scammers at every turn, invest a few bucks in your search for love. All of the Minnesota dating apps we recommend come with a free trial (though limited) to help you check things out yourself. These can be found at the top of the guide.
Minnesota Dating Apps FAQ
Is dating in Minnesota hard?
Honestly, we think dating in Minnesota is actually a lot easier than it is in other states (though, still challenging). Unlike places that are heavy with tourism, there aren't as many distractions and transient visitors to deal with. Additionally, people tend to be pretty clear with their relationship goals (due to the polarization of the population), which is pretty awesome—as long as they're being truthful. All in all, dating in Minnesota is not easy but it's certainly a lot easier than it is in other states. And not to mention, two of the cities in the state scored very high on the list of the best cities for singles.
Is online dating in Minnesota safe?
Online dating is just as safe in Minnesota as it is anywhere else in the country. The key to staying safe online is doing your part with things like vetting your matches, taking things slowly, not sharing too personal of information, and never sending money to anyone.
What's the best dating app for Minnesota singles?
Zoosk is the best dating app for Minnesota singles mainly due to its high number of singles in the area and its ability to cater to multiple different relationship goals under one roof. As much of the state is split on what they want (relationship or casual), this is an ideal option to try.
---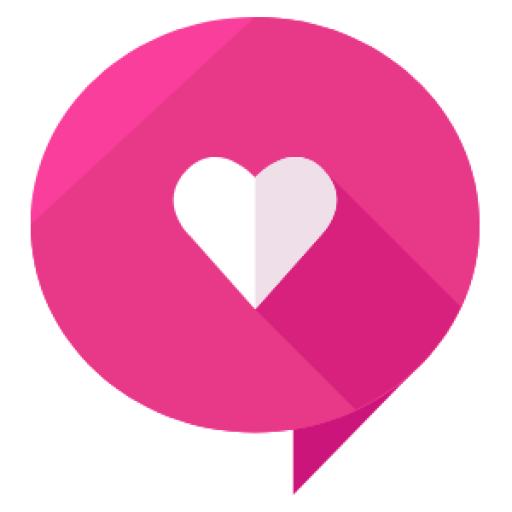 Written By: Healthy Framework Team
The Healthy Framework team has a combined 50+ years of experience in the online dating industry. Collectively, the team has reviewed over 300 dating apps and is known as one of the leaders in the relationship advice and information space. The team's work has been featured on Zoosk, Tinder, The Economist, People Magazine, Parade, Women's Health, Her Campus, Fox, and more.