It's impressive that such an amazing historic state can be so amazingly and historically tough for singles to meet and mingle. If you've exhausted the bar and nightlife scene and are tired of the options your friends and family are tossing your way, it's time to take matters into your own hands.
The best Massachusetts dating sites offer a unique way to match, meet, and get to know quality singles that live all over the state and throughout the northeast. No matter if you're in Boston, Salem, Springfield or somewhere else in the Bay State, these genius pieces of technology do the hard work for you.
But the fact you're already here with us today means you already know this! If you're ready to get into the mix, get excited, because below we've got a list of the best Massachusetts dating sites to get you started. In addition, we've included some awesome insight into the Massachusetts singles scene, resources to help you succeed, and some other helpful stuff to help you in your search.
Let's get you started!
The Top Online Dating Sites in MA
---
Dating in Massachusetts – Key Details for Singles
The gender breakdown in the state is 51% women and 49% men.
54% of women in the state are unmarried; 51% of men are unmarried.
The Springfield-Holyoke metropolitan area shows the highest levels of search traffic interest in online dating apps and online dating topics.
Boston ranked 29th best city for singles in the USA in a recent study.
Boston Ranks Top 30 for Best Cities for Singles
Congrats to Boston for making the top 100 list of best cities for singles in the USA in a recent data study. Not only did the city make the top list, but it came in at an impressive 29th! The city did impressively well in the quality of the dating pool category and the dating amenities category. However, when it came to the cost of dating—the wheels fell off and Boston was 4th from the bottom on the list of cities.
Where is Online Dating Most Popular in Massachusetts?
Want to know which metropolitan areas of Massachusetts are most interested in online dating? We wanted to know too, so we put our data and research team on it. According to Google data trends and search volume data over the past 12 months, the area of Springfield-Holyoke has the most search interest in online dating. This surprised us quite a bit, as we expected Boston to take that trophy home. When you push out the research to five years, Boston takes the lead. So, over the past year there's been a spike enough to overtake Boston in the Springfield Holyoke area!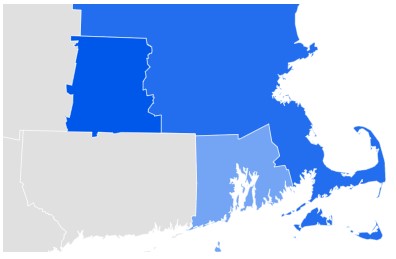 Springfield-Holyoke MA – (100)
Boston MA-Manchester NH – (81)
Providence RI-New Bedford MA – (35)
Massachusetts Singles Dating Statistics
Total Population
Population in Massachusetts by Gender
51% women in Massachusetts
49% men in Massachusetts
Overall Singles by Gender
54% of women in Massachusetts are single
51% of men in Massachusetts are single
Population in Massachusetts by Age
14% aged from 20-29 years old
13% aged from 30-39 years old
12% aged from 40-49 years old
14% aged from 50-59 years old
23% aged 60+ years old
% Households With Internet in MA
84.7% of households in Massachusetts have internet access
Source(s): Census.gov
Why We Love These Sites
While it would be cool if you could blindly trust everything you read on the internet, that's just a bad idea. We feel it's extremely important to source information on the web and to share where it came from. For this guide, that means giving you a little insight into what our expert team looks at when racking and stacking the best Massachusetts dating sites.
First, we look at safety and security. If you're not able to 100% trust that you are getting the tools and the resources to keep yourself safe throughout the process, it's not worth your time or the risk. It's important to point out that you still have to do your part to stay safe, but you can't do that without a quality Massachusetts dating app having your back.
Second, we look at the quality and number of members available. Are there enough singles to make it worth your time? Are they quality singles? Are they active in the process? Are there options from different age groups, demographics, and interests? Are there people looking for casual dating, serious dating, and possibly marriage? Not everyone likes or wants the same thing, and we want Massachusetts dating sites that understand and embrace that.
Free Dating Sites in Massachusetts
Want some free trials to check things out for yourself? The answer should be yes! We can tell you our favorite Massachusetts dating websites until we're blue in the face. But if you're not a fan, what's the point? Here's a list of some awesome free trial account links to get you started the right way. Use as many of them as you'd like, and take some time to find the right site for you and what you're uniquely looking for.