This beautiful northern state is a great place to be a MA single looking for love. With a high rate of non-married residents and a high internet connection rate; potential matches are mingling online and ready to meet you! The best Massachusetts dating sites are trusted matchmaking communities with stellar match pools. The people signed up are plentiful in all of the major cities and profiles appear to be genuine, attractive people who the majority have taken the time to complete a full profile with multiple photos.
Communicating with potential matches is a breeze at Massachusetts dating sites. There's no need to use your own phone number to connect with new people – all interactions occur securely and safely within the mobile dating apps. Some of the sites even have video chat from within the app, such as on eHarmony. Never wonder again if you've received new activity on your account by setting push notifications for any message or flirt received.
The Top Online Dating Sites in MA
---
Dating in Massachusetts – Key Details for Singles
The gender breakdown in the state is 51% women and 49% men.
54% of women in the state are unmarried; 51% of men are unmarried.
The Springfield-Holyoke metropolitan area shows the highest levels of search traffic interest in online dating apps and online dating topics.
Boston ranked 29th best city for singles in the USA in a recent study.
---
Boston Ranks Top 30 for Best Cities for Singles
Congrats to Boston for making the top 100 list of best cities for singles in the USA in a recent data study. Not only did the city make the top list, but it came in at an impressive 29th! The city did impressively well in the quality of the dating pool category and the dating amenities category. However, when it came to the cost of dating—the wheels fell off and Boston was 4th from the bottom on the list of cities.
---
Where is Online Dating Most Popular in Massachusetts?
Want to know which metropolitan areas of Massachusetts are most interested in online dating? We wanted to know too, so we put our data and research team on it. According to Google data trends and search volume data over the past 12 months, the area of Springfield-Holyoke has the most search interest in online dating. This surprised us quite a bit, as we expected Boston to take that trophy home. When you push out the research to five years, Boston takes the lead. So, over the past year there's been a spike enough to overtake Boston in the Springfield Holyoke area!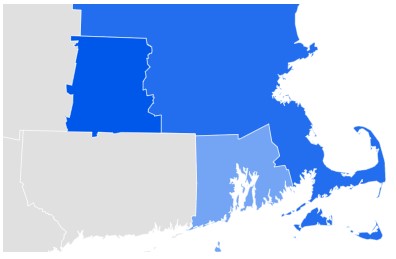 Springfield-Holyoke MA – (100)
Boston MA-Manchester NH – (81)
Providence RI-New Bedford MA – (35)
---
Massachusetts Singles Dating Statistics
Total Population
Population in Massachusetts by Gender
51% women in Massachusetts
49% men in Massachusetts
Overall Singles by Gender
54% of women in Massachusetts are single
51% of men in Massachusetts are single
Population in Massachusetts by Age
14% aged from 20-29 years old
13% aged from 30-39 years old
12% aged from 40-49 years old
14% aged from 50-59 years old
23% aged 60+ years old
% Households With Internet in MA
84.7% of households in Massachusetts have internet access
Source(s): Census.gov
---
What Makes These the Best Massachusetts Dating Apps?
The Best Massachusetts dating sites give you free access to a mobile dating app. Through the mobile app you can make all profile changes needed and receive all of your communications in one convenient place.
Technology to Find Massachusetts Singles
Included technology with the Massachusetts dating sites is simply the best on the web. Make your search for love easy with the advanced searching and browsing tools. You can enter the exact attributes you're looking for by keyword or by selecting site defined qualities. The powerful technology also recommends matches to you that are based on the 15+ years of matchmaking experience that directs the computer algorithms on each of these sites. Every day you'll receive new potential matches to review straight to the communication inbox.
Tons of Massachusetts Singles From All the Major Cities
While Massachusetts dating sites cover a smaller state, that doesn't mean that you won't get tons of potential match results. Search for specific cities in the keyword search field, such as entering Boston, Salem or Springfield. If you're already located within the state (or have set your profile location to within the state), then use the distance from you function to locate Massachusetts singles that are within 5, 10, 25 or 50 miles away from you. The system searches accurately within the distance parameters you choose.
---
MA Dating Apps
A mobile dating app for Massachusetts helps you to efficiently find and communication with the potential matches you desire. Download the mobile app for your phone type in the device's app store, then sign in with the same credentials that you'd use for the browser web site. One fun feature of the mobile apps is the ability to set push notifications. These notifications can be set to notify you of any new account activity, so you can quickly respond and keep the conversation going.
---
Best Free Dating Sites in Massachusetts
If you're ready to meet the desired partner you've been looking for, then look no further than the Massachusetts dating sites recommended. Each of these top-rated sites have a free trial membership so you can quickly determine whether the online community is right for you.
Test the features out and browse around so you can get a feel for the matchmaker. All of these sites are effective and have a long-standing history of matchmaking, so you can't go wrong with any of these. Click the links we've provided below to get started today.