Nestled close to the South Carolina border is the beautiful city of Augusta, GA, home to the Masters, the Riverwalk, Fort Gordon and plenty of singles ready to mingle. If you're from the area and you're trying to figure out how to meet singles in Augusta, GA, you are in luck today.
Our expert team uses their extensive knowledge of the area to put together a comprehensive guide with all the resources you need to find a date, something fun, love, or even marriage. We'll start by showing you some helpful data about the singles in Augusta, GA. From there, we'll talk resources, best dating sites, and how you can get started letting technology solve your dating needs now.
The Best Dating Sites in Augusta, GA
---
Key Takeaways about Augusta Singles
There are 7,845 more women than men in Augusta
66% of men in Augusta, GA are single (unmarried)
65% of women in Augusta, GA are single (unmarried)
84.6% of people in Augusta, GA have at least a high school education
72.3% of people have an internet subscription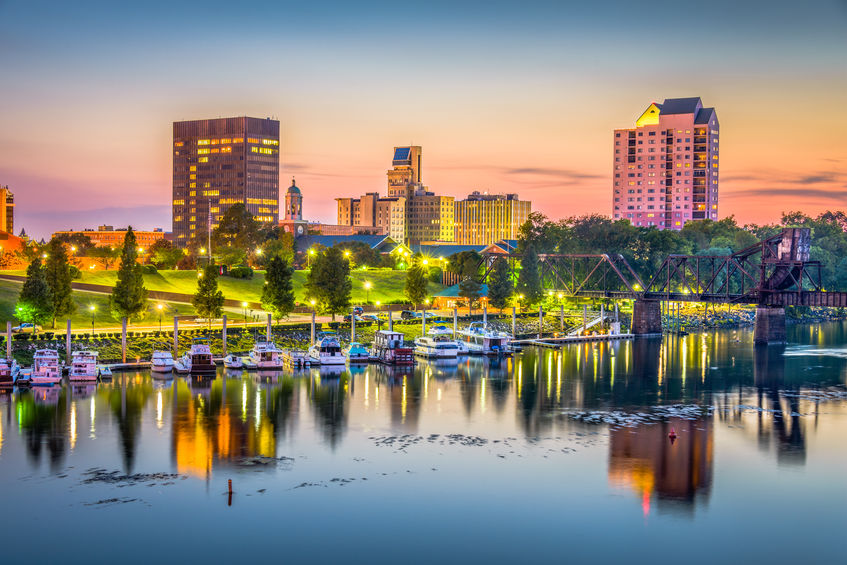 Statistics About Singles in Augusta
A great place to start in your search for active singles in Augusta is with some helpful data. Are there more man than women in Augusta? How many people are married? What's the age range like in the city? Our research team answers all of these questions for you and more…right…about…now.
Total population in Augusta, GA
Population in Augusta by Gender
52% are female
48% are men
Marital Status
34% of men are married
35% of women are married
Divorced
12% of men are divorced
16% of women are divorced
Education Level
84.6% are high school grads or higher
21.9% have a bachelor's degree or higher
Population in Augusta, GA by Age
16.9% aged from 20-29 years old
14.0% aged from 30-39 years old
10.9% aged from 40-49 years old
10.9% aged from 50-59 years old
21.1% aged 60+ years old
Median Age
Race and Ethnicity in Augusta, GA
White alone – 37.0%
Black or African American alone – 57.2%
American Indian and Alaska Native alone – 0.3%
Asian alone – 1.9%
Native Hawaiian and Other Pacific Islander alone – 0.2%
Two or More Races – 2.3%
Hispanic or Latino – 4.8%
Source(s): Census.gov (Data is for Augusta-Richmond County Consolidated Government – Balance)
Best Augusta Date Ideas
We've got a few Augusta date ideas that cover indoors, outdoors, and something in between. From a romantic restaurant to physical activities, there's something for everyone.
Cork and Flame
You could take a quick trip to Cork and Flame to buy a bottle of wine and leave, but why?
Cork and Flame is about 20 minutes outside of Augusta in Evans. It's a beautiful upscale venue with a view, the perfect August date idea if you're focusing on dinner and drinks.
The cuisine is called Progressive American and includes unusual meats like bison and elk. But there's also a vegetarian menu, so all bases are covered. A four-course tasting menu is $60, or you could go all out with a Chef's table experience, including eight courses for $120.
Cork and Flame gives you plenty of opportunities to customize your experience. In addition to the wine shop and dinner menu, there are happy hour options and special wine dinner events posted on the website.
Paddle the Augusta Canal
For a different Augusta date idea, you can rent a tandem paddle boat for just $40.
You'll take a beautiful and relaxing two-hour, five-mile trip down the Augusta Canal, and everything is taken care of for you. When you reach the Lake Olmstead boat ramp, you and your equipment are shuttled back to the boat launch.
If you're new to kayaking, Savannah Rapids kayak rental will work with you to get you going and guide you through navigating the locks.
Pack a picnic basket or make a dinner reservation, as you're sure to work up an appetite. Besides, you'll have a lot to talk about – and that's a good thing!
Topgolf
You or your date don't have to be a golfer to enjoy an evening at Topgolf. It's an excellent Augusta date idea because it combines activities with drinks and dinner.
If you've never been to Topgolf, you're in for a treat. Private bays with driving range access give you the space to get to know each other (or know each other better) in a fun atmosphere.
There's a casual food menu with wings, tacos, nachos, burgers, and salads. The cocktail menu lends itself to the fun atmosphere with drinks like the Topgolf Marg, Peanut Butter Old Fashioned, Peach Sweet Tea (adults only!), and Frozen Jack and Coke.
The bays are $45 an hour on the weekends, and you'll want to plan ahead with a reservation.
What Makes These the Best Augusta Dating Sites?
Glad you asked! There are a lot of reasons that we chose these as the best Augusta dating sites. It starts with how many active singles there are in the area and then goes deep into the quality of the actual site. Additionally, we look at things like price, history, success rates, and more! Basically, our team has done the heavy lifting so that we can confidently point you towards the best options for your city.
Plenty of Local Singles in Augusta, GA
While just under 200,000 people is considered a smaller city, it's still jam-packed with quality singles. But are they active online? Before we recommend any site, we make sure that there are plenty of singles in the city, as well as in the surrounding areas. These dating sites are packed with singles in Augusta, Aiken, Edgefield, Allendale, Athens, and even west to Macon.
Easy to Use Mobile Apps
Who wants to work harder than they have to in order to find singles in Augusta? Yea, that would be a hard no from us too. All of these dating sites have easy to use mobile apps, so you can find love right from your phone.
Get Started Now with a Free Trial!
Looking to expand your singles search area?