Central Florida is not just home to Mickey Mouse, hurricanes, and Publix subs (yum). The area is also jam-packed with tons of high-quality Orlando singles looking to find love. But in a city built on tourism, finding people who actually live here and who are actually looking for a real relationship is…well…hard.
How do you go about weeding through the tourists, the flakes, and the people just looking to play games to find real love in arguably Florida's greatest city? The answer very well may be online dating. Today, we're going to take a look at four of the best Orlando dating apps that you can join to do just that. Not only will we give you our top picks, but we'll share why we like each option, things you may want to be aware of, and who each app is expertly designed for.
1. eHarmony – #1 Overall Best Orlando Dating App
eHarmony is an Orlando dating app that has been around for decades and has gone through quite an interesting few sets of changes and misconceptions. In it's early days, most people thought it was a dating app for Christians because of it's more serious nature and because it was founded by an Evangelical Christian, which actually wasn't the case. Then, people thought it was a dating app that you only joined if you 100% wanted to get married ASAP. Again, not the case.
But finally, the world is seeing eHarmony for what it actually is—an inclusive dating app focusing on matching singles based on their deeper personality traits. Sounds pretty awesome, right? We think it is.
Here's why it's great for Orlando, though. One—while eHarmony isn't a Christian dating app, there are a lot of single Christians on there based solely on that misconception. With 70% of the state of Florida being Christian, this makes it a great fit. Two—for those who aren't religious or are of another religion, eHarmony has adopted one of the most inclusive approaches to online dating that we've seen. Their matching algorithms and filters let you share who you really are and find other singles who share those views and are actually going to be good matches.
Premium memberships are a bit more expensive than some other apps starting around $40 per month, which may be a deterrent for some people who aren't ready to invest in their love life. But that also may be a positive as it…well…deters anyone not serious about the process.
All in all, eHarmony is an easy pick for the best Orlando dating app.
2. Zoosk – Best for College-Aged Singles and Young Professionals
Orlando is actually a really amazing city for singles in their 20s and 30s. With 37% of the population making up this age bracket and over 60% of the total population single (unmarried), you're going to have options. Add to that a growing number of young professionals and tons of singles from the over 35 colleges in the area (like UCF, Full Sail, Valencia, etc.) and you have a great singles scene—but also the need for an Orlando dating app that can accommodate this group.
This is Zoosk. While Zoosk can and does work well for all age brackets, we particularly like it for the younger folks for a few reasons. First, it has a trendy, tech-forward app available on both iOS and Android. Second, while it offers some swipe-matching functionality, Zoosk also offers a classic matchmaking experience that gets away from some of the mentally draining aspects of swipe apps.
If you're purely looking for a swipe-style dating app, you might not like Zoosk as the swipe feature is a smaller piece of the pie unlike apps like Tinder that are all about swiping only. But if you want some traditional search functionality and some swipe, you'll like Zoosk.
And to conclude, the number one reason we love Zoosk as an Orlando dating app is that it works and that it's fun to use. Okay, that was two reasons, but you get the point. Check out Zoosk.
3. SilverSingles – Best 50+ Orlando Dating App

Over the years, Florida has earned the nickname of the snowbird capital of the world because older people from up north would come down during the summers to avoid the harsher winters. Recently, though, the trend of snowbirding has actually morphed into a lot of seniors just moving to Florida permanently for a wide array of different reasons.
This means that places like Orlando need to be prepared to accommodate the fact that many of these seniors are going to be single and ready to mingle. One such Orlando dating app answering the call is SilverSingles. SilverSingles is an exclusive 50 and up community for singles looking for everything from friends to someone to marry (and everything in between).
While technology and seniors used to be two things you wouldn't find in the same sentence, many of the over 88,000 people over 50 in Orlando are starting to bridge that gap and take up online dating.
Is there anything to be aware of that you might not like with SilverSingles? Not a whole lot, but it is worth pointing out that there aren't going to be many singles in their 40s on the app. So if you're on the younger side of the senior side of life, you might miss out on some potential connections.
All in all, SilverSingles is a top option for our more seasoned singles in the heart of the Sunshine State.
4. Chispa – Ideal for Latino Singles in Orlando
Over 35% of the people who live in the Orlando area are Hispanic making it the largest represented ethnicity in the area. And if you know anything about Hispanic culture (which I'm sure you do), there are a lot of things that make it worthwhile to date other Latinos and Latinas. If you live in the Orlando area and you're looking for just that, we'd encourage you to check out Chispa.
Now, the Chispa dating app is pretty new (relative to other options), which means a smaller user base (even smaller because it's such a niche group). But the app is 100% geared towards Latin singles, has a 4.5 start rating in the App Store, and a 4.2 star rating in the Google Play store with over 1 million downloads.
So, it's really not that small, but it is comparatively to a site like Zoosk with over 30 million downloads. But if you're set on just dating someone else who shares the same culture as you. this may be worth checking out.
---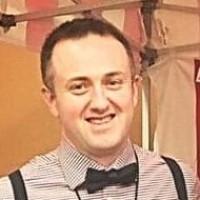 Written By: Jason Lee
Jason Lee is a data analyst with a passion for studying online dating, relationships, personal growth, healthcare, and finance. In 2008, Jason earned a Bachelors of Science from the University of Florida, where he studied business and finance and taught interpersonal communication.
His work has been featured in the likes of The USA Today, MSN, NBC, FOX, The Motley Fool, Net Health, and The Simple Dollar. As a business owner, relationship strategist, dating coach, and US Army Veteran, Jason enjoys sharing his unique knowledge base with the rest of the world.
Jason has worked in the online dating industry for over 10 years and has personally reviewed over 200 different dating apps and dating websites and continues to be a leading voice in the relationship and dating community, both online and in person.