For decades, the media and society have portrayed an image that dating and alcohol use had to go hand in hand. Whether it was the movies that showcased countless first dates at the bar or it was the empty promises shouted from the rooftops that booze helps you to relax and "be more of yourself," it's the way the world has been.
Thankfully, though, things are changing. Now, society as a whole is starting to realize that dating and sobriety can and do go hand in hand! And this is no more evident than in the emergence of sober dating apps and matchmaking platforms that help people find someone special who shares the same health and lifestyle choices as them.
In this guide, we're going to showcase the top pics for the best sober dating apps, share how you can leverage mainstream dating apps to date sober, and fill you full of resources to get the most out of your search for a relationship with someone special.
The Best Sober Dating Apps
What Makes These the Best Apps for Sober Dating?
Featured Pick: eHarmony
As you can see, our top pick for sober dating is not a dedicated sober dating app, it's a more traditional dating app. Why? Great question. Unfortunately, a lot of the niche dating apps for sober singles have great intentions, but they just don't have very many users. eHarmony, on the other hand, has a ton of users including many who practice sobriety as well as some that partake.
If you want to meet someone who is also sober, you can use the filters around drinking to find exactly that.
If you want to meet someone who might drink but understands and accepts your lifestyle, eHarmony has a lot of singles who fit this mold.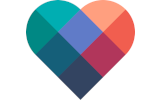 Overall Reasons we Like These Apps
The first thing you may have noticed is that we've actually recommended a lot of mainstream and traditional dating apps on this list. Why? Let's get into it.
Your first question is probably, are there sites dedicated only to singles who are sober? The answer is yes (and we'll share a few below). The logical second question then is, why didn't you include these sober dating sites on the best-of list above? Great question.
The answer is that these super-niche dating apps are amazing in theory. The idea of a sober paradise filled with singles working hard to live a healthier lifestyle free of alcohol is great. However, it's not the reality. These niche dating apps are too small and don't have adequate resources to bring in a lot of singles. The result is a site that looks amazing on the outside, but when you get inside—it's a ghost town.
Instead, the best option for sober dating online is to utilize the search, matching, profile, and filtering features of mainstream dating apps to find what you're looking for. Yes, these sites will have people on there who drink. However, when you learn to use them properly, they are goldmines filled with other sober singles looking for men and women just like you.
If you read on further down the page, we'll share some tips on how to find a sober partner using these options the right way.
Other Sober Dating Apps
As we mentioned, there are other sober dating apps that are niche-focused on sobriety and love. While we don't really recommend these as viable options, we still do want to mention them for the sake of completeness.
How to Meet Sober Singles Online
One of the greatest perks of online dating is that you can share what is and what is not important to you right out of the gate without it seeming too forward or awkward. For example, if that means you only want to date people without kids, no worries—you can share that. If it means you only want to date people who don't drink alcohol, great—you can share that too!
What this does is save you time, money, and emotional headache by ensuring you're only chatting with and going on dates with singles that fit within the parameters of what you're looking for. And for sober singles who are going to leverage mainstream dating apps to find love (which we recommend), this is why it works.
But how do you meet sober singles online? Well, here are the steps we recommend you go through.
1. Start by figuring out what you stand for and what you're okay with.
Are you okay with dating someone who drinks as long as they're okay that you don't? Do you need to be with someone that is okay not drinking and never going to bars? Neither of these is right or wrong, but you need to be firm on where you stand before you get started with sober dating sites.
2. Join one or two of the recommended sober dating apps.
Take advantage of the list of sites we've recommended and create an account at one or two of the options.
3. Craft your profile properly.
The next step is to write your dating profile. We have an awesome guide on how to write a dating profile to get you started. That being said, there are a few things specific to sober dating we want to mention.
Don't be scared to put clearly on your profile what you're looking for. Yes, this means putting that you're looking to date someone who doesn't drink or who is okay with the fact that you don't. You don't have to go in-depth into why publicly, but it will save you a lot of time and headache if you share it upfront.
When you share your stance on alcohol, do it in a loving and non-judgmental way of other people's decisions.
Above all, don't feel bad for knowing exactly what you want. It's actually a positive!
4. Learn to use the search parameters.
Each of the sober dating apps we've recommended comes with a robust set of matching preferences and search parameters. Get extremely comfortable with these and learn how you can filter out people who don't drink if that's what you're looking for. You may still get an occasional message from someone who doesn't fit what you're looking for, but this is why also putting what you want explicitly on your profile is important.
The bottom line, though, is don't be scared to be picky and stand your ground on your alcohol stance.
5. Be patient and have fun.
The last step is to realize that finding the perfect fit for you may take time. We hope that it happens fast, but that's not always the case. Be patient and remember to have fun with the process. If after a few months you've had no luck whatsoever, it may be time to head back here and consider another option or two from the list.
Tips for Sober Dating Online
Know what your stance on alcohol is and never cave on that. Even if someone you're really attracted to comes along and tries to convince you otherwise, stand your ground.
Be prepared to be patient. A larger portion of the dating pool does drink alcohol, so if you're looking for singles who are also sober, it may take a bit longer.
If you are open to dating someone who drinks, that's okay. However, make sure that you have a serious and direct conversation very early on about where you stand on alcohol and what you and are not comfortable with. Additionally, make sure they understand this is not a phase, but it's something you will be doing for the rest of your life.
Learn to use the search functions and features. The sober dating apps we've recommended are chosen for a reason. It's because they have features to help you have success. However, if you don't take a minute to learn how to use those features, you won't have any luck at all.
If someone contacts you and their alcohol stance is missing from their profile, ask! Never assume that just because your profile says something that the person messaging you has read that or is respecting that. Hopefully, they are, but that's not always the case.
Stress the important but don't overdo it. Yes, it's important to let your matches know that your drinking habits are important to you. In reality, though, they should just respect them and not require you to validate or defend them. But if they do ask, be prepared to be open about the importance. But once they understand, don't continue to make the conversations all about your alcohol habits.
FAQ
Are there sober dating apps?
Yes, there are a lot of dating apps specifically dedicated to sober dating. However, many of these niche dating apps don't have the userbases needed to be a viable option. Instead, we always recommend using the right mainstream dating apps that give you the features and control to find the person you're looking for who understands and supports your stance on alcohol.
What is the best sober dating app?
For us, eHarmony is one of the best dating apps for sober singles looking to find love. While the site is not 100% dedicated to sober singles, it has the features and filters necessary to help you share what's important to you and search to find the right match.
How long should you be sober before dating?
Unfortunately, only you are going to be able to answer this question. That being said, you shouldn't jump into dating while you're dealing with any major personal crises. Once you feel that you have some stability in your sobriety, then it might be time to dip your toes into the water of online dating. Make sure you put checks and balances in place, though, so that you don't upset the balance and risk compromising your sobriety at all.
How do I meet men and women who don't drink?
According to statistics from the National Epidemiological Survey on Alcohol and Related Conditions (NESARC), 30% of Americans don't drink alcohol, which means almost 1 in 3 singles you meet aren't going to be drinkers. In the UK, stats show this number is closer to 20%, which means 1 in 5 singles in the UK you meet won't be drinkers. The best places to meet these singles who don't drink in the US and in the UK is online because most dating apps and sites let you sort by drinking habits. You can set a few parameters and only see men and women who never drink alcohol or who only do on seldom occasions—whichever you're looking for.