In the early 2010s, just about every dating app or dating site on the planet added Facebook integration for log in help, filling out your profile faster, or both. And while it was quickly adopted and revered by many, others started to have concerns. Is this dating app going to post to my Facebook wall? Should I be worried about privacy if my Facebook gets hacked?
All of these are viable concerns that caused most dating apps to move away from the mandatory Facebook integration to either an option setup or no connection at all. Fast forward to 2023 and privacy concerns are at an all-time high. For this reason, a lot of singles are looking for dating apps that don't need Facebook. They'd rather keep their dating and social life separate—and we get it.
But which dating apps don't use Facebook? Which have it as an optional feature? And how do you use these apps ensuring that Mr. Zuckerberg over at FB headquarters is staying in his own lane. We've got all of that and more.
Here's a list of the six best dating apps that don't use Facebook and how to use them appropriately to achieve your privacy goals.
1. eharmony – FB Optional

eharmony is the leader when it comes to finding a partner or real relationship online. And while eharmony was one of the early adopters of using Facebook to log in (back around 2010), it's clearly just an optional choice for you. If you want to sign up via email or Apple log in, you can do just that. The two biggest perks of using Facebook for your eharmony profile are that they state very clearly they will never post to your page or do anything to let anyone know you're on the app and they use your information to more quickly fill out your profile as eharmony has one of the longer sign up processes.
But, if you'd prefer to not have any connection at all, you can do that. If you're looking for a serious relationship (not casual) and don't want to be forced into using Facebook, go with eharmony.
How to Use eharmony Without Facebook
Using eHarmony without Facebook is really easy, but it's something you need to set up from the start. When you click the login link posted above, you'll have the option of joining with your Facebook account, your Apple account, or simply with your email address. To avoid connecting your account to Facebook, just select the Apple or email option.
2. Higher Bond – Doesn't Use Facebook At All

Most older dating apps all jumped on the Facebook bandwagon at some point. When it comes to newer apps, though, you see a mixed bag of some offering it as a courtesy and some seeing it as something people don't like—so they don't include it at all. Higher Bond, a leading Christian dating app launched in 2022, took the latter approach and doesn't even give you the option of using Facebook to sign up.
The app does have a thorough sign up process, but it's not one that Facebook information would help with. It asks a lot of great questions about your life, your faith, your lifestyle, and your needs to help curate better matches for you. If you're a Christian single and are excited about finding someone who lives the same faith walk as you, you can check out Higher Bond without any worries about Facebook or social media of any kind being intertwined into the process.
How to Use Higher Bond Without Facebook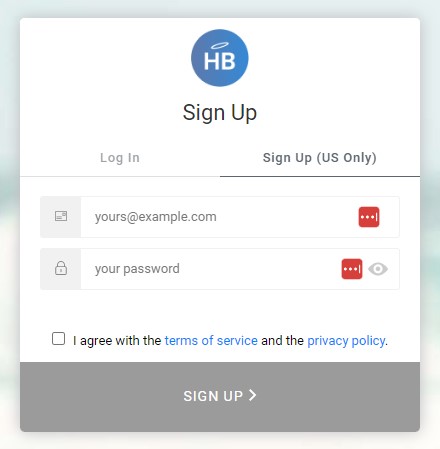 Higher Bond does not even have an option to connect to your Facebook account which is great for anyone looking to avoid that. All you have to do is sign up with your email and you have nothing to worry about.
3. Elite Singles – Doesn't Use Facebook At All

Some people who don't want their dating apps connected to Facebook are concerned for business reasons. Maybe they use Facebook for their company or they have a professional social media profile that they use for business purposes? Whatever the reason, we get it. And that's a reason we think Elite Singles is a great option for dating apps that don't use Facebook.
The app is an industry leader for single professionals, entrepreneurs, and people who value higher education. This fact is kind of funny because Facebook got its start being only available for people who were in college, so it's interesting to see them not as an option on this app, especially when every other site owned by Spark Networks (the owners of Elite Singles) has it as an option.
If you're someone who values education and success but wants to keep your social media life separate from your dating life, Elite Singles is an awesome option.
How to Use Elite Singles Without Facebook
Much like Higher Bond, Elite Singles doesn't give you the option of connecting your FB account, so nothing to worry about here. Just sign up with your email and enjoy.
4. Zoosk – FB Optional

Zoosk is a casual and serious dating app option that, much like many of the other options here, does offer Facebook as a sign up option. The good news is that it's also completely optional and you can bypass it right from the start.
As a dating app, Zoosk excels in three main categories—number of users, flexibility, and price.
Number of users – Over 35 million downloads and growth at over 17% last year
Flexibility – Able to choose from six different relationship goal options
Price – Premium memberships start at $12.50 per month
How to Use Zoosk Without Facebook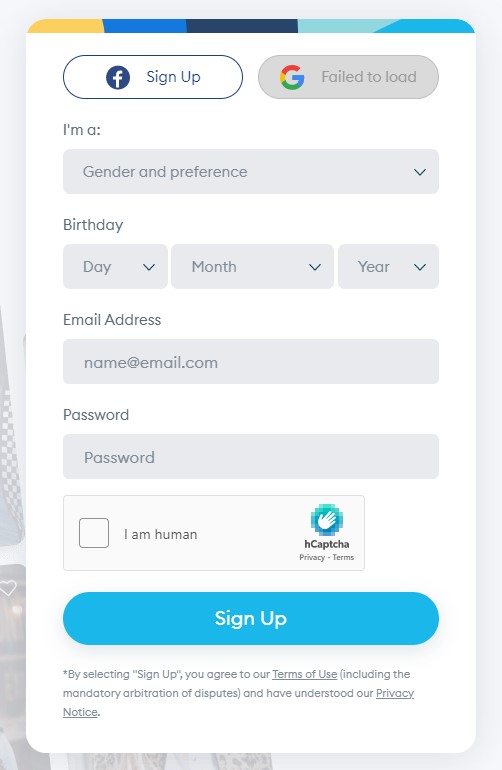 Much like eHarmony, Zoosk gives you several options to sign up with that include Facebook, Google/Gmail account, or just your basic email. If you want to avoid a connection to Facebook, select Google or your email when you start the signup process through the links posted above.
5. Christian Mingle  – FB Optional

Unlike Elite Singles (also owned by Spark Networks), Christian Mingle does give you the option to join with Facebook if you want to. As a dating app, it's been the leader for Christian dating for many years. We'd argue that it has shifted more toward the ways of casual Christian dating, but that's probably to be expected from a business that isn't Christian-owned (like Higher Bond is).
Overall, the 15 million+ membership base size is probably the most attractive feature, though we aren't completely sure if that's 15 million since the website started or currently active. If you're looking for Christian dating and want a more casual atmosphere, Christian Mingle could be worth a consideration.
How to Use Christian Mingle Without Facebook
With Christian Mingle, you have the option for FB, Apple, or email. Again, just choose one of the other two options when you create your account.
6. The League – FB Not Required But May Require LinkedIn

While The League does encourage users to connect their social media accounts (including Facebook), it's not entirely necessary. However, as The League is an invite-only type platform (users selected from a waiting list you can join without an invite), it might be something that helps you to get the nod of acceptance. That being said, you can still use The League without Facebook.
The name of the game at The League is exclusivity. There's a wait list to get in, higher than normal pricing, and only about a 20% acceptance rate based on your successes and influence within your respective city and industry. Some people aren't a fan of this but others who get in say the quality and commitment to the process of the other singles it out of this world.
If you're intrigued, at a very minimum you should get on the waiting list and make your final decision later.
How to Use The League Without Facebook
One thing to be aware of with The League, is they're going to require you to connect your LinkedIn account in most cities to get accepted to the program. You may be able to get in without that, but just something to be aware of. Still not Facebook, though 🙂 You do have the option to further verify your account with FB if you want, but it does not appear to be necessary for acceptance into the program.
---
Table of Contents:
---
Which Dating Apps Require Facebook
Curious where other popular dating apps stack up when it comes to their connection with Facebook? Below, we've included a chart of 15 of the most popular dating apps and whether or not they require the use of Facebook in creating or managing your account or log in. We've also denoted which ones have FB as an option and which have absolutely no connection or login connection at all.
| Dating App | FB Required | FB Optional | No FB Connection |
| --- | --- | --- | --- |
| Higher Bond | | | X |
| Match | | | X |
| SilverSingles | | | X |
| Happn | | | X |
| POF | | | X |
| Elite Singles | | | X |
| eHarmony | | X | |
| Zoosk | | X | |
| Christian Mingle | | X | |
| The League | | X | |
| Bumble | | X | |
| Tinder | | X | |
| Jdate | | X | |
| Hinge | | X | |
| Facebook Dating | X | | |
Can I Use Dating Apps Without Facebook?
Yes, you can absolutely use plenty of online dating apps without ever needing to connect your Facebook account (or even needing to have one).
There are lots of dating apps that have steered away from using Facebook. And remember, just because a dating app has an option to connect to Facebook doesn't always mean you are required to use it. In fact, many dating apps that began as fully Facebook dependent have quickly transitioned into being Facebook optional.
Potential Disadvantages of Using FB with a Dating Account
While the Facebook connectivity and log in features have come a long way, there are still plenty of potential disadvantages and legitimate concerns to connecting the two. And while even though some of these may not even be valid, peace of mind and feeling comfortable goes a long way toward the quality of your online dating experience.
Here are some of the biggest reasons people opt to use dating apps without connecting Facebook.
Keep your private life private. – We say all the time that staying safe while dating online requires withholding access to your private life. So, many see it as counterintuitive to choose a dating app that requires you to connect your profile with your personal social media even if they claim not to share anything.
You're worried about what might get posted. – Not everyone wants people in their everyday life to know they are actively dating, online or otherwise. So, it can be a little anxiety inducing to think that a dating app might be posting on your profile for all to see (even if they don't, which most don't). 
You're concerned about security breaches. – Facebook has had some issues with security in the past and when you have a shared log in to multiple sites, this increases the risks when your account is compromised.
You don't use social media to begin with. – A large part of the population doesn't use Facebook or any form of non-anonymous social media. So, the idea of signing up for one just to then sign up for a dating app seems cumbersome. 
There are risks of other third-parties gaining access to your information. – While this risk is hopefully limited, it's something that needs to be acknowledged. For example, eharmony mentions in its information on Facebook integration that, "Please be aware that staying logged in to Facebook may mean that third parties using your device could gain access to your eharmony profile." To be clear, though, they are talking about if you are using a shared computer where someone else may have access to your Facebook account, which makes this true for any option that has FB login as an option.
Ultimately, it comes down to control. Tech is great, but it's not perfect. So, even if they say they aren't going to post anything, the only way to be 100% sure is to avoid the connection.
Why Using Facebook Log In Might Be a Good Idea
As we mentioned, using Facebook with your online dating apps might not be the worst idea in the world. In the early days, there were hiccups and more concerns to be worried about. However, now several decades later, the process is smooth, efficient, and does offer way more comfort and control.
Here are a few reasons you might want to consider taking advantage of the optional feature.
It Helps You Set Up Your Profile Faster
The most popular reason for linking a Facebook profile to a dating profile is that the dating app can pull your personal information from Facebook and fill in your profile for you. This saves you time and can make the entire signup process a lot easier. The process now is extremely clear about what information you're sharing, so if you take the time to read, you'll know exactly what they're sharing (and can choose what not to include).
It Helps You Loading Pictures
Linking your account to Facebook can save you a few steps in the photo uploading process. Typically, when you go to upload photos there will be a "Facebook Album" option that gives you quick access to your profile's uploaded photos.
It Limits Emails
Some users like that signing up with a Facebook account versus an email can save you a lot of junk mail. Though, it is important to remember that signing up with an email doesn't have to mean an overloaded inbox. Just head to your account settings to reduce your email preferences, or even shut promotional emails completely off.
Is There a Safe Way to Use Dating Apps that Use Facebook?
Not all dating apps that use Facebook are created equal. To begin, some popular apps use Facebook as an optional log-in method, but it isn't required. So, you can easily opt out of using Facebook on the dating app and never worry about it again.
If; however, you are looking at a dating site that requires Facebook to login, you need to keep your eyes open for a few policies. Many of these apps will notify you that they are only using your account to acquire your personal information. In these cases, the dating app won't post to your Facebook account.
Ultimately, you can use dating apps that use Facebook safely, but it comes down to looking at how the app uses Facebook, what your options are in terms of opting out, and how much of your information they are allowed to see.
Staying Safe While Using Dating Apps with Facebook: Quick Guide
Check the permissions to see what all Facebook and/or your dating app is sharing.
Check for the ability to opt out of connecting Facebook.
Read the terms to learn what Facebook is allowed to share about your dating app usage.
If the terms make you uncomfortable, be aware that there are other great dating apps out there that don't require Facebook.
Dating Apps Without Facebook FAQ
Can I use eHarmony without Facebook?
Yes! eHarmony actually began as a dating site that didn't have any affiliation with Facebook. Now, users can decide to link their Facebook accounts to their eHarmony account, but it is not required.
Can I use Tinder without Facebook?
Yes! Tinder offers two login options – Facebook and phone number. Though Tinder used to require users to link their accounts to Facebook, it is now completely optional.
Can I use Bumble without Facebook?
Yes! Bumble updated their platform in 2018 so users could use the app without linking to Facebook. This was due to privacy concerns from users who were unhappy with Facebook's terms of service.
Is Facebook log in safe to use for dating sites?
Logging in with Facebook is a fast and convenient way to enter sites, but it isn't the most secure way. There are risks of phishing and individual security breaches, not to mention the risk of site-wide breaches that then leave all connected accounts vulnerable.
Will my Facebook friends see that I am using a dating site?
When you sign up for dating apps with Facebook, you will notice a disclaimer under the confirmation page that says "this doesn't allow the app to post to Facebook." This means that your signup doesn't give the dating app permission to do anything but see your information and collect your browsing data. You might get a few targeted ads, but your Facebook friends won't be able to tell you've signed up for a dating app.
---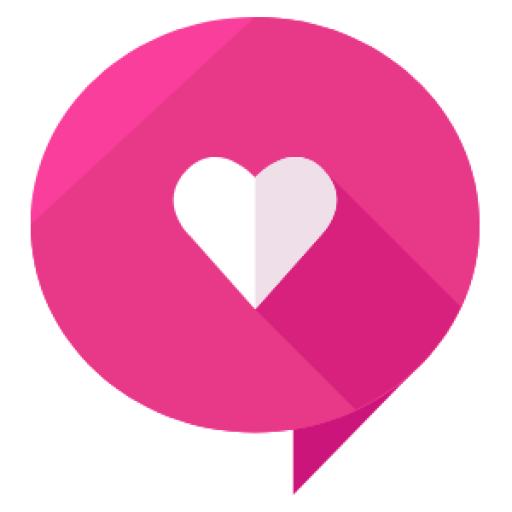 Written By: Healthy Framework Team
The Healthy Framework team has a combined 50+ years of experience in the online dating industry. Collectively, the team has reviewed over 300 dating apps and is known as one of the leaders in the relationship advice and information space. The team's work has been featured on Zoosk, Tinder, The Economist, People Magazine, Parade, Women's Health, Her Campus, Fox, and more.