In the United States, citizens say they consider individuals who make over $100,000 a year to be wealthy. If you find yourself in this group of people, chances are you have already dealt with the struggles that come along with wealthy dating.
You might find it difficult to connect with others out of fear that they are interested in your income more than your personality. Alternatively, you may like the idea of having access to a larger dating pool based on your income, but you aren't sure where to find singles interested in a sugar daddy or mama style relationship.
Whether you want to avoid money chasers or actively seek them out, digital dating apps can provide you with the experience you desire. If you are looking for the best wealthy dating sites, look no further – we've put together a handy list of best dating apps money can buy.
The Best Wealthy Dating Sites
1. The League: Best Wealthy Dating Site for Elite Partners
Requires a waiting list to get on unless you're willing to pay to get to the front of the line (still have to be accepted)
Great option for wealthy singles and for those looking to meet someone who is wildly successful
One of the newest dating apps on the market (Founded in 2014)
Is The League a great wealthy dating site?
This dating app is clearly built for the elite and the successful—two things that go hand in hand with being wealthy. There's a high barrier to entry with the waiting list and the need to be voted into the app. Luckily, if you have the cash, you can get yourself to the front of the line and a better chance of approval. That's a long way of saying, yes, this is a great wealthy dating site.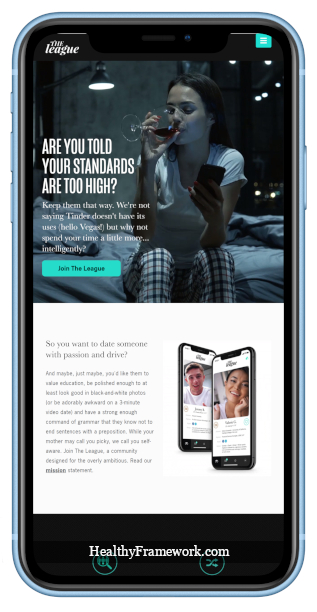 2. eHarmony: Best for Finding a Partner Who Loves You for You
Incredible matching algorithm that focuses on personality compatibility
Creates more happy marriages than any other dating app
No indicators of how wealthy you are, but finances are used behind the scenes in the matching algorithm
Is eHarmony a great wealthy dating site?
eHarmony is one of the best wealthy dating sites because you can find a partner who is compatible with your personality and values. If you are worried about connecting with singles who want to use you for your cash, eHarmony is a great option for finding love without your money being a factor.
3. Elite Singles – Best for Finding Other Wealthy Singles
The best app for finding top-quality singles
Over 80% of users have a college education
Premium membership comes with a ton of enhanced features
Is Elite Singles a great wealthy dating site?
Elite Singles is one of our favorite wealthy dating sites because it attracts users that easily fit into wealthy culture. If you are worried about your partner not understanding the nuances of a wealthier lifestyle, Elite Singles can help quell your anxiety.
4. Seeking Arrangement – Best for Finding a Younger Partner to Spoil
An incredibly large and attractive userbase
Easy way to start a no-strings-attached relationship
Number one website for matching sugar daddies/mamas and sugar babies
Is Seeking Arrangement a great wealthy dating site?
If you want to use your standing as a wealthy single to create a symbiotic dating relationship, you will enjoy Seeking Arrangement. Decide the boundaries and benefits you want for your match and go fishing for hot, young companions, today!
---
How to Choose the Right Wealthy Dating Site
Determine Your Dating Goals– The first thing you should do when choosing a dating site is consider your wants and needs. Do you want to find a partner that you connect with on a deep level and can see yourself marrying? Or, do you want a partner you can spoil with your money in exchange for companionship?
Pay Attention to The Features – Each dating site has its own set of unique features and intentions. Your desire to date face-to-face, casually, seriously, virtually, and more can help you determine which app has the tools you need.
Utilize Free Trials – If you are still having trouble deciding, sign up for free trials and basic memberships at each website. Once you get a feel for the platform and it's tools, you can easily choose the best dating site for you.
Should I Tell Other Singles I Meet That I'm Wealthy?
It depends on what you want out of the relationship! If you want a partner who loves and respects you, regardless of your money, you should keep the information to yourself. However, if you are looking for a younger partner who exchanges their companionship for your time and money, you will probably want to be clear about your income up front.
Are There Other Wealthy Singles on These Dating Sites?
All dating sites are likely to have wealthy singles, but Elite Singles and It's Just Lunch are two dating sites for wealthy singles that tend to attract exclusively those with large incomes. Typically, you can use advanced filters or creative search terms to help you find other wealthy singles. For instance, you might try searching singles by professions with above average incomes or from towns with high costs of living.
Can a relationship work with someone who isn't wealthy?
Yes! There are two major ways to make a relationship work with someone who isn't wealthy.
Be open to having a sugar baby versus a boyfriend/ girlfriend.
Keep finances out of your relationship and set clear boundaries.
The sugar baby relationship is easy. If you want a casual relationship that is based on your ability to spoil your partner, the disparity in incomes feels natural. However, be careful not to go overboard and compromise your own financial standing for your sugar baby.
If you are wanting a serious, long-term relationship with someone who isn't wealthy, you need to make communication and boundaries a priority. Let your partner know that you want to keep your finances separate and that you can't be expected to cover erroneous debts for them. If you and your partner begin discussing marriage, set clear boundaries for how the bills will be split, how purchasing decisions will be made, etc.
It can be done! After all, many happy marriages include a stay-at-home parent who makes no income at all. If they can do it, so can you!
---
Written By: Brandi Brown
Brandi Brown is a daytime copywriter and nighttime novelist. Her projects range from marketing content and commercial scripts all the way to narrative poetry and short fiction. Her debut novel, Bleached, is set to release in 2023.
✉ Contact Brandi: [email protected]