If you've watched a Romcom anytime in the last 30 years, you probably know how Hollywood feels about plus size people. If you are a BBW or a larger man, you'd better be funny or rich to land a partner. Well, Hollywood has it wrong.
Your weight doesn't define your worthiness, and the millions of plus sized individuals in happy relationships attest to that. Still, the dating scene can be a little scary when you have a little more to love. Some people never matured past name calling and can make putting yourself out there hard.
So, where can you turn to find other BBWs and bigger men? Good news; you have options. In this article, we're sharing the best plus size dating apps that are perfect for BBWs and bigger men to find someone special.
1. eHarmony – Best Dating App for Finding Your Soulmate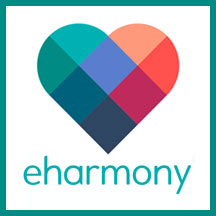 eHarmony is our leading choice of dating apps for plus size singles for several reasons. First, with a much stronger focus on serious relationships, you find a lot more singles who care about substance over things that fade like looks.
Second, the matching algorithm does ask questions about weight, lifestyle choices, and how important these things are to you in a partner. What's awesome is they also ask everyone else who signs up the same questions, so you end up getting matched with singles who are more open to plus size dating. Right off the bat, this helps to create a safer, less-judgment atmosphere where you can really connect.
Yes, it's not a BBW-only dating site, so you won't be completely insulated from people who might be jerks. However, we haven't heard any reports of people having any troubles at eHarmony. And if you do have any troubles, customer support is there to help along with block and report functionality.
eHarmony offers the best amenities for singles of all sizes and works hard to match you with those who are accepting of plus-size individuals.
2. WooPlus – Best New Site for BBW Dating

When we say "new" in the dating app world, it usually doesn't mean in the last few months, as apps that new need more time to even become relevant. But for WooPlus, which was founded in 2015, we certainly consider that new as most of the other plus size app options on this list have been around for decades.
Here's what we like about WooPlus. First, it's 100% geared toward BBW dating, which means it should have a much safer, more inviting, and more inclusive environment from the get-go. Second, WooPlus gives you access to all of your matches prior to choosing to upgrade to a paid account. It's a bit of a try-before-you-buy option, which really ensures you're getting exactly what you want and expect.
And one thing that's exciting is the app recently announced that they have reached over 5 million users. Our biggest drawback to the platform for the longest time was the lower numbers of singles on the app, but it sounds like that is no longer something to be worried about. And on top of all of that, WooPlus recently underwent a major overhaul and upgrade, which is something to be excited about.
3. Zoosk – Best BBW Dating App with the Most Options
One of the reasons Zoosk made it on the map is that it has always been quick to embrace inclusivity. This starts in their marketing message and extends to the new features they're adding designed to "emphasize creativity, connection, and community." And over the past few years, we've even seen Zoosk start to offer specific dating advice for singles who are overweight, which shows a willingness to continue that inclusivity and high level of service.
All of this should showcase why we think that Zoosk is a fantastic pick for a plus-size dating app. For more, though, let's look at a few numbers. According to the CDC, about 73.6% of the US population is overweight. Zoosk has over 35 million members. It's safe then to assume that somewhere north of 20-25 million members on Zoosk fall into the category of plus sized daters!
For full transparency, that also means that in a group as large as 35 million, there are going to be some bad apples who might not have learned how to be respectful adults. It's a small risk you take when using an option that's not a fully dedicated BBW dating app, but we think it's one that is well worth it to get access to so many singles.
4. Large Friends – Best for Finding Big Beautiful Women and Big Handsome Men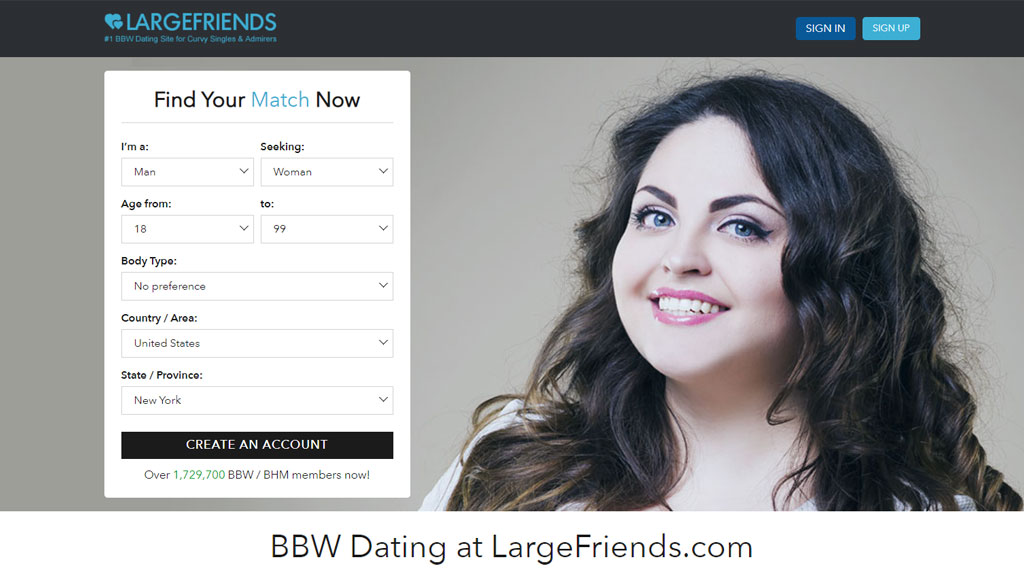 Large Friends has been around since 2002 (over two decades) and has matched thousands of plus size singles with loving, caring partners. The app is intended as a safe dating space for plus size men and women, but you don't have to be plus sized to join. Instead, you simply need to be someone who is attracted to plus size people, which means if you are plus sized but attracted to thinner partners, you can still find your match on Large Friends.

In addition to all of this, Large Friends also offers supportive blogs, great first date ideas, and unique matching features to make the process even simpler. As it's well documented that sometimes being overweight can cause anxiety issues, it's nice to see these lower threshold matching options to help you gain the confidence to get out there.
5. Christian Mingle – Best BBW App for Finding a Partner with Similar Faith Views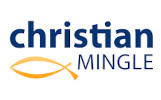 Christian Mingle is a popular dating app among religious singles, but did you know that its anti-harassment policies and anonymous browsing option makes it ideal for plus-size singles? While we hope that you are never bullied online for any reason whatsoever, it's unfortunately true that cyberbullying for adults is on the rise. Because of that, any great plus size dating app is going to have to have policies and procedures like this in place to keep you safe.
Enough about the negatives; let's talk about what's great about Christian Mingle for BBW dating. First, we've found that most faith-based dating apps are much more inclusive than mainstream options when it comes to things like weight and body image. Second, Christian Mingle has over 15 million members, which means quite a few singles of all shapes and sizes for you to mingle (literally) with. It's also nice to see that Christian Mingle doesn't have body type as a matching preference that you can choose, which promotes getting to know the whole person.
If you're a Christian BBW single who wants to find a more serious relationship, you'll enjoy what Christian Mingle has put together.
---
Why These Are the Best Plus Size Dating Apps
Before we send you on your way, we wanted to take a moment to share a few more reasons why we chose to select these options as the best of the best. There are literally thousands of factors we consider, but we wanted to share a few of the ones most important to plus size dating.
The apps offer a safe dating space for plus-size singles.
Plus size dating is all about feeling safe and comfortable in your own skin. While no app can police every single ignorant person, there are apps that do a much better job at it. What you'll find is that the options we've suggested go above and beyond to try and make the experience as welcoming, safe, and inclusive as possible.
The user pool for all these apps are numerous and well-moderated
No matter if it's a dating app specifically for plus size singles or it's for singles of all shapes and sizes, one thing is for sure—you better have options. Bigger people don't just date other people because they're also bigger. They have the same needs to find someone they match with, they connect with, and shares the same interests and goals. For that reason, these options are ones that come with, well, a lot of options.
Each app has years of experience in matching partners for long-lasting relationships
You'll notice that most of these dating apps revolve around committed, more serious dating. If you want something more casual, you will be able to get that through Zoosk. However, we feel that dating apps focused more on real connections are always going to be of a higher caliber and of more use to you.
Plus-size men and women are both catered to on all of these apps.
Sometimes with dating apps, especially niche apps, they tend to favor one sex or the other. And while this might sound great if you're on the good side, it's really not if you're looking for heterosexual dating. This is why we look for apps that truly take inclusivity all the way across the finish line.
Each app is feature rich without being overwhelming and hard to use.
Everyone deserves a top-notch online dating experience filled with features to help you connect. What you'll find is that these plus sized apps have robust enough features to help you have success without overcomplicating the process and negatively impacting the experience.
FAQ for Plus Size Dating Apps
Are plus size dating apps safe?
Yes! These apps are safe and have customer service professionals and moderators to help detect fake accounts or users with the intent of harassing others. However, the apps can only do so much to keep you safe. Remember to use your best judgement when sharing information with or meeting someone you met online.
Do I have to be plus size to use one of these apps?
No. You don't have to be plus sized to use these apps. For Large Friends, you do need to be body-size inclusive in your dating search, though.
What do I do if a user harasses me about my weight?
Whether a user is harassing you for your weight or any other reason, they should be reported to the app's customer service reps or community moderators as soon as possible. Additionally, you should have the option to block them immediately to stop the problem while you work on reporting them so they don't harass anyone else.
---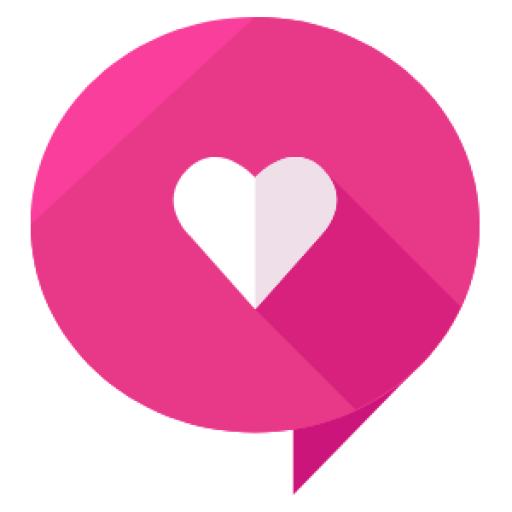 Written By: Healthy Framework Team
The Healthy Framework team has a combined 50+ years of experience in the online dating industry. Collectively, the team has reviewed over 300 dating apps and is known as one of the leaders in the relationship advice and information space. The team's work has been featured on Zoosk, Tinder, The Economist, People Magazine, Parade, Women's Health, Her Campus, Fox, and more.