As one of the most respected professions in the US, there's probably not a group more deserving of love and support than nurses. And as we approach what is most likely a looming nursing shortage, the importance of that strong support system may get much larger for the 4.2 million nurses in the US.
And whether you're an RN, an LPN, a CNA, or any other type of nurse there is, one thing is true—you're a catch. Nurses get paid well, work flexible schedules, and are masters at caring for people's needs.
But dating when you're in a professional discipline like nursing can sometimes be tough. Thankfully, dating apps for nurses are here with the right prescription and the remedy to your love troubles. All puns aside, let's take a look at which dating apps are best for nurses, which is ideal for you (and why), and even some tips to succeed.
1. Elite Singles – Best Nurse Dating App for Professionals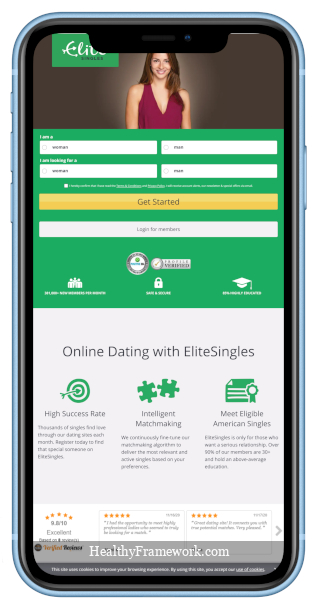 As the leading dating app for professionals from all disciplines, Elite Singles is a pretty straightforward fit for nurses looking for love. The dating app is designed for singles with professional jobs who value education, talent, and career potential. As you might expect, this includes a lot of doctors, nurses, healthcare administrators, as well as lawyers, business owners, teachers, etc.
To be clear, Elite Singles is not just for healthcare professionals or nurses. It's open to anyone who is looking for a relationship with someone who understands and respects the type of career you're in. While there's no strict vetting process to ensure everyone is "on the same level", the app has shared in the past that over 85% of its members hold an above-average level of education or certification.
If you want a relationship with someone with strong career aspirations and goals who may or may not be in the medical field, check out Elite Singles.
2. eHarmony – A Nurse Dating App for Serious Relationships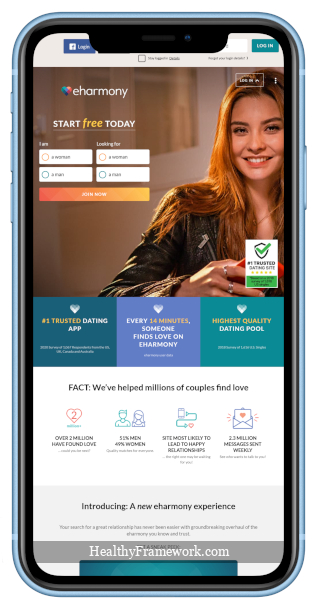 While Elite Singles tops our list of the nurse dating apps, it's not always the right fit for everyone. Some nurses share that they don't necessarily need to be the next power couple or need to date someone who is as driven as they are. For that reason, eHarmony earns a spot on our list as a leading nurse dating app.
Where Elite Singles puts more focus on education and career, eHarmony puts more focus on your personality, lifestyle, wants, needs, and relationship goals. Yes, you are still going to find a lot of professionals on eHarmony, but the focus is less about what you do for a living and more about who you are.
Arguably, this is a better approach, and probably the reason eHarmony is the dating app responsible for the most marriages.
And just knowing that nurses don't have time for flakes, eHarmony's more in-depth sign up process and stronger vetting of fake accounts means less wasted time and more singles who are serious about the process.
While we ranked it second, eHarmony could easily occupy the top spot for single nurses who want a strong connection to someone special.
3. Higher Bond – Top Option for Single Christian Nurses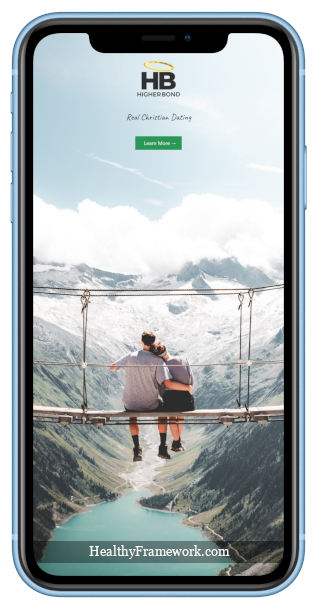 While the data is a little data, there were 726 faith-based hospitals in the US just a few years ago. And when you study the makeup of nurses within those facilities, data shows that over 86% of them are Christian or Catholic. And that doesn't even begin to take into account the number of Christian nurses who work in traditional, non-religious facilities.
We share all of that to say one thing—there are a lot of single Christian nurses in the US. If you fall into that category, Higher Bond is going to be the top option for you. This Christian dating app is designed to take a more serious approach to online dating than most other options. With faith-based matching, no swiping, and 100% manual account and photo approval, the app is a perfect match for faith-focused nurses.
Now, a few things to be aware of. First, the app is new so the userbase is smaller. Second, it only serves the US, so if you're looking internationally, you'll need to try another option. But other than those two things, Higher Bond is really changing the game for Christian singles from all professions, including the nursing field.
4. Zoosk – Best Dating App for Travel Nurses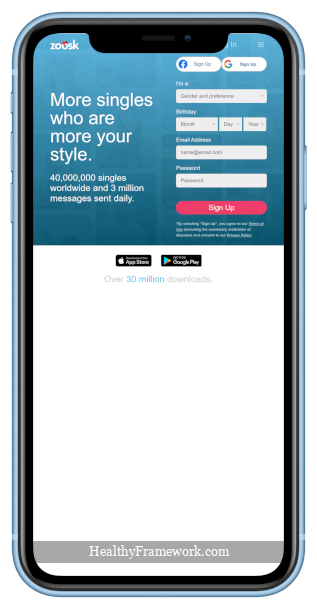 Here's some really cool data. Of the 1.7 million travel nurses in the US, nearly 70% of them are single as opposed to only 29% of those who don't travel. If you're a travel nurse, though, you don't need us or the data to tell you that dating can be hard. But hard doesn't mean impossible, and we want to give you a great option.
Zoosk is a dating app that has over 35 million members looking for all kinds of relationships from serious to casual. Here's why we like Zoosk for travel nurses. One—if you are looking for serious or you just want someone to blow off some steam with, you can serve both purposes with a few clicks on the app. Two—changing your location also only takes a few clicks, so you don't have to jump through a lot of hoops when you take a new assignment.
Yes, Zoosk also works for local nurses, but we wanted to draw special attention to how its flexibility could be real nice for a travel nurse new to a city.
5. ForeverX – Best Dating App for Only Healthcare Singles
Okay, you're probably wondering why we've gotten all the way through our list without any nurse dating apps that were just for nurses. This has been intentional and we want to show you why. ForeverX is a new dating app designed exclusively for healthcare professionals (doctors, nurses, admins, etc.). In fact, you have to verify with a badge or credentials to even get your account approved.
Sounds great, right? Well, here's our qualms. Number one—what if you don't want to date someone in the same industry? You're out of luck at ForeverX. Number two—the app is so niched down that the userbase appears to be incredibly small. The app only has seven reviews on the App Store and just over 1k downloads on Google Play. Compare that with an app like Zoosk that has 70k reviews on iOS and 10 million plus downloads on Google Play.
We have to chalk this one (and all other niche nurse dating apps) up as a great idea in theory but just impossible to execute effectively. We hope they prove us wrong, but as of now, we're not big fans.
---
5 Reasons These Are the Best Dating Sites for Nurses
As a nurse, we know you base your decisions on facts, data, qualitative and quantitative research. So, there's no way you will trust our judgement on these apps without us showing you exactly why they were selected!
1. HIPPA for Dating
Okay, so HIPPA privacy protection doesn't actually exist for online dating (sorry), but we figured it was the best way to show how important we think privacy is when selecting a nurse dating app. In order to earn our nod for a clean bill of health, a dating app needs to use proper encryption for your data, never sell or give your data to third parties, and have some form of barrier between the open internet and signed up members. Rest assured, the single nurse dating sites we have listed here understand this and take it seriously.
2. Truly Exceptional Mobile Experience
When you're running between rounds, shifts, patients, and continuing education requirements, it can feel hard to find time to date online. Because of this, we think it's extremely important that any nurse dating app have an exceptional mobile dating experience. In other words, you should be able to send messages, find matches, and update your profile from anywhere on any device. Now, if your hospital has terrible WIFI, we can't do anything about that. But as long as you have cell service, you should be able to connect with other singles.
3. Singles In and Out of the Medical Field
Some people like dating people in the same field as them because they "understand their lifestyle." Other people couldn't get further away from people in their industry. Neither of these approaches is wrong, but we do think the best nurse dating sites need to accommodate both. This is one of the main reasons we're big on using mainstream dating apps instead of single nurse only dating apps.
4. Professional Focus
While you may still like having a good time and enjoying the town you live in (or visiting if you're a traveling nurse), your wild party days several nights a week are most likely behind you. For that reason, the nurse dating apps we recommend have a bit more of a professional focus. No, they aren't filled with squares who don't know how to have a good time, but they are filled with people who understand that maintaining a career and goals are things that are important.
5. Message vs. Chat Format
Some dating apps use more of a chatroom type setup when it comes to connecting people. Others use more of a message or email type format where you exchange messages with a longer gap in between responses. For us, the latter is much better for busy nurses. You probably don't have hours to sit and chat back and forth with someone in a chat room. But you do have time here and there to read and respond to messages when it fits your schedule.
Tips for Nurses Dating Online
Still trying to decide on the right nurse dating site for you? Curious how to get the best results from these options? Here are a collection of some of the most important tips to keep you on track.
Pace yourself. – There's no reason to rush choosing a dating app for nurses or finding someone to go on a date with. When you rush things, you make mistakes. Take your time, and enjoy the process!
Don't share what hospital or doctor's office you work at publicly. – Yes, there are some weirdos and creeps online. Spoiler, there are weirdos and creeps anywhere you go to meet singles (including in person). For this reason, exercise a little bit of caution and don't give out identifiable information about where you work until you're ready to. The biggest infraction of this we see are people putting up a picture of themselves in their scrubs at work with their hospital bade on that says way too much information about you.
Be open about your schedule. – If you work at a busy hospital or constantly have to put in overtime, let someone you're talking to know upfront. If you do this proactively instead of reactively, it will be better received and seem way less like an excuse when you have to cancel a date or are tough to schedule with.
Don't get used for your medical knowledge. – Thankfully, this doesn't happen a lot but it's something to be aware of. Make sure people don't try and take advantage of the fact you're knowledgeable about illnesses and ailments. You're on these nurse dating sites to date, not to offer medical services.
Turn off notifications if they get distracting. – Most dating apps allow you to control what you get notified about in real-time. What this means is that your phone could be dinging all day long if you have the notifications set for everything. Take a minute and set the things you really want to be notified about. What a lot of nurses do is turn off all notifications except for the little number indicator so that they aren't distracted while they're with patients. Remember, just because you don't see the notification in real-time doesn't mean it's not going to be there when you finish your rounds or shift.
---
---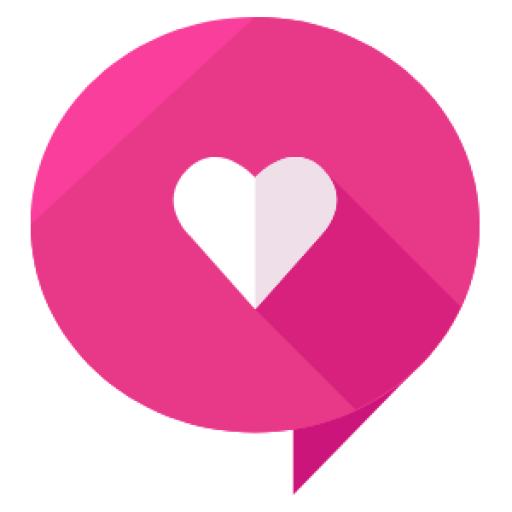 Written By: Healthy Framework Team
The Healthy Framework team has a combined 50+ years of experience in the online dating industry. Collectively, the team has reviewed over 300 dating apps and is known as one of the leaders in the relationship advice and information space. The team's work has been featured on Zoosk, Tinder, The Economist, People Magazine, Parade, Women's Health, Her Campus, Fox, and more.