While your grandmother may never understand, technology just can't be ignored anymore when it comes to dating. In this day and age, especially if you're looking for a very specific type of partner who matches you on multiple levels, there are plenty of dating apps for Muslims to help.
Muslim dating apps are incredibly valuable tools that can help give you a good idea of the different kinds of people who are also out there looking to date fellow Muslims. Not only that, but they offer a host of search options to help you find dating partners who meet your cultural, language, religious and lifestyle preferences. And meeting someone who's a great match for you is a surefire way to make Grandma happy!
Top Muslim Dating Apps
---
eHarmony – Best Mainstream Dating App for Muslim Singles
Dating as a Muslim single is vastly different than what most online dating sites promote. In pursuit of a halal relationship there are Islamic laws in place that must be followed if one is going to be true to the teachings of the Qur'an. Since premarital sex and casual dating are considered haram (non-permissible), Muslim singles need a dating app that focuses on serious, meaningful relationships. That is why we recommend eHarmony as the best mainstream app for halal dating online.
eHarmony matches singles through a highly advanced compatibility algorithm so you don't waste time talking to or dating singles who don't share your values. This is why eHarmony has led to over 2 million successful marriages. If you're looking for a serious Muslim dating app here are 4 reasons we can't recommend eHarmony enough:
Excellent track record, highly-rated (9.8/10), and numerous success stories.
Match filters allow you to filter singles by important factors like religion.
Balanced ratio of men and women (51% men – 49% women).
Very active community – Over 2 million messages sent weekly.
---
Best Niche Muslim Dating App (Muslim Singles Only)
As good as eHarmony may be, some Muslim singles won't want to use a dating app where they will potentially encounter non-Muslims. If that's where you're at no worries! There are multiple Muslim-only dating apps on the market, but which should you choose?
Our team was very impressed when we reviewed Muslima. This Muslim dating app has a large user base (over 7 million worldwide), easy to use interface, and excellent verification and safety measures in place for users.
But don't just take our word for it. Users seem to love Muslima as well. This niche Muslim dating app carries a 4.1 star rating from TrustPilot with over 60% of reviewers rating it as "excellent". So is Muslima right for you? The only way to know for sure is to give it a try! Click the button below to start your Muslima free trial today.
Traditional Dating Sites or Muslim-Only Apps?
Of course you can meet Muslims on traditional sites like eHarmony or Zoosk! In fact, incorporating "traditional" dating sites into your search is a great option, as you will find these sites have many more users. Most traditional dating sites have an option to filter your search by religion, and so searching for other Muslims on these sites is fairly simple.
But what if your sweetheart has to be a Sunni? What if you could never be with someone who didn't speak Arabic? What if you definitely want someone who prays daily, but will sneak a glass of wine at dinner with you? While traditional sites might have more options on the surface, you may have a tougher time narrowing down your search to those who meet your more specific needs.
That's where Muslim dating apps come in: they can really help you narrow your search to those who really match with you. Here's a look at some Muslim-only dating apps and what they have to offer users:
A great idea is to incorporate both kinds of Apps into your search process! It can't hurt to try both methods and see where they take you.
Halal Dating Culture and Terms to Know
If you're going to date a Muslim man or woman it's important that you understand their culture and the expectations they have for relationships that they are in. Though not all Muslim singles will conform to these traditional standards understanding the culture of Halal dating can go a long way to you being seen as Mr or Mrs right.
Muslim Dating Culture at a Glance
As mentioned earlier on this page, most Muslim singles are not going to be interested in any kind of casual dating. The result is that Muslim dating apps are primarily geared toward long-term relationships. Once a match has been made dating will be different also. Since physical contact is generally forbidden there will be much more focus on conversation and building emotional connections.
Note – Modern Muslims singles may define Halal dating differently for themselves. It's important to ask your partner about what they want and what they believe to maintain clear goals for the relationship.
Muslim Dating Terms to Know
Halal – This is an Arabic word that means something is in accordance with the Qur'an. (Permissible under Islamic law).
Haram – This is the polar opposite of Halal. If your partner were to say they, "don't want to do anything haram", that would simply mean they want to avoid anything that would go against the teachings of Allah or his messenger Muhammad.
Zina – This is a term describing premarital sex or adultery. If you're dating a Muslim this is a big no no. According to Islamic law punishments for zina include lashes and rajm (stoning to death).
Wali – This is an Arabic word for a master or protector, in this case a chaperone. It is very common when dating a Muslim single to have group or chaperoned dates. This is another way of maintaining purity in the dating relationship.
Dhimmis – Also known as "people of the Book" dhimmis are people living under Muslim rule who do not practice Islam (Typically Christians or Jews). But what does that have to do with dating? Well, according to the Qur'an a Muslim man can marry a dhimmi women. A Muslim woman can also marry a dhimmi man (but only if he is willing to convert to Islam)
Ramadan – While this term doesn't strictly pertain to dating, it will play a major role in your relationship if you're dating a Muslim singles. Ramadan is a month of fasting and during this time practicing Muslims will not east or drink anything from dawn to dusk.
Nikah – If this word is being tossed around well done, you've achieved your goal. This is the term for marriage in Islam. The ceremony will be similar to traditional American weddings. Expect there to vows exchanged and reading from the Qur'an.
---
Muslim Dating in America
Muslim dating in the U.S. comes with its own set of challenges. Balancing religious views with the desire to connect intimately with others can be a tough road. Parents and Grandparents had to follow more strict rules, and often have different expectations for our generation than we have for ourselves, living in a country where cultural norms are different from our family's traditions.
Not only that, but many Muslim Americans might not meet potential Muslim partners in the course of their day to day lives. Using dating apps for Muslims can help you expand your search to people outside your regular routine, so you are more likely to find the soulmate you're looking for.
If you want more of a say in who you date, and ultimately marry, you're not alone by far. More and more American Muslims are using Halal dating apps and websites to modernize and gain more control over the process of finding "the one."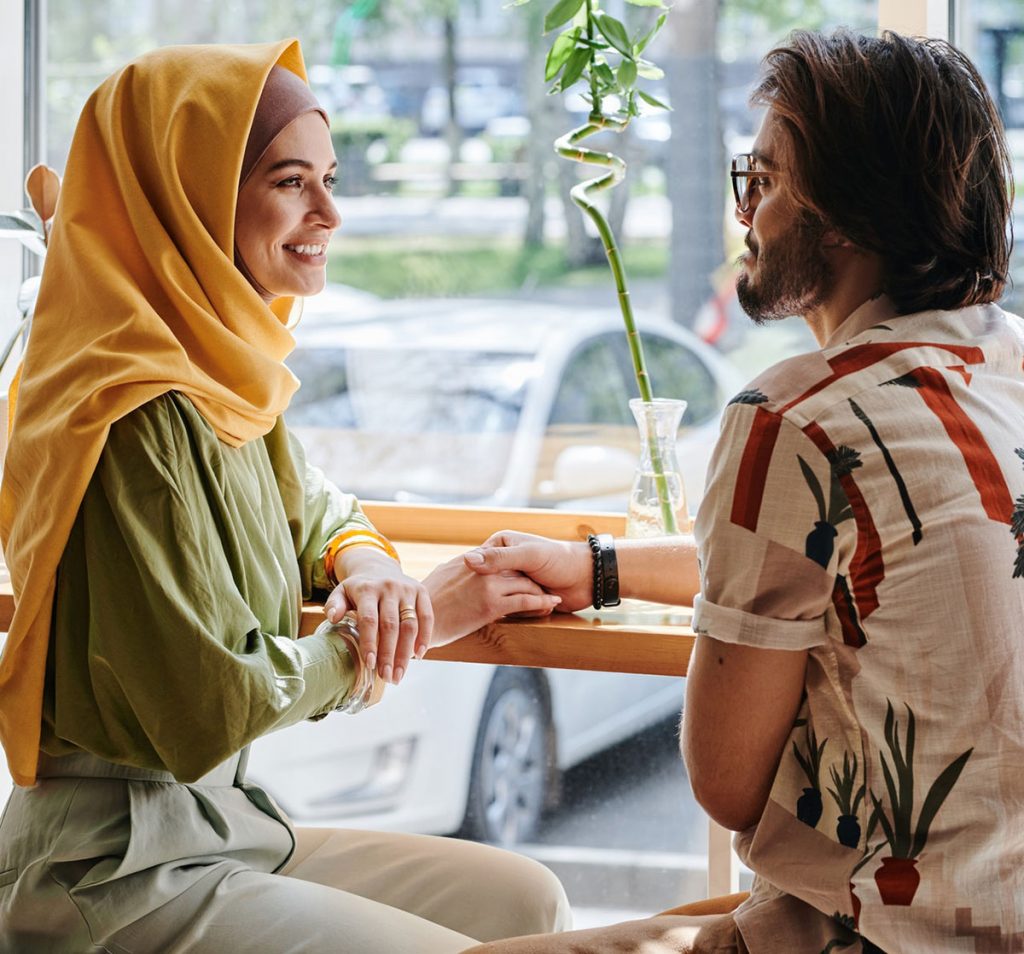 Why Are These the Best Muslim Dating Apps in the U.S.?
Wide User Base – With 7.5 million users, Muslima.com is an incredibly popular site worldwide, and even boasts a great "Success Stories" page, where you can read reviews by successful couples!
Options to Maximize Compatibility – Search for everything from height and hair color, to Halal strictness, to how often your sweetie reads the Qur'an. Muslim dating apps are the best way to ensure you meet someone who shares your sect of Islam or nationality, as well as any other part of Islam you prefer to share with a match.
Find The Kind of Relationship You're Seeking – Looking for marriage? Dating apps for Muslims are a great way to meet matches who are also marriage-minded. And if you're looking to get to know someone a little more casually to begin with, you can easily find that as well!
Tips for Muslim Singles Looking for Love Online
Be Open About The Kind of Relationship You Want
If you're looking for marriage, say so! You certainly don't have to marry anyone right away, of course. If you want to be married someday, just not right now, that's okay too. Just looking for some friends to talk to and get to know? No problem! Being up front about your relationship goals and expectations is a big help. It's much harder to achieve them if you're attracting people who aren't open to sharing them.
Choose Options To Maximize Compatibility
If you want someone who prays five times a day make sure your settings specify that you're looking for someone more religious. Whether you prefer a partner from a certain sect, or you're not into hijab, or you're better in Arabic than English, select options for your search that help you find someone who meets your needs.
It Can't Be Said Enough—Be Yourself!
No matter how attractive you might find someone, it is always important to let your true self shine through! If you like someone, let them get to know the real you so there is never a doubt in your mind as your relationship grows.
Ignore the naysayers
If someone judges you for using dating apps, just shrug it off. Meeting people in this day and age is tough enough that 15% of Americans are using dating apps, and it's even tougher when you narrow the dating pool to Muslims only! Dating apps are a great way to broaden the scope of people you meet and increase the chances of finding a partner who is right for you.
And if your Grandmother has a problem with that, remind her how happy she'll be if you do meet the love of your life!