Over the past few years, there have been concerns that online dating apps are erasing digital romance to make way for nothing but hookup culture. And while this is a legitimate concern, there is some good news. Recent research shows that online singles actually care more about finding love than they do about a casual hookup. And if you just let out a big 'Hallelujah' or 'Amen' to that because it's what you're looking for, then you're right where you should be.
In this article, our team takes a look at the best dating apps for marriage. If you're ready to settle down, put a ring on it, and walk down the aisle with the right person, these dating apps are going to be your best bets to get started.
1. eHarmony – #1 Overall Pick for Getting Married

When it comes to the best dating apps for marriage, every app claims to be the best of the best. But only one has the data to back up the claim, and that is eHarmony. According to a massive study by Proceedings of the National Academy of Sciences (PNAS), eHarmony leads the charge for online dating apps responsible for the most marriages.
In reality, we could drop the mic and stop the discussion here. But we want to be thorough and share a few of the reasons we think eHarmony is so great at building marriages and any drawbacks to be aware of before signing up.
First, eHarmony uses a patented matchmaking algorithm driven by your answers on things like family, lifestyle, goals, etc. to curate matches. Instead of leaving the selection in your hands, they're leveraging two decades worth of data and successes to send you better matches that are more likely to align with you personally and your relationship goals to get married. Statistics show that nearly 500 people are getting married through the app every day.
The drawbacks of eHarmony have really nothing to do with the apps ability to produce results. It's just that you will need to be prepared to put a lot more time into the profile creation and taking the onboarding questionnaire, and you will have to plan on paying a bit more for a membership as the eHarmony cost is a little higher.
But in reality—if you want to find someone to spend the rest of your life with, it's probably worth investing a few extra minutes of your time and a few extra bucks if you know the chances of results are the best in the business—and that's according to real, hard data.
2. Higher Bond – Best New Christian App for Marriage

For Christian singles who take their faith seriously, the ultimate goal of dating is always to find someone to marry. What's great about that being a widely accepted viewpoint is that most singles on Christian dating apps are going to be looking for the same thing as you—to find someone to marry.
And in 2022, we were blessed with a brand new option designed for Christian singles looking for marriage, and specifically for ones who felt faith was a huge part of that selection and courtship process. But… how do they plan to accomplish that? For starters, the intake questionnaire.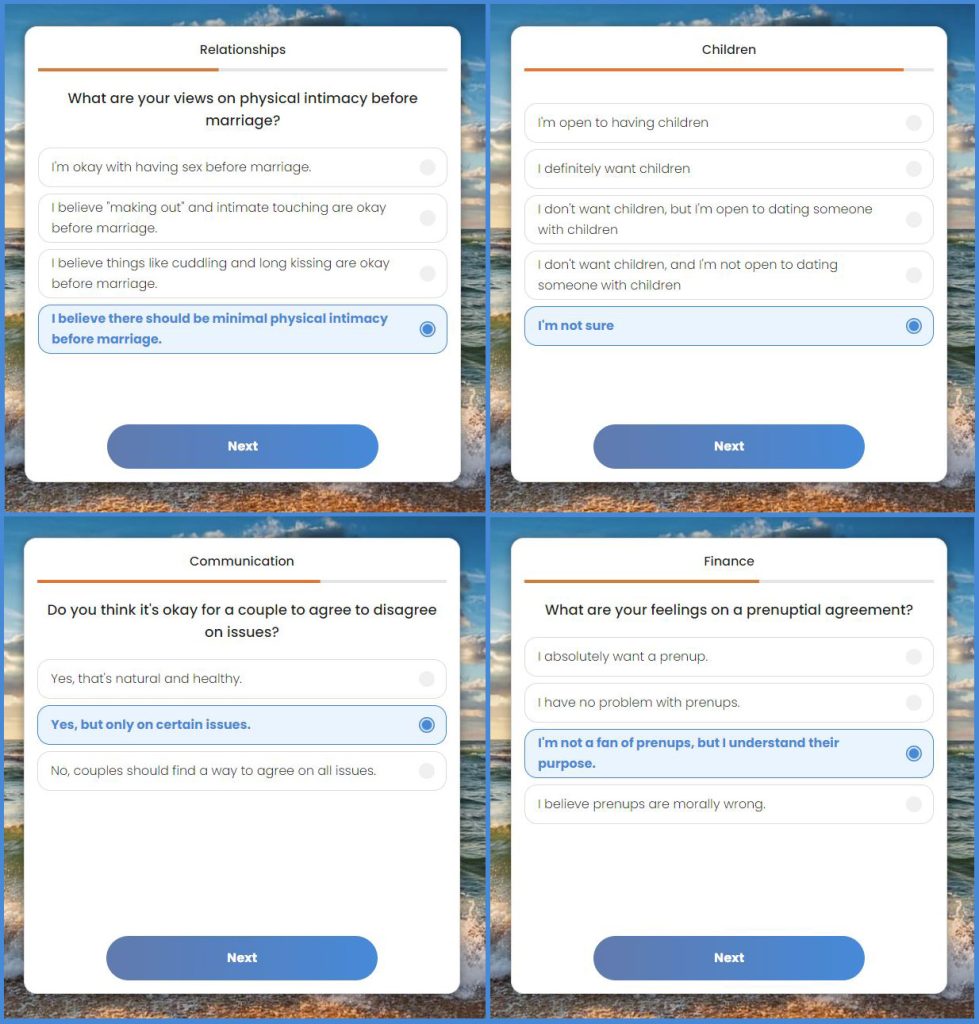 This faith based questionnaire is going to be used to power the matchmaking algorithm and looks at things like prayer, relationships, family, kids, shared finances, and more. Additionally, it looks at some theological issues, which may be important to agree on before moving towards marriage.
If you're ready to find someone to marry and it's imperative to you that they share the same Christian faith and values as you, give Higher Bond a go.
3. Zoosk – Best Marriage App for Young People


Just because a dating app doesn't solely support singles looking for marriage, doesn't mean it's not an ideal solution for those who are looking for that level of commitment. Often, we'll opt to recommend mainstream dating apps with huge userbases for a niche cause if they have adequate filters and preference settings you can use to find exactly what you're looking for. The tradeoff is that you get access to millions of singles and can avoid the drawbacks of the smaller userbases at more niche apps.
All of that said, Zoosk is a dating app for marriage that fits that bill. For transparency, no, it is not a marriage-only-focused dating app. It caters to all different types of relationship goals. However, Zoosk has over 35 million users and a huge portion of them are looking for something serious. So how do you make it work, and what makes it viable? The filters.
As you see, you can select one of six options when it comes to what you're looking for. Of course, you'll want to select "long-term dating." But…it doesn't say marriage as an option? Is that a bad thing? In fact, we don't think so. This weeds out people who just want to get married for the sake of getting married but don't care about the quality of the relationship or the connection. We want to ensure you find that special person to marry, but not at the expense of them being the wrong person who is just trying to rush the process.
And what's neat about Zoosk is that it does have some features more attractive to younger singles (like swipe dating), which means it will be more attractive to younger singles looking to find love and marriage.
Set your filters properly and you can turn Zoosk into an incredible marriage dating app.
4. Match.com – Best Marriage Dating App for Taking Things Slower

Just to clear the air on our headline, no, we aren't saying that marriages that come from Match.com are going to be lower commitment. What we're talking about here is that this dating app is better for people who want to get married but maybe are not 100% sure that's what they want or how quickly they want to move in the process. In other words, we feel like Match is a dating app that talks a lot about creating marriages, but also has features that may be a little more conducive to casual dating.
When you compare Match.com to a site like eHarmony, you'll see that there are subtle differences that indicate why one is number one on our list and one is down at number four. One of the biggest is the way the matchmaking is mainly conducted. On Match, you'll be more in the driver's seat with a catalog of available singles that you can sort through and select on your own. It's driven way less by a matchmaking algorithm that focuses more on important marriage-type criteria.
Again, that's our opinion, but we think the results speak for themselves. All of that said, Match is still certainly a very viable option for finding marriage and comes with several success stories.
5. SilverSingles – Best for Getting Married Later in Life

Most seniors have already been married at least once. According to CDC data, over 90% of men and women aged 60 or older have been married at least once. But as life happens, people get divorced, partners pass on, and life does what life does. And even though the number of currently married individuals in their later years has dropped over the past few years, that doesn't mean you can't find someone special to walk down the aisle with again or for the first time.
When it comes to the best marriage dating apps for seniors, none shines more than SilverSingles. With unique features designed solely for seniors, the app and website are a great place for older singles to connect and find love. Now, keep in mind that not all seniors are looking for marriage and SilverSingles is open to help all singles, regardless of their relationship goals. But you can filter and set up your profile to see those looking for marriage.
Yes, any other option on this list will also work great for seniors looking to get married, but SilverSingles is a special 50+ community designed just for you.
6. JDate – Best for Jewish Marriage

While over half of married Jewish couples in the US are intermarried (married to someone of a different faith), that doesn't mean that you have to do the same. If you're okay with intermarriage, any of the other dating apps on this list (like eHarmony) will be a better fit. However, if your faith and guiding your family in the Jewish faith are important to you, JDate is a marriage dating app that should be on your radar.
Even though it's an older stat, a few years ago JDate conducted a study and found that over half (52%) of Jewish marriages that started online originated on JDate.
That's more than all other Jewish and mainstream dating apps combined. And if you want to see more specific examples, the JDate wedding archive has a nice sample of couples who met on the app.
While there are other Jewish dating apps that exist like JSwipe, Saw You at Sinai, and JWed, none of them hold a menorah to JDate's track record of success connecting Jewish singles looking for marriage.
7. Muzz – Best Muslima Marriage Dating App Option


While the rate of unmarried Muslims is higher than the general public (35% to 22%), marriage has been and always will be a cornerstone of the Muslim faith. And over the past few years, more Muslim singles have been turning to online dating apps to connect and find a spouse. The leading Muslim marriage dating app that they're using is Muzz.
Formerly known as MuzMatch, Muzz is an international dating app with over 8 million members and 400,000 success stories and counting. With unique features like selfie verification, religious filters, community rewards, and even the ability to invite a chaperone to a conversation, Muzz is a safe and inviting place to connect and find someone to marry.
And with a 4.2 star rating on the App Store and an even more impressive 4.5 stars over 5 million+ downloads on Google Play, it's clear that Muzz is dominating this space.
While there are some Muslims in interfaith relationships, finding an Imam willing to marry them is a harder task. For that reason, we generally recommend that Muslim singles use a dedicated app like Muzz, even though the more mainstream apps can be an option, depending on your faith views.
Why These Are Our Favorite Marriage Dating Apps
We thought it was important to showcase the reasons that we're in love with these dating apps for marriage. You could consider these like our vows if you're feeling festive? Here they are.
The primary focus of the app is a committed relationship.
This is a non-negotiable for us. Any dating site that wants to be classified as a marriage dating site needs to have that as the primary focus or a major focus with adequate filters. This means that the importance of commitment needs to be felt in their marketing, messaging, website, profiles, and everywhere else. Otherwise, you end up with a casual dating app masquerading as a serious one.
Security and a proactive approach to fake accounts are paramount.
When you're looking to find someone to marry, you're looking for someone to share your most intimate secrets with. You're also looking for someone who is going to be financially and legally bound to you. This, unfortunately, attracts spammers and scammers. The best marriage dating sites work hard and proactively to rid their platforms of all of these fake accounts and unsavory characters. That's also why you'll see many of these apps also listed on our safest dating apps page.
You have the ability to set your preferences to long-term dating or looking for marriage.
A small few of the dating sites for marriage listed in this guide also double for a little more casual dating. This is okay because these apps give you the ability to share that you're looking for something long term that could eventually lead into marriage. Without the ability to make that distinction, you'd spend most of your time sifting through casual daters who aren't serious.
The dating app has a proven track record of helping people meet and marry.
Can the app do what it promises? It's as simple as that. Are they able to share real stories and provide data and facts that back up their claims about helping people meet. Are we able to find real-life stories of people who have met on the platform and gotten married? It's an arduous research process, but it's critical to truly find the best marriage dating sites.
It's an inviting and welcoming community.
Finding someone to marry is an intimate process and for many a sacred one. If the dating app doesn't have an inviting and welcoming feel, the delicacy of that process will be tainted. The best marriage dating apps know how to take a normally awkward and rigid process and smooth it out to where it's not only successful, but exciting, fun, and romantic along the way.
Tips to Find a Spouse Through Online Dating
Finding a spouse through online dating doesn't need to be difficult. Follow our tips and you'll see that there are plenty of eligible singles out there who want all the same things as you.
Be Open About Looking For Something Serious
There is no need to beat around the bush when it comes to your relationship goals. Make it clear from the get go that you aren't looking for a fling or weekend hookup. You can express this information on your profile, during any preliminary questionnaires, and during conversations with your matches. This way, you know that the people you talk to are serious about looking for a long-term relationship.
Don't Be So Marriage-Minded That You Scare Someone Off
Just because you and your partner are both open to marriage, doesn't mean they want to put a ring on it as soon as possible. Be open to a long courting period before marriage and don't dive headfirst into talking about marriage and children as soon as you meet somebody. It can come off as desperate and clingy, which can make your potential partner feel that you care more about the title of husband or wife than you do about them.
Have a Realistic Timeline
These online dating apps for marriage are the real deal, but that doesn't mean you are going to meet your future spouse in the first week. You need to understand that all successful relationships take time and work. Chances are, the first person you click with won't be your forever partner, but that doesn't mean your journey to marriage is a bust. Patience and persistence are key.
Don't Compromise for a Faster Marriage
Desperation for marriage can create a bad situation in your life. If you make major compromises to your wants and standards just to find the quickest way to the altar, you are likely going to be disappointed. You might get that marriage, but if you aren't compatible, the chances are higher it ends in divorce. You need to take the time to find a truly compatible partner.
Be Honest About Your Wants and Needs
If you want to find a spouse that truly understands and loves you, you need to be honest about who you are. Whether you are informing your partner of a chronic illness or a general distaste for cats as pets, you need to disclose any information that might influence that partner's opinion of you or the relationship. It isn't fair to your matches to be blind sided with your wants and needs after you become emotionally invested in one another.
Utilize All the Tools at Your Disposal
Every online dating app for marriage will have its own set of features and community networks. Whether it be chat rooms, blogs, games, or anything else, you should try utilizing all the features available to have the best chance at successfully finding your perfect match.
Marriage Dating Sites FAQ
Can online dating lead to marriage?
Yes! In fact, statistics show that a surprising amount of modern marriages began as online relationships. The trick is making sure you are only connecting with other singles who are also interested in marriage. This can save you a lot of time and heartache of falling for someone with different relationship goals.
Are these good dating apps for Christian marriage?
Most of marriage-minded dating apps listed on this page are fantastic for Christian singles. Specifically, Higher Bond is our top choice for those seeking to marry someone who will share your faith and values.
If you'd like more options we would recommend Christian Mingle (Read our full review here). Christian Mingle has more singles than any other faith based option, and a list of 700+ success stories proving that this Christian dating app can lead to marriage.
Can you use free dating sites for marriage?
You certainly can, but we don't necessarily think that means that you should. When you're looking for someone to marry online you want to know that they're serious and can commit to something. Typically the type of people that aren't willing to shell out a few bucks to generate a relationship probably aren't very serious so we don't recommend free dating apps for marriage.
Can you meet someone international online to marry?
International marriage is just one of the ways online dating excels. You can meet singles from all around the world, and even find those with your specific religious beliefs. Whether you want to find someone in another country who wants to move to you, or you plan to move to them, these international dating apps for marriage can be great options. Their users are from all over the world. All you have to do is set your search parameters to find them.
---
---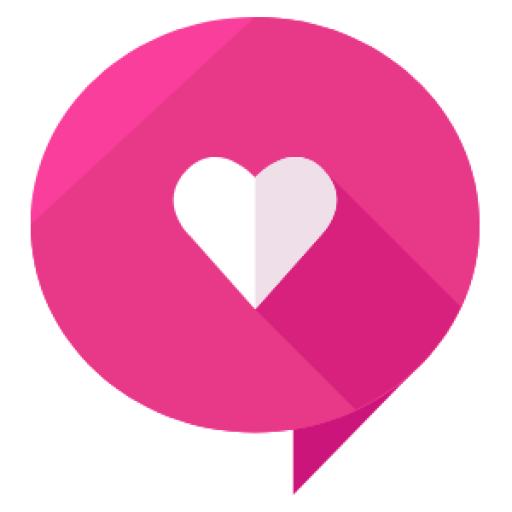 Written By: Healthy Framework Team
The Healthy Framework team has a combined 50+ years of experience in the online dating industry. Collectively, the team has reviewed over 300 dating apps and is known as one of the leaders in the relationship advice and information space. The team's work has been featured on Zoosk, Tinder, The Economist, People Magazine, Parade, Women's Health, Her Campus, Fox, and more.