The Best LGBT Dating apps can make navigating the dating scene a whole lot easier. These apps can help you narrow down your search to those who are more compatible with your personality and life goals. They also help protect you from narrow-minded individuals who only seek to harass members of the LGBTQ+ community.
No matter who you are or who you desire, there are apps out there that cater to your needs. The question is: which ones are the best?
We've put some of the most popular LGBT dating apps to the test to create this list of the top options.
eHarmony – Best LGBT Dating App for Serious Relationships
Sexual orientation isn't a concern when it comes to eHarmony. The app isn't an LGBT niche option, but there is a wide range of LGBT users on the platform. It's a good thing too because you don't want to miss out on the in-depth matching system used by eHarmony.
This app makes it onto our list of the best LGBT dating apps because there is no other place that leads to more serious relationships and marriages than eHarmony. Sure, dating around is fun, but when you are ready to find your forever person – eHarmony is there for you. You can even give the website a try for free before you make any final decisions.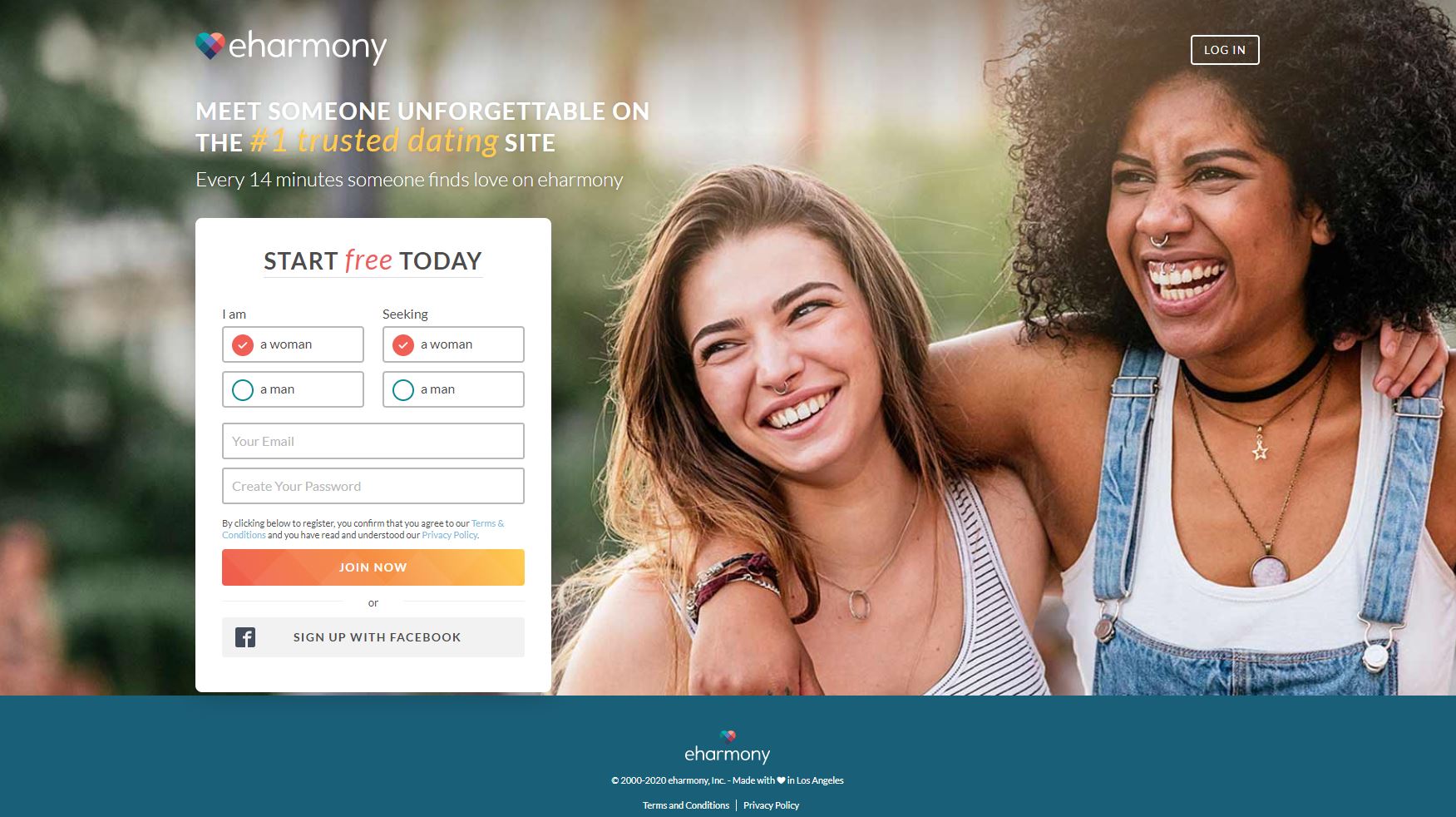 ---
Pink Cupid – Best App to Find Your Lesbian Match
Pink Cupid is on our list of the best LGBT dating apps thanks to its reputation as the most trusted place for women to connect with one another whether they are looking to find casual companionship or true love.
This niche dating site has been around since 2006 and has quickly grown into a widely used resource in the lesbian community. Thinking about branching out to a new country? The membership pool for Pink Cupid spans multiple countries including the US, UK, Canada, and Australia.
---
BiCupid – Best Option for Bisexual Singles of All Genders
It can be difficult to find a dating app that caters specifically to bisexual individuals. Luckily, Bicupid came along to fill in that gap in the online dating world. Now, it is considered one of the best LGBT dating apps available.
The community on BiCupid spans over millions of members and facilitates the discovery of friends, hook ups, serious partners, and more. Since the app does provide a space place to explore some of the more risqué aspects of dating, there are also resources to help you remain safe and educated.
---
Passion.com – Best LGBT Dating App for Hookups
Passion is what you might call a dating site after dark. People of any sexual orientation are welcome to join and experience the magnum opus of hookup apps. Passion takes the idea of casual meetups and removes the stigma.
There is no shame in wanting to find someone to show you a good time (or someone you can show a good time to), and Passion understand that. There are live chatrooms, live shows, member blogs, and so many other ways to connect as conservatively or openly as you desire.
---
HER – Best Dating App for Queer Women
HER is one of the greatest dating apps on this list thanks to the focus on connections and safety. The moderators for the dating app work 24/7 to keep their members safe and the platform secure. While some dating sites can make meeting people feel like a gamble, HER wants members to feel confident when setting up their first date.
HER has a selection of in-app communities to help members create relationships with one another. They also host events for those who want to meet singles from the app, but in person and in a safe surrounding. The bridging between online dating and real-life social events creates a modern take on romance that is both interesting and a lot of fun.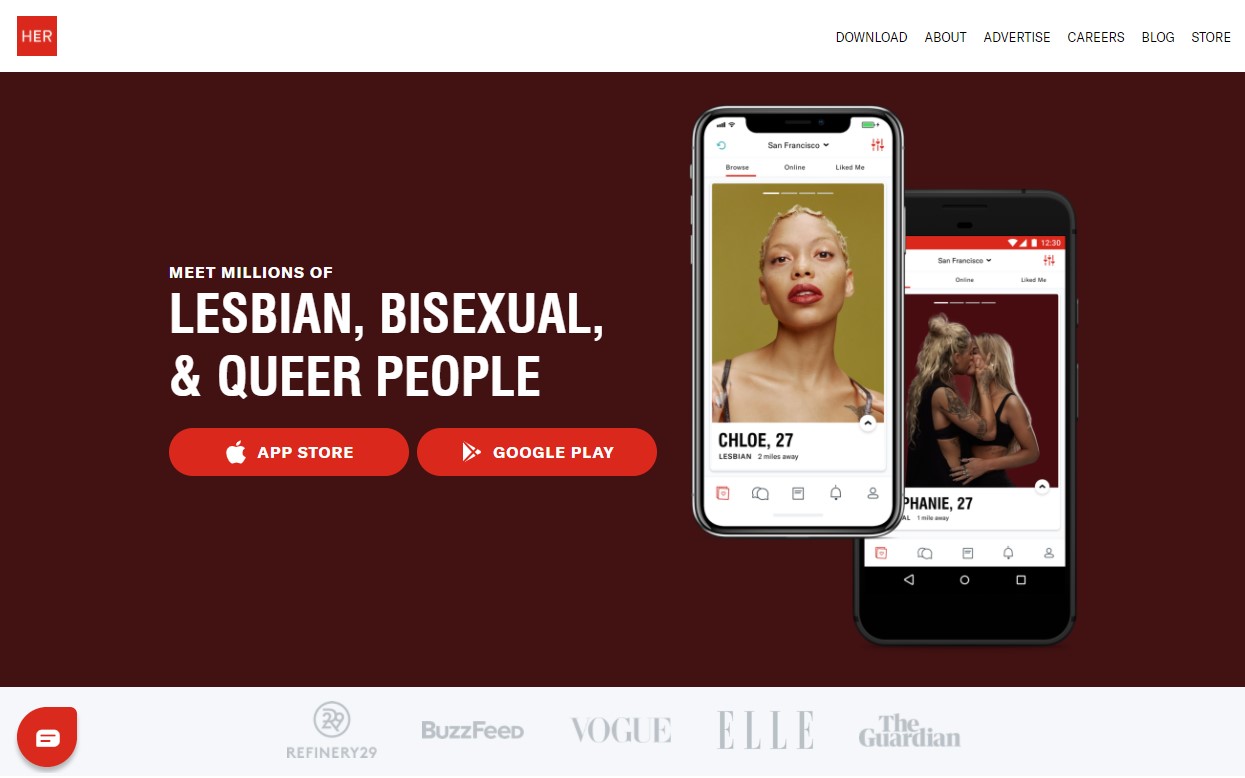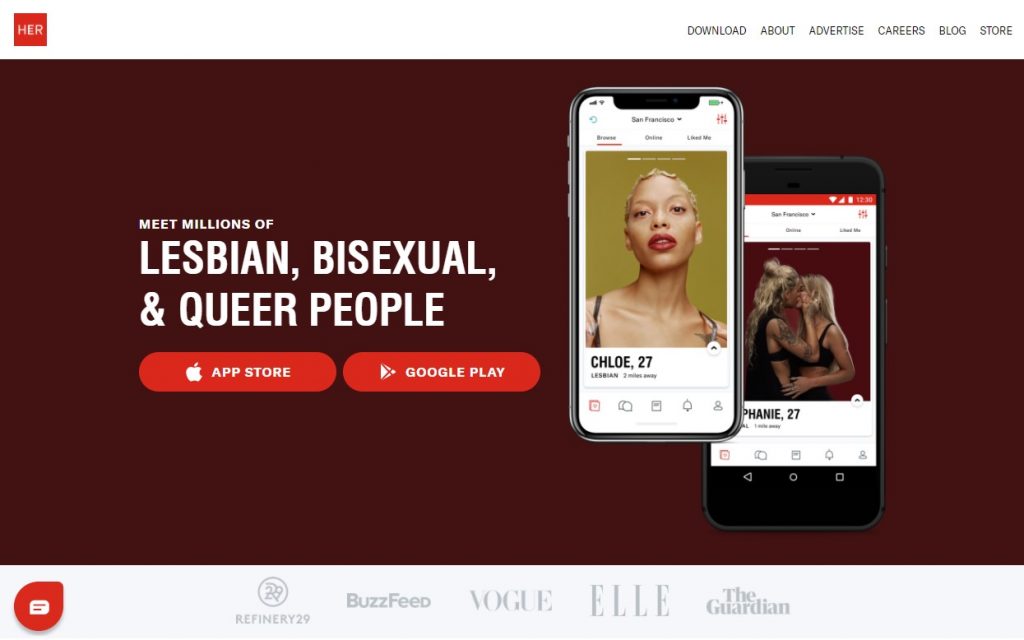 ---
LGBT Dating Apps vs. Traditional Dating Apps
Members of the LGBT community can find love on both traditional and niche apps. Honestly, it is mostly a matter of preference. Each type of app has their pros and cons, so why don't we take a look at both?
LGBT Niche Apps
Pros:
Easier to search for users with the same sexual orientation
Increased protection from bullies and trolls
App options that fit very specific romantic and/or sexual needs
Cons:
Smaller user base
Some apps aren't as modern and updated
Lower focus on personality matching
Traditional Dating Apps
Pros:
Large overall user base
Advanced features and intuitive design
Higher focus on personality matching
Cons:
Smaller pool of LGBT singles
Searches take more customization and filtering
Usually charge a monthly fee
FAQ About LGBT Dating Apps
What are the best LGBT dating apps?
The best LGBT dating apps are Pink Cupid, BiCupid, eHarmony, Passion, and Her.
Are LGBT dating apps safe to use?
The LGBT dating apps from our list are safe when used properly. Always follow standard safety protocol when meeting people online:
Insist on facetime chats or other visual conversation tools.
Never meet up privately with someone you don't trust.
Don't send money to someone you've never met in person.
Should I join more than one LGBT dating app?
You should join more than on LGBT dating app if you would like to expand your search radius. However, you don't necessarily have to join multiple apps in order to meet the right person. It is all up to personal preference.
Are LGBT dating apps expensive?
LGBT dating app prices range from completely free to approximately $30/ month. It all depends on the app you choose and the level of membership you would like to purchase.
Are LGBT dating apps age restricted?
The best LGBT dating apps from our list require users be 18 or older before signing up.
What if I don't want my dating app linked to my email account?
If you don't want your dating app linked to your email address, you can easily create a new email account to use instead. Remember to make the new email account before signing up for an app so you can receive activation links.
---
Written By: Brandi Brown
Brandi Brown is a daytime copywriter and nighttime novelist. Her projects range from marketing content and commercial scripts all the way to narrative poetry and short fiction. Her debut novel, Bleached, is set to release in 2023.
✉ Contact Brandi: [email protected]