Ladies looking for other smart, attractive, and sexy ladies, you've come to the right spot! Finding love "in the real world" can be challenging. It's hard to know who is straight, who is LGBTQIAi+ friendly, and who is actually single. Certainly there have to be plenty of other high-quality lesbian singles out there somewhere, right?
Yes, there are! You just have to know where to look. And today more than ever, lesbian singles are turning to online dating to find that special someone. No matter if you're looking for a serious relationship, casual dating, or no-commitment fun, the best lesbian dating apps are here to help.
But how do you know which lesbian dating sites are awesome and which are…well…hot garbage? That's where we come in. Below, our team breaks down a list of the best dating apps for lesbians, shares tips for getting the most out of online dating, and gives you all the resources you need to find that special lady you're looking for.
5 Best Lesbian Dating Apps
---
1. eHarmony – Best Overall Lesbian Dating App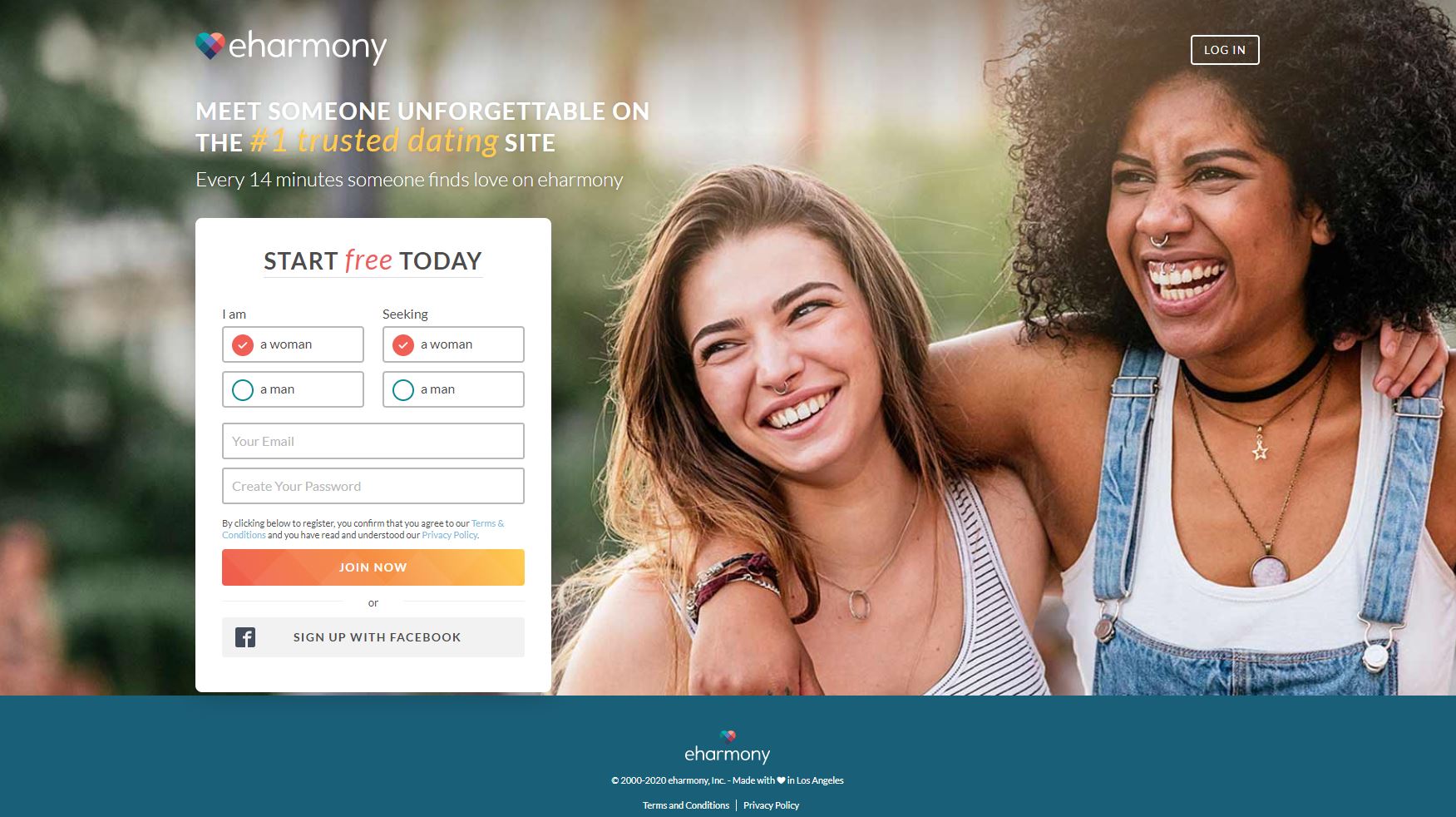 When it comes to the best lesbian dating apps, you might be surprised to hear about a mainstream option like eHarmony being at the top of the list. Well, you shouldn't be! eHarmony goes above and beyond to provide an inclusive environment that helps lesbian singles who are looking for more serious relationships connect. If you're looking for casual dating, this is definitely not the app for you. But for committed relationships, eHarmony is the best in the business.
Specifically for lesbian singles, eHarmony allows you to select your dating preferences from the moment you sign up. After that, your compatibility test helps to connect you with like-minded women looking for the same things you are. The one drawback is if you're actually bisexual, you do have to jump through some hoops to see both men and women. But if you're just looking for women for a committed relationship, you can't beat eHarmony.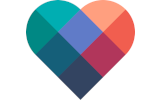 ---
2. Zoosk – Best for Casual Relationships
To all the ladies out there who want to keep it casual or who might not be sure what type of relationship they want, Zoosk is there for you. What's really cool is that you can select from a long list of relationship types (including casual or hookup), but you can also change that at any time. So, if you're having a bit of a wild streak and you decide later you're ready to settle in for a serious lesbian relationship, you can do that in a second.
Additionally, if you happen to be bi or are just experimenting with your lesbian side, you can also quickly update your gender preferences. This truly makes Zoosk not only a versatile lesbian dating app, but a great app for those who might later change what they're looking for. Flexibility is always awesome, even if you don't use it.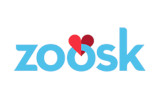 ---
3. Elite Singles – Best Lesbian Dating App for Educated Women
Elite Singles makes a lot of our lists for best dating apps, and that's no exception when it comes to the best lesbian dating app. The site boasts an impressive over 85% of singles with an above-average level of education. Much like eHarmony and Zoosk, it's a mainstream dating app that still creates an attractive and inclusive environment for lesbian singles.
Ideally, the site (like eHarmony) is better for more serious relationship, but you can still find casual lesbian dating through the app. Don't expect to find a lot of people looking for just hooking up, though.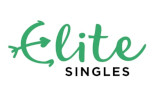 ---
4. Pink Cupid – Best Lesbian-Only Dating Option
If the idea of a site that isn't 100% catering to lesbian singles isn't attractive to you, that's okay. There are plenty of lesbian only dating apps out there you can consider. One of our favorites is Pink Cupid, part of the acclaimed Cupid Network of websites. What's neat about the site is they have a lot of real testimonials from lesbian singles who met and fell in love through the site.
One thing that really excites us about the site is that it recently came under new ownership and underwent a pretty nice facelift and upgrade. The site still kept its simplicity, which is pretty awesome. If you're someone who wants to keep it simple, Pink Cupid is ideal for you. If you're someone who loves every feature under the sun and wants the site to do the work for you, it won't be a good fit.
What's also incredible attractive is the price point for this site comes out to around $10 a month. If budget is a concern in your search for a lesbian dating app, this has to be at the top of your list.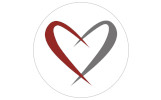 ---
5. HER – Best for LGBTQ+
While all of the recommended lesbian dating apps on this list are LGBTQ+ friendly and accepting, HER is actually a dating site servicing all of these groups. Designed for lesbian, bisexual, and queer women, the app has amassed an impressive 8 million members.
One thing that stands out about this app is that it does a bit more than just a traditional dating app. They have HER-sponsored events, produce educational material, and take a much more active role in the lesbian and LGBTQ+ community. And much like most of the other options on the list, the site is more geared towards serious relationships. It has the motto, "Find Your Person, Not Just for Hookups." Now, for transparency, the way that is worded, it sounds like you could use the app for casual hookups if you wanted to.
---
In the Guide:
---
Reasons We Like These Lesbian Dating Apps
An accepting and inviting community – If you've noticed, some of the lesbian dating apps we've recommended aren't 100% dedicated to the lesbian of LGBTQIA+ community. While there's absolutely nothing wrong with that (gives you access to more singles), we do have to look a little deeper to make sure the community is accepting and inviting to people of the community. Thankfully, all of the lesbian dating apps we've recommended that are more mainstream have passed our tests for safety, security, and inclusiveness.
Ability to select gender preferences – This may sound silly, but it's actually a key characteristic of a good lesbian dating app. If you can't select that you only want to meet other women, that could be a problem. And with some outdated apps that aren't as accepting of the way things are in the world, that actually could be a problem. There are still apps that just assume without asking that women want to meet men only.
Only connected with other lesbian singles – As many of our recommendations for lesbian dating apps are mainstream options, it's important that they only show you other women who are interested in lesbian dating. Sure, it might sound awesome to be able to see all women (including straight women), but that just means a big waste of time for you having to guess who is or is not interested.
Mobile, mobile, mobile! – Okay, if you can't tell, this one is so important to us that we felt like typing it three times. You have got to be able to date on the go if you want to fully enjoy our online dating experience. This doesn't necessarily mean a dedicated mobile app (one you have to download for iOS, Android, or Google), but it does mean mobile-responsive websites that work through a browser on your computer, phone, and tablet.
How to Choose the Right Lesbian Dating App
Choosing a lesbian dating app can seem like a tall task, but with the right direction, it doesn't have to be. Here are some tips you can lean on when selecting the right option for you.
If you don't feel like the app is safe, inclusive, and inviting to the LGBTQ+ community, go somewhere else. Not only is it not a great place for you, but there's no sense in supporting them.
Ensure the app you choose fits with what you're looking for or may be looking for in the future. If you only want casual dating, choose a more casual-accepting option like Zoosk. If you want something definitely serious, go with an app like eHarmony. And if you're somewhere in the middle, go with either Zoosk or Elite Singles.
Test drive the options. You'll notice that we included links for free trials for all of these lesbian dating app options. While these are limited free trials (the best available), they give you the chance to try things out before you have to decide on upgrading. Do this until you find an option you like and then upgrade your account.
If at first you don't succeed…– Sometimes you think you found the perfect lesbian dating app only to find out later it's just not right for you. When that happens, don't get upset. It's part of the process. If you've ever had a bad date with a woman, you didn't give up on dating altogether? (At least we hope you didn't). If you end up with a bad fit, just try out another option until you find the right fit.
Expand Your Options with Our Favorite Niche Apps for Lesbians
So, our five favorite lesbian dating apps include three mainstream and two niche options. And while we thought of stopping there, it was too hard to ignore the three niche apps that almost made the cut. They might not be top-five material, but they could easily round out a top ten list.
If you're looking for a hetero-free online dating experience you'll want to check out Zoe, Taimi, and Lex. Let's take a closer look to see why we've selected these three dating sites.
Zoe – Our Pick for Lesbians Looking for Love, Friendship, or Both
With 3.9 million lesbian, queer, and bisexual users worldwide, Zoe doesn't have as many singles as the mainstream apps. But while that can be a bad thing on some dating sites, we think it's part of Zoe's appeal.
See, sites with millions and millions of users often turn into virtual versions of the Wild West. It's hard for admins to police all those folks, so the behavior can get a little extreme. If you're looking for a safe space, "extreme" is not a word you want to hear.
But you do want to hear that an app is drama-free, and that's why we love Zoe.
It's hard to explain how nice, welcoming, and open the members are. Because it's so inviting, it's ideal for lesbians new to the dating scene and women still trying to figure things out. You'll feel right at home and comfortable being yourself on here.
---
Taimi – Our Pick for Lesbians that Know What They Want
Taimi is open to the entire LGBTQ+ community, so it's not a lesbian-only dating app. Still, there are lots of lesbians among the 15 million-plus members, meaning finding compatible matches won't be an issue. And while we recommend it for all lesbians, we think it's the best fit for those that know what they want out of a relationship.
Here's how it works…
You'll let Taimi know the type of relationship you're pursuing, and it'll assign you a "rainbow shade" based on your answer. Then, it'll introduce you to others that share your shade. It doesn't matter if your shade represents singles looking for hookups or long-term relationships. You'll find your match here.
---
Lex – Our Pick for Old-School Lesbians Looking for Love
Did you start dating back when lesbians placed personal ads in niche magazines to find partners? While you don't miss sneaking around to find love, there was something special about those ads. They were witty, personable, and fun and helped women find real connections.
The dating scene has changed so much since then, but you can get a digital nostalgia fix on Lex. It's set up to resemble personal ads in magazines, so you can use your words to reel in singles. And when you do find a match, you can use the app to chat before taking it offline.
Avoid Getting Hooked by a Catfish on Lesbian Dating Apps
Online dating is a great representation of the real world. Just like in real life, you'll encounter lots of nice, friendly people with a few jerks sprinkled in for seasoning.
When it comes to lesbian dating apps, most of the jerks are men posing as lesbians. They have different goals, from sextortion to "turning lesbians straight." Honestly, we don't know which is worse. Let's just agree that both are disgusting, and you want to avoid these guys at all costs.
After digging into some catfishing horror stories, we've identified the most common red flags that show up in these situations. Check out the warning signs so you can stay safe online.
Going too Fast
So, we know that lesbian relationships have a reputation for moving pretty quickly. It's not all that unusual for lesbians to pour out their hearts online and get serious fast. But moving fast isn't nearly the same as going at warp speed.
If your match goes from "Hi" to "I love you" in a matter of minutes, it's time to reassess. It takes time to develop real feelings, so the person is probably trying to get in your good graces before running a scam. You can try to slow things down, but if your match keeps it at 100 when you're cruising at 50, it's time to cut ties.
(Unbelievable) Perfection
We all like to put our best foot forward when dating online. But even so, authentic people don't tend to come across as too perfect. If your match's life seems a little "extra," take it as a cue to ask questions. As the saying goes, you don't need a good memory when you're telling the truth. If the person forgets the details or changes the story, you need to wonder what else "she's" hiding.
Avoiding Phone and Video Calls
You don't want to get stuck in texting purgatory for the rest of your life. No, moving things to the offline world is the goal, and you hope your match feels the same way. But if the person refuses to call or video chat, that offline meeting is unlikely to happen.
See, your match is probably either a man posing as a lesbian or a woman that isn't anything like the profile. And when that happens, you have to wonder what the end game is.
Keeping Social Media Details Private
Now, most singles don't give out social media handles right off the bat. It's a little awkward to have matches stalk you on Instagram five minutes into chatting. But after talking for a while, it's normal to exchange info and take deep dives.If you match with someone that won't give up the goods, she's probably hiding something. Or, to put it more directly, he's probably hiding something.
Lesbian Dating App FAQ
What is the best dating app for lesbians?
The best dating app for lesbians depends on what you are looking for. If you're looking for an app with only women, you may want to try Pink Cupid or BiCupid. If you're okay filtering the men out (which is easy), eHarmony or Zoosk might be the best options.
Will every lesbian dating app work on my phone?
Most of the top dating apps for lesbians work on all major phone and device operation systems, including Google, Apple (iOS), and Android.
Can I cancel my dating app subscription if I don't like it or I meet someone?
Absolutely! While the exact process for that is different with most apps, you should have no problems cancelling your account or pausing your paid membership. If that's something you think you might be doing, take a minute to read the terms and conditions before signing up.
Do dating apps for lesbians really work?
Yes! There's a reason that dating apps have been around for over two decades now. Technology helps people meet who might have never crossed paths in real life. While no one can guarantee success, these lesbian dating apps will greatly increase your odds and opportunities to meet someone special.