Financial imbalances, long work hours, the mental stress – there are dozens of reasons lawyers and law students have a hard time dating. Some people have this preconceived notion of what it is like to date a lawyer that can turn them running at the site of your J.D.
The key to successful dating as a lawyer is narrowing your search to singles who understand the lifestyle and are willing to accept the nuances that come with dating a lawyer.
You're probably thinking, "Well, that's great. But where do I FIND THEM?" Well, we've made that part easy!
If you are ready to find the best lawyer dating sites and best dating apps for law students, look no further than this list. Additionally, we'll share some helpful tips to get the most out of these options.
---
Dedicated Dating Apps for Lawyers vs. Mainstream Dating Apps
Before we jump into our list, let's take a look at the difference between dedicated lawyer dating sites and mainstream dating apps. Chances are, you've seen the dozens of apps advertised in your mobile device's app store. Some apps say they cater to specific lifestyles, sexual orientations, fetishes, and more.
These niche apps can be appealing, and some users find great success with them. However, they can severely limit the user pool due to lack of popularity, too narrow of membership standards, or lack of trust among the digital dating community.
Mainstream apps have many more users, so it takes a little more finesse to get the right matches. If you are willing to go through the personality tests and use filters to narrow down your results, you'll find that mainstream options can keep you from hopping from app to app with no luck.
The Best Dating Apps for Lawyers
1. eHarmony – Best App for Lawyers to Find a Long-Term Partner
Considered the number one app for long-term relationships and marriage
In-depth personality assessment leads you to the best matches possible
Plethora of features to help aid fluid communication and relationship building
2. Elite Singles – Best Lawyer Dating Site for Finding Other Professional Singles
Users are all driven professionals, most of whom have college educations
Great moderation and customer service to weed out fake accounts
Users are all seeking commitment and long-term relationships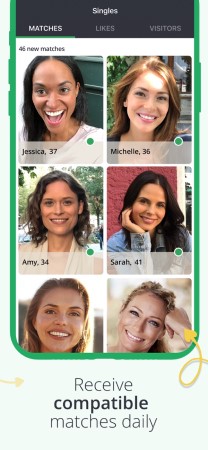 3. Jdate – Best Dating App for Jewish Lawyers
A safe and welcoming place for Jewish singles
Filled with additional content including dating tips
Super-fast sign up
4. Christian Mingle – Best Dating App for Christian Lawyers and Law Students
Best way to find singles that share your faith
Options to choose from multiple religions and denominations
Steers away from tiresome hookup customs
---
Why These Are the Best Lawyer Dating Sites
Established Services with Intuitive Interfaces – One of the great things about using Mainstream apps that have been properly vetted and reviewed by your peers, is you can rest assured the usability will be top-notch. These apps have been around for over a decade and have worked out the kinks in their platforms. That means you will get a smooth experience on practically any device.
Fantastic Moderation to Help Keep You Safe –  Online dating can be worrisome, but these are the best dating apps for lawyers because their cyber squad of protective workers spend all day and night keeping you safe. The last thing you want is to fall victim to a scammer, catfish, or someone you've litigated against. Ensuring there is a team to contact in case of troublesome activity is a great way to keep yourself safe.
A Wider Pool of Career-Driven Singles – As a lawyer, you know what it's like to dedicate yourself to your career. Often times, the best way to ensure success in a relationship is to find a partner that can relate to your high-gear work ethic. These apps have highly professional singles just waiting to be matched with you.
High Success Rates: At the end of the day, you want to make sure your dating app has a proven history of actually creating successful relationships. When we created this list of the best dating apps for lawyers, we made sure to only include platforms that lead to healthy, happy, and fulfilling  long-term relationships.
Tips for Single Lawyers to Stay Safe While Online Dating
So now you have all the info you need to decide on a great dating app. While the jury is still out on which you'll pick, let's take some time to discuss ways to keep yourself safe while online dating.
Keep Your Identity Safe: It is an unsavory truth that lawyers can quickly amass acquaintances that aren't quite their biggest fans. That's why it is so important to keep your identity protected when participating in online dating. Try using a fake last name, don't link to your social media, and avoid posting pictures with identifying features.
Take Things Slow: When you feel a spark with a match, it can feel like instinct to rush into a committed relationship. However, great relationships take time to develop along with a slow, patient nurturing. Find out who your partner really is, what they love, their pet peeves, and their quirks. Then, when you meet them in person, you can feel safe.
Trust Your Instincts: You're a smart person, there's no doubt there. The same senses that make you a great lawyer can come in handy when online dating. If you are talking to someone who makes you feel uncomfortable, tells contradictory stories, refuses to call or video chat, or does anything else that seems strange, it's okay to cut ties and move on.
Use the Right Apps: The best way to keep safe online is to use apps that you know have fantastic moderation and built-in security features. These can help protect your identity and lower your chances of stumbling upon a fake account or scammer. All the options on our list of the best dating apps for lawyers utilize these measures and can keep you safe.
---
Written By: Brandi Brown
Brandi Brown is a daytime copywriter and nighttime novelist. Her projects range from marketing content and commercial scripts all the way to narrative poetry and short fiction. Her debut novel, Bleached, is set to release in 2023.
✉ Contact Brandi: [email protected]