In 2022 alone, Apple generated over $205 billion from the sale of iPhones. And with the percentage of iPhone users now eclipsing 50%, it makes sense that people want apps and services they can use that lend themselves better to the iPhone and iOS platform. The same reigns true in the world of dating apps, which itself is already nearly a $3 billion industry!
If you're part of team iPhone and you're looking for love, there are some great iPhone dating apps you need to be aware of. For full transparency, most dating app companies have iPhone app options, but the quality between them is not always the same
In this article, we'll share the best dating apps for iPhone, talk about what helps them rise to the top of the Apple charts (usually in the lifestyle or social networking categories), and give you a few tips for success.
1. eHarmony – Best Overall iPhone Dating App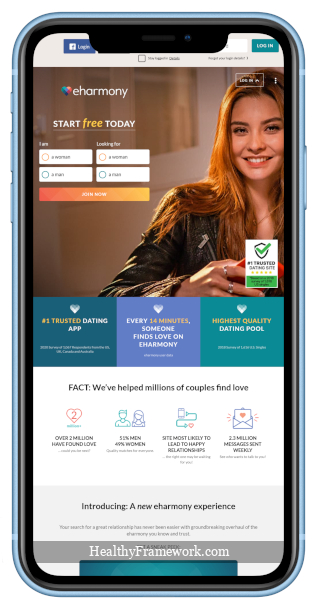 Ranked 92nd in the iOS store with an impressive 4.0 out of 5.0 stars over 27k reviews, eHarmony not only hits the top 100 of all lifestyle apps in the world, but also clocks in as number one on our list of best iOS dating apps for several great reasons.
First, the company as a whole does a great job of attracting serious singles who aren't looking to play games or waste time. Coming off their newest marketing campaign of "Get Who Gets You," eHarmony continues to drive innovation and quality across not just their iOS platform, but the entire digital platform as a whole. Some of the neat features you'll find after downloading eHarmony to your iPhone are user security measures (like 2FA and SMS profile verification), fully customizable push notifications, the industry's top compatibility algorithm, and the ability to see your matches on those stunning high-resolution iPhone screens.
Now, keep in mind that while we've included an eHarmony free trial link below, there are some limitations. You'll only be able to send flirts without upgrading (no messages), and you'll only be able to see slightly blurred photos of your matches without upgrading.
What it all comes down to is this. If you're looking for an iPhone dating app that's designed for finding long-term relationships and works flawlessly (very few reports of bugs and consistent helpful updates), you're going to love eHarmony.
2. Zoosk – Best iOS App for Dating Options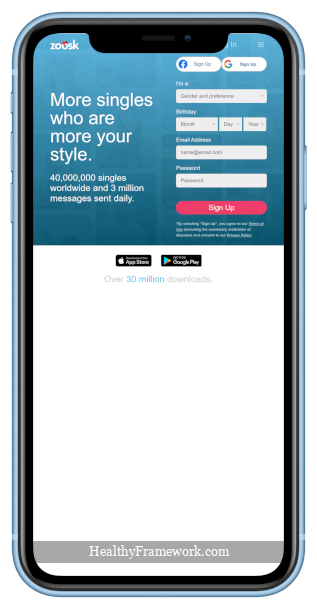 You'll be delighted to know that Zoosk actually scores higher than eHarmony when it comes to the App Store with a ratings score of 4.3 stars out of 5.0 over 70k+ reviews. You may also ask why we didn't move Zoosk to the top of the list, and the reason is that it was very, very close to taking the top spot, but there are just a few personal preference things that led us to give them the silver medal spot on the podium (which we will share shortly)
Here's what we like about Zoosk for iPhone users. First, the high ratings and raving reviews can't be ignored. The very first review we saw said, "First of all, I'd love to say that I really enjoy this app. So far, I had met more than a few people that I can connect with. Also, I love the Carousel feature (which does not determine compatibility), as well as Super Send, which is quite effective when trying to initiate a conversation with people." The review does go on to talk about a few issues with fake profiles, which is the reason we gave the top spot to eHarmony, as they seem to do a slightly better job of policing up the people who aren't there for genuine reasons.
And while the Apple Store doesn't share download numbers, Zoosk's website shares that the app has been downloaded over 40 million times across all app stores. The Google Play store mentions 10 million+ downloads, which means the number of iPhone users on Zoosk could be as high as 30 million!
3. The League – Best iOS Dating App for Highest Quality Singles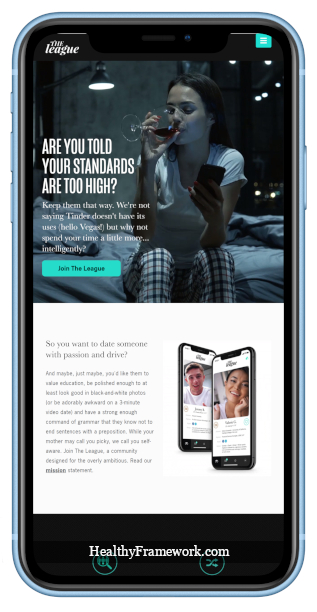 While the first two top iOS dating apps on our list work on all platforms including desktop, our next option is the first to stay solely in the app space with no desktop option available. We're talking about The League dating app. With a 4.1 out of 5.0 stars in the App Store across 35k+ reviews, that's enough to get our attention.
And attention is something The League has gotten plenty of for it's somewhat controversially exclusive approach to dating. You're free to download the app and apply for membership, but that doesn't mean you're going to get in. You'll be put on a waiting list that sometimes takes hours and sometimes takes weeks to get to the front of, depending on data that we don't have access to. And once you get to the front of the queue, only about 20% of people are allowed in, based on a somewhat cryptic acceptance policy of your successes in life, influence, and how well you mold to their definition of high quality.
But, if you are able to get into The League dating app, expect to see the elite of your city. And one last disclaimer, The League really only works well in or close to bigger cities. So, if you're living in the sticks or the middle of nowhere far from a big city, it's probably not the right option for you.
4. Tinder – Most Popular iOS Dating App
While we're not total fans of what Tinder may be doing to your brain, a list of the best iPhone dating apps would be incomplete without the app ranked #2 in the lifestyle category (only behind Pinterest). Ratings wise, it's a bit lower than the other options on our list at 3.8 out of 5.0, but that's over nearly half a million reviews, which shows you the magnitude of how many people on iOS are using Tinder.
If you're unfamiliar with Tinder, it's a swipe-based dating app that connects you with people who are in close proximity to your actual location (it uses your iPhones location settings). If there's a mutual match, a conversation opens up and you can start chatting. For people looking for casual dating or hookups, Tinder gets the job done pretty well with a nearly bug-free app backed by industry titan Match Group.
But, there are some drawbacks to be aware. The first we already alluded to is that Tinder may be having some pretty negative effects on your brain and dopamine receptors. Second, while there are some anecdotal reports that you can find real love on Tinder, it's widely known as a dating app for hookups—and not a whole lot else. But if that's what you're in the mood for, this iPhone dating app gets the job done.
5. Catholic Match – Best Catholic iPhone Dating App
While the number of people using the Catholic Match iOS app is going to be much smaller than all of the other options on this list due to it's specificity in who it serves, we still think it's a great option for Catholic singles interested in faith-based dating. With a 4.0 out of 5.0 stars in the App Store, the quality of the app is certainly not in question. But, just for full transparency, that's only over about 4.4k reviews, which does allude to the smaller size.
Still, though, if you're specifically looking for singles who are Catholic, that is all you're going to find on this app. One thing we want to point out that's pretty neat is the entire company went through a rebranding and overhaul a few years ago (around 2019), which greatly increased the quality of the features and the effectiveness of the matchmaking. And the company is actively updating the app with new features and fixes (already multiple updates this year), which is always a welcomed sign.
And Catholic Match does have a pretty active blogging and education section of its app, which is a nice perk to go with the faith-based matchmaking. This iOS dating app is only going to be fruitful for Catholic singles, but if you do fall into that group, it's hands-down the leader.
6. Christian Mingle – Best Christian iPhone Dating App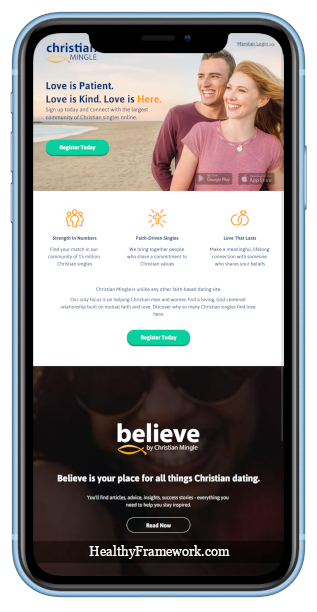 If you know much about the Christian dating app market, you may know that Christian Mingle isn't currently the most popular dating app on the App Store. If that's the case, why on Earth is it on our list and the most popular option not. Well, here's what we think about that.
The most popular Christian dating app on the iOS store is an app called Upward. The problem we have with Upward, though, is that it's basically Tinder for Christians (it's literally owned by the same company that owns Tinder). What this means is that all of the dopamine and potential brain issues we talked about with Tinder are now part of this app. Because of this, we've elected to list Christian Mingle as our top iPhone dating app, even though it's ratings and popularity are slightly lower (it still has over 15 million members).
For Christian singles looking for an iPhone option, we'd encourage you to use Christian Mingle instead of following the popularity train with Upward, but that's just our opinion.
Why Are These iPhone Dating Apps Great?
When you start talking technology and apps that are going to have a dramatic effect on your life and how you spend your time, it's important that you make the right choices. And one of those prime choices when it comes to dating is which app you're going to spend your time and possible even money on.
But a quick search in the Apple store reveals literally hundreds and hundreds of dating apps to choose from. Unfortunately, the app options that rise to the top of the list aren't always the best of the best. Sometimes they've paid for higher placement, sometimes the ratings might not reflect what you like…the list can be endless.
So, how do we go about picking out the best options? It's a fairly rigorous process, but one that we want to shed a little light on. Here are some of the more prominent features we're looking for when making our selections.
A Deeper Dive Into User Ratings – While most people just look at the star rating of an app in the Apple store, we think you need to go a little deeper. What do the comments say? Are the reviews real? Are there any recurring trends that are great or worrisome? These are the things we like to look for on top of the actual rating itself.
Past Updates and Upgrades – Is the app regularly maintained? Are they continuing to add features? Or is it an iOS dating app that's been forgotten and basically abandoned for months or years. Often, this is the most telling piece of information about the quality of what you're getting because thanks to Apple software updates, an app has to constantly push updates.
Privacy Policies and Terms of Service (TOS) – How well is the iOS dating app protecting its users? Do they have user-friendly policies in place when it comes to your data and how they do business? It's not the most exciting of topics, but it's a must-check part of the ranking process. Why? Well, when iOS dating apps mess up here, it can be pretty detrimental to users and their private information.
iPhone-Friendly User Interface – Is the app easy to use? Does it fit well onto your iPhone screen? Is it fast? In fact, you'll notice that a few of the iOS dating apps on our list are actually mobile-friendly websites that you access through your Safari browser. Yes, we know that makes them technically not apps, but if they serve the same purpose and work well on your iPhone—we support it!
Helpful Tips for Dating Apps for iPhone
Want to get the most out of your iOS dating app? You better! Here are a few tips that are specific to people who are dating from their phone.
Keep your app up to date. Many of the top iPhone dating apps update their platforms regularly. This allows them to fix any bugs, release great updates, and stay up with the most recent iOS version. Unless you have automatic updates on, make sure you keep things updated when new versions come out.
Look at what's on the list of updates. One drawback to automatic updates is you don't get to see the list of updates the developers have for you. Often with dating apps, this list includes new features that are now available to you. Take the time to see what is included in an update, so you know you're getting the most out of your online dating experience.
Set your notifications. For some people, they want to know every time anything happens with an iPhone dating app. For others, that would be a little overwhelming. If you're getting a lot of messages, likes, or profile flirts, your phone could be dinging and buzzing all day long. The good news is that you can adjust all of these notifications. Generally, the adjustments can be made from within the app or from the settings screen of your iPhone.
Take advantage of cross-device functionality. That's just a fancy way of saying the best dating apps for iPhone also work on other iOS devices like your iPad. Additionally, most of these apps also work on your desktop (even if it's not a Mac). So, you can use any of these platforms to access the same account, which is an awesome perk.
How to Download iPhone Dating Apps
For most of you, downloading an iPhone app is something you already know how to do. However, some people may be making the switch to Apple or you may have been saving up and finally got your first iPhone! Whatever the reason, here are some steps to properly download an iPhone dating app.
Click the links we've provided in this guide at the top of the page.
If the link takes you directly to the iOS App Store, click the download/get button on the app you're interested in. This will take you to the iPhone store where you can click "Get" to download the app.
If the link takes you to the dating app's website, click the signup button. Once you completed the on-screen signup, you'll be able to find a link to download the app version if you'd prefer that over the mobile-friendly.
If you have any trouble along the way, you can find customer support information in the App Store or on the company's webpage.
Should I pay attention to the ratings in the App Store?
While we touched on this earlier in our rankings section, we wanted to address it individually because it's a fairly common question surrounding iOS dating apps. Here's our answer.
Yes and no. While it's always good to know what other people think, iPhone dating apps as a whole across the lifestyle genre have lower than expected ratings. Why? Most likely it's because people get upset that someone doesn't like them or something like that and they take it out on the app. You can find some decent and helpful reviews, but you need to look past the emotionally charged people firing off one-star reviews like it's their day job.
If you want to get the best idea of what to expect from these dating apps for iOS, check them out for yourself. Every link here sets you up with a free trial account that you can use to look around yourself. You can also check out our dating site reviews if you want to know our opinions.
Nothing is better than you checking it out yourself, though.
---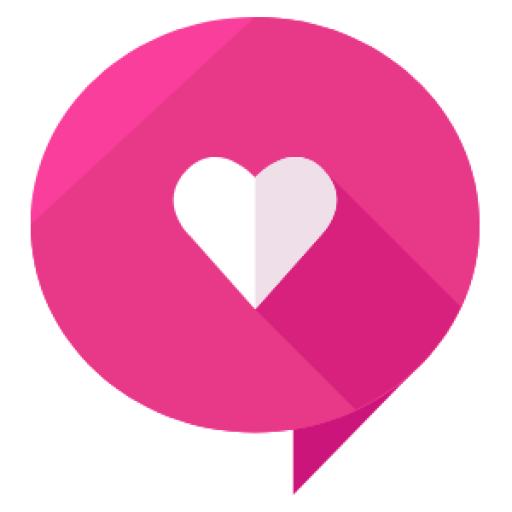 Written By: Healthy Framework Team
The Healthy Framework team has a combined 50+ years of experience in the online dating industry. Collectively, the team has reviewed over 300 dating apps and is known as one of the leaders in the relationship advice and information space. The team's work has been featured on Zoosk, Tinder, The Economist, People Magazine, Parade, Women's Health, Her Campus, Fox, and more.