With over 100 million users in the U.S. (45% of smartphone users), it's no secret that iPhones are super popular. As smartphones can help us with everything under the sun, we shouldn't be surprised that the best dating apps for iPhone can help us find that special someone.
No matter what you're looking for, there's an iOS dating app out there that can connect you with like-minded singles. But how do you find the best dating app for iPhone for you? We're here to help.
Here's a look at the top iOS dating apps for all kinds of dating wants and needs. You're only minutes away from searching through singles in your area (or around the globe).
The Top iPhone Dating Apps
1. eHarmony – Best Overall iPhone Dating App
Most prominent dating app for marriages and serious relationships
In-depth profile tests to best match you with compatible singles
Over 2.3 million messages sent between single men and women every week
4.0 stars over 19,500+ ratings in the App Store
The Bottom Line – If you're committed to finding a serious relationship that could turn into something long-term or even marriage, there aren't many options that can even come close to matching what eHarmony can deliver. The eHarmony cost of a membership is a bit pricier than other iPhone dating apps, but worth every penny.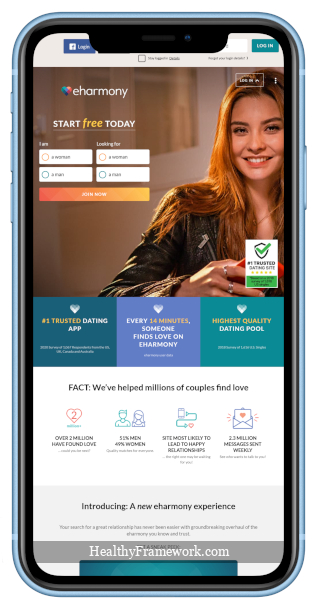 2. Zoosk – Best iOS App for Dating Options
35 million members
3 million messages sent daily
4.3 stars over 69,900+ ratings in the App Store
The Bottom Line – It's really hard not to get excited about an online dating app with over 35 million members. Hopefully, you're just looking for that one special person, and that gets a lot easier when you have a ton of options—and here, you literally have millions of them. Zoosk is certainly one of the top iPhone dating apps that's absolutely at a minimum at least worth searching who is available in your area.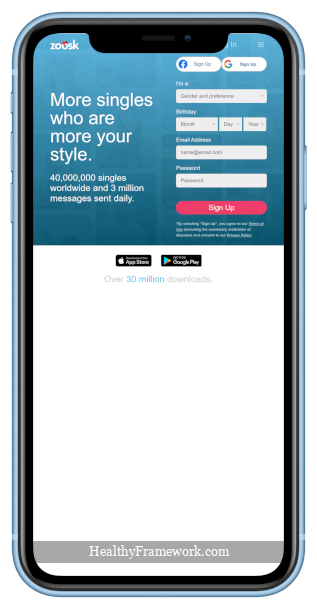 3. Elite Singles – Best iPhone Dating App for Casual and Serious Relationships
Known for attracting more educated singles and professionals
Over 85% of singles on the site have an above-average level of education
Only takes minutes to get signed up
3.1 stars over 17,200+ ratings in the App Store
The Bottom Line – Whether you're a single who is ready to dive into a serious relationship or you just want to casually date for a while, Elite Singles is the iOS app for you. The dating app is great for young professionals, educated singles, and has people looking for all levels of commitment.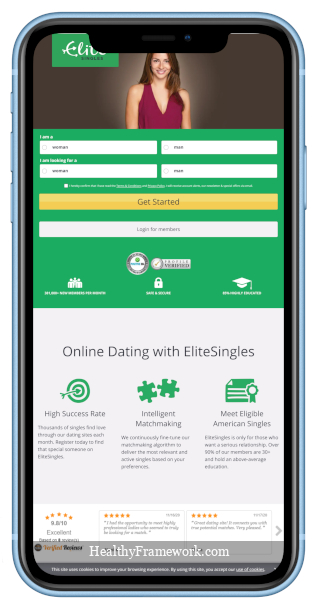 4. Higher Bond – Best New iPhone Dating App
Dedicated towards more serious Christian singles
Revolutionizing the faith-based online dating system
Manual account and photo approvals for a more wholesome experience
The Bottom Line – If you're a Christian single looking for an iOS dating app that puts your faith at the foreground of the relationship process, you'll want to click below and check out Higher Bond!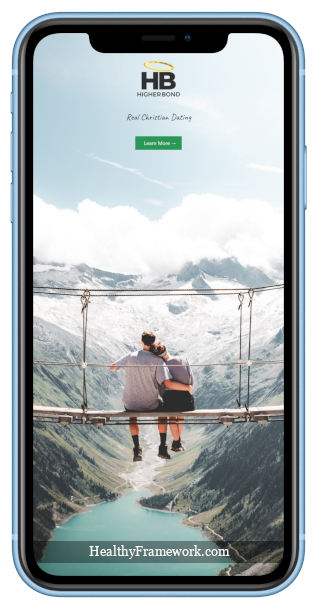 5. The League – Best iOS Dating App for Highest Quality Singles
Known as one of the trendiest dating apps, especially around major cities
Big on the quality singles over quantity approach
Exclusive – requires a waiting list and approval to get in
4.1 stars over 32,600+ ratings in the App Store
The Bottom Line – The League dating app is one of the most famous dating apps when it comes to exclusivity. Members have to go through a waiting and voting process to get into The League (unless they pay extra to expedite the wait). What does this mean? The highest quality of singles. If you're looking to meet Mr. Amazing or Miss Rock Your Socks off—check out The League right now.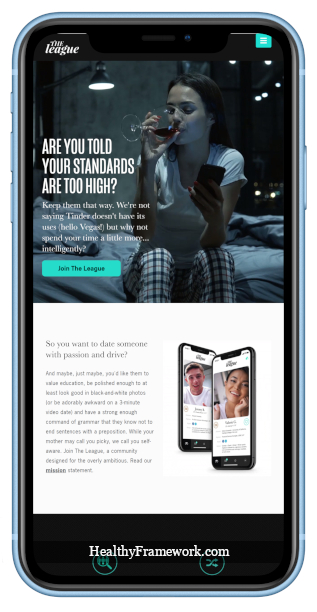 6. Christian Mingle – Best Christian iPhone Dating App
Top iOS dating app for Christian Singles
15 million Christian men and women and growing
Signing up takes just a few minutes
3.7 stars over 21,700+ ratings in the App Store
The Bottom Line – When it comes to Christian dating apps for iPhone, hardly anyone can rival what Christian Mingle brings to the table. The app is easy to use, has a massive following, and a great track record for helping to form faith-focused relationships.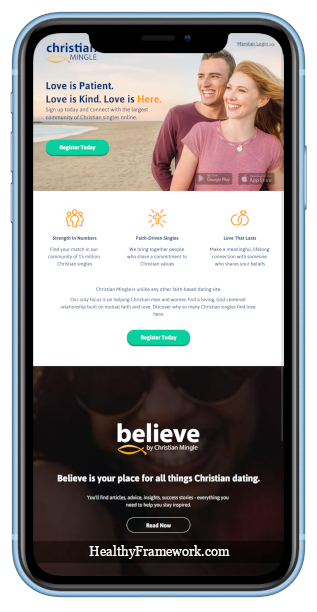 7. Jdate – Best Jewish iPhone Dating App
#1 rated iOS dating app for Jewish singles
Known for having one of the easiest to use apps
Rich profiles with a lot of space to share about yourself
3.5 stars over 7,800+ ratings in the App Store
The Bottom Line – The best dating app for Jewish singles with iPhones is without a doubt JDate. The app is easy to use, filled with high-quality Jewish singles, and is ready for you right now.
8. Catholic Match – Best Catholic iPhone Dating App
Recommended by top Catholic Church leaders
Top Catholic dating app for iPhone users
Known for an easy to use interface
4.0 stars over 2,000+ ratings in the App Store
The Bottom Line – Catholic singles who own iPhones have a home when it comes to finding love. Catholic Match is the leader in faith-based relationships for Catholic singles.
---
Why Are These iPhone Dating Apps Great?
When you start talking technology and apps that are going to have a dramatic effect on your life and how you spend your time, it's important that you make the right choices. And one of those prime choices when it comes to dating is which app you're going to spend your time and possible even money on.
But a quick search in the Apple store reveals literally hundreds and hundreds of dating apps to choose from. Unfortunately, the app options that rise to the top of the list aren't always the best of the best. Sometimes they've paid for higher placement, sometimes the ratings might not reflect what you like…the list can be endless.
So, how do we go about picking out the best options? It's a fairly rigorous process, but one that we want to shed a little light on. Here are some of the more prominent features we're looking for when making our selections.
A Deeper Dive Into User Ratings – While most people just look at the star rating of an app in the Apple store, we think you need to go a little deeper. What do the comments say? Are the reviews real? Are there any recurring trends that are great or worrisome? These are the things we like to look for on top of the actual rating itself.
Past Updates and Upgrades – Is the app regularly maintained? Are they continuing to add features? Or is it an iOS dating app that's been forgotten and basically abandoned for months or years. Often, this is the most telling piece of information about the quality of what you're getting because thanks to Apple software updates, an app has to constantly push updates.
Privacy Policies and Terms of Service (TOS) – How well is the iOS dating app protecting its users? Do they have user-friendly policies in place when it comes to your data and how they do business? It's not the most exciting of topics, but it's a must-check part of the ranking process. Why? Well, when iOS dating apps mess up here, it can be pretty detrimental to users and their private information.
iPhone-Friendly User Interface – Is the app easy to use? Does it fit well onto your iPhone screen? Is it fast? In fact, you'll notice that a few of the iOS dating apps on our list are actually mobile-friendly websites that you access through your Safari browser. Yes, we know that makes them technically not apps, but if they serve the same purpose and work well on your iPhone—we support it!
Helpful Tips for Dating Apps for iPhone
Want to get the most out of your iOS dating app? You better! Here are a few tips that are specific to people who are dating from their phone.
Keep your app up to date. Many of the top iPhone dating apps update their platforms regularly. This allows them to fix any bugs, release great updates, and stay up with the most recent iOS version. Unless you have automatic updates on, make sure you keep things updated when new versions come out.
Look at what's on the list of updates. One drawback to automatic updates is you don't get to see the list of updates the developers have for you. Often with dating apps, this list includes new features that are now available to you. Take the time to see what is included in an update, so you know you're getting the most out of your online dating experience.
Set your notifications. For some people, they want to know every time anything happens with an iPhone dating app. For others, that would be a little overwhelming. If you're getting a lot of messages, likes, or profile flirts, your phone could be dinging and buzzing all day long. The good news is that you can adjust all of these notifications. Generally, the adjustments can be made from within the app or from the settings screen of your iPhone.
Take advantage of cross-device functionality. That's just a fancy way of saying the best dating apps for iPhone also work on other iOS devices like your iPad. Additionally, most of these apps also work on your desktop (even if it's not a Mac). So, you can use any of these platforms to access the same account, which is an awesome perk.
How to Download iPhone Dating Apps
For most of you, downloading an iPhone app is something you already know how to do. However, some people may be making the switch to Apple or you may have been saving up and finally got your first iPhone! Whatever the reason, here are some steps to properly download an iPhone dating app.
Click the links we've provided in this guide at the top of the page.
If the link takes you directly to the iOS App Store, click the download/get button on the app you're interested in. This will take you to the iPhone store where you can click "Get" to download the app.
If the link takes you to the dating app's website, click the signup button. Once you completed the on-screen signup, you'll be able to find a link to download the app version if you'd prefer that over the mobile-friendly.
If you have any trouble along the way, you can find customer support information in the App Store or on the company's webpage.
Should I pay attention to the ratings in the App Store?
While we touched on this earlier in our rankings section, we wanted to address it individually because it's a fairly common question surrounding iOS dating apps. Here's our answer.
Yes and no. While it's always good to know what other people think, iPhone dating apps as a whole across the lifestyle genre have lower than expected ratings. Why? Most likely it's because people get upset that someone doesn't like them or something like that and they take it out on the app. You can find some decent and helpful reviews, but you need to look past the emotionally charged people firing off one-star reviews like it's their day job.
If you want to get the best idea of what to expect from these dating apps for iOS, check them out for yourself. Every link here sets you up with a free trial account that you can use to look around yourself. You can also check out our dating site reviews if you want to know our opinions.
Nothing is better than you checking it out yourself, though.
---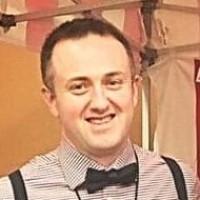 Written By: Jason Lee
Jason Lee is a data analyst with a passion for studying online dating, relationships, personal growth, healthcare, and finance. In 2008, Jason earned a Bachelors of Science from the University of Florida, where he studied business and finance and taught interpersonal communication.
His work has been featured in the likes of The USA Today, MSN, NBC, FOX, The Motley Fool, Net Health, and The Simple Dollar. As a business owner, relationship strategist, dating coach, and US Army Veteran, Jason enjoys sharing his unique knowledge base with the rest of the world.
Jason has worked in the online dating industry for over 10 years and has personally reviewed over 200 different dating apps and dating websites and continues to be a leading voice in the relationship and dating community, both online and in person.