Close to 80% of Thailand's population has internet access, and get this – Thais average more than nine hours a day online. And let's just say they aren't just looking up the news and buying groceries. They're also using online dating apps in droves.
Some Thai singles want to find love nearby, while others hope to meet Western mates. And then, of course, there are people living in the United States and other countries that are looking for Thai partners online.
No matter which category you fall in, we have you covered. We've identified the best Thai dating apps for all needs, and you can find our recommendations by clicking one of the following links:
Best Thai Dating Apps in the United States
eHarmony – Best for Starting a Serious Relationship
Considering that close to 60% of Thais living in the United States are married, wedded bliss is clearly a goal for a lot of folks. But since so many people have already walked down the aisle, your options are growing increasingly limited.
And you know what that means. It's getting harder to find the right person to marry. In fact, it's so difficult that you might end up with the wrong person when deciding to settle down.
Well, that's true if you try to find love on most Thai dating apps, but it's not the case if you use eHarmony.
See, this dating site is all about compatibility, and settling isn't allowed. Co-founded by a clinical psychologist, the app matches people based on the key factors needed for a successful long-term relationship.
And that's not just a talking point. It really works.
Couples that meet on eHarmony are more likely to live happily ever after – and they have a lower chance of divorce. And that's really important when you consider your marriage prospects are dwindling in the United States.
Key Features:
Personality test analyzes driving factors for a successful marriage
Matches people with complimentary personality traits
Couples that meet on eHarmony are less likely to get divorced when compared with other dating sites
Most members want serious relationships
Search by ethnicity to find Thai singles
Can use eHarmony in the United States, Thailand, and other countries
The Final Say: eHarmony is the gold standard for finding a serious partner online. Get started by setting up your free account today.
EliteSingles – Best for Successful Thai Singles
Asian Americans are known for being among the most successful ethnic groups in the United States. From top-rate educations to powerful careers, they're living the American dream day in and day out.
Well, they're living it when it comes to work, but that isn't always true when dating.
If you value your career, you have to be careful when finding a partner. Pairing up with someone that lacks your drive can hold you back. Plus, it can be a costly relationship if you're stuck paying all the bills.
That's why EliteSingles is our favorite Thai dating site for successful singles.
This site was designed for highly educated, successful people. Most members take their careers seriously and want long-term partners by their side. And it's easy to find a complimentary partner since the site uses the Five Factor Model theory to match people.
Key Takeaways:
Most members are career-oriented
Majority of members want serious relationships
Can search by ethnicity to find Thai singles
Matching algorithm based on the Five Factor Model theory
Sends 3-7 high-quality matches a day, so you aren't overwhelmed with online dating
More than 381,000 new members a month
The Final Say: Business professionals have used EliteSingles to find love for over a decade, and it's connected thousands of couples. Check it out by setting up a free account today.
Are you still worried about balancing your busy career with dating? Check out our guide to dating as a business professional for help.
Best International Thai Dating Apps
ThaiCupid – Best for Foreigners
If you watch "90 Day Fiancé," you might count Annie and David as one of your favorite reality-TV couples. Now, if you're not familiar with the show, here's the gist of their story – David's an American, Annie is from Thailand, and the two now live in the United States. They're happily married and still make some reality TV appearances from time to time.
This is just one example of the hundreds of Thailand residents that successfully immigrate to the U.S. each year after receiving K-1 (fiancé) visas. Most of them don't turn into reality TV superstars, but they do have their own version of happily ever after.
And often, that version starts by meeting on ThaiCupid.
As one of Cupid Media's dating sites, ThaiCupid specializes in connecting Thai men and women with Westerners that are interested in marriage. Yep, you read that right – most of the people on here are ready to find that special someone and move across the world to live together.
Pretty romantic, right?
If you live in Thailand and want to relocate, be sure to include that in your profile. There's a place for it, along with where you want to move. And on the flip side, if you're a Westerner, just click on a profile to determine the member's relocation preference.
Key Takeaways:
More than three million members around the world
Most members are interested in marriage
Local dating also available for Thai singles
Instant message translation with paid memberships
View relocation preferences of members, including their desired countries
The Final Say: ThaiCupid is the best at connecting Thai and Western singles. Create a free account so you can browse eligible singles today.
Zoosk – Best for Casual Thai Dating Around the World
So, some people think that casual dating isn't a thing in Thailand, but it's actually quite common. But unlike in the Western world, casual dating is a bit taboo, so lots of Thai folks like to keep it on the down low.
That makes it hard to find casual dates in person, but it's a breeze on Zoosk.
This international dating app is available in more than 80 countries, including Thailand, and is full of people looking for casual and short-term relationships. You can use it to find local singles or to date internationally. Oh, and it even works if you want to hook up with tourists who travel to Thailand.
Key Takeaways:
More than 40 million members in Thailand and around the world
Typically used for casual dating, although some members want something serious
Get to know other members with Zoosk's Great Dates feature
Behavioral matchmaking learns as you go
Available in more than 80 countries, including Thailand
The Final Say: Zoosk is a top choice for casual dating in Thailand and around the globe. It's free to join, so set up your account today.
Best Local Thai Dating Apps
The League – Best for Bangkok's Elite

Business is booming in Thailand, and ex-pats are flocking to the country to make bank. From international companies setting up shop to entrepreneurs putting together startups, it's become the place to go to get ahead in the business world.
Many of the top performers are congregated in Bangkok, and we wanted to recommend a dating app for them to connect. And when it comes to connecting high-profile go-getters, The League is the best app out there.
Just like it takes a lot of hard work to become successful, there's some work to do to get accepted to The League. The League will review your LinkedIn profile to ensure you are as ambitious and driven as you say. And if you make it past the review, you'll get to search profiles of some of Bangkok's biggest movers and shakers, along with up-and-comers.
Key Takeaways:
10-20% of memberships are approved
Members include executives, directors, entrepreneurs, and lawyers
Available for local dating in Bangkok and other cities around the world
60% of members are women
Median member age is 28
The Final Say: If you're full of ambition and drive, The League is the best dating app to meet someone that's on your level. You can sign up for free to go on the waiting list – or pay for a full membership to speed up the approval process.
Badoo – Best for Local Dating Across Thailand
Badoo has long been one of the most popular dating sites in Thailand and makes it easy to find local singles. You can browse for people nearby and use the Tinder-like Badoo Encounters feature to like or pass on profiles.
Now, keep in mind that Badoo's matchmaking system isn't as advanced as the other Thai dating sites. While the app considers interests when matching people, the system is largely based on looks – or how others perceive your looks.
You'll receive a profile score after members rate your pics. If you have a high score, lots of folks will see your profile. But if your score is low, it'll get buried.
Key Takeaways:
Over 544 million members around the globe
Find people nearby
Swipe left and right on profiles you like and dislike
Interests and looks-based matching system
Video chat
The Final Say: While it's not one of our favorite Thai dating apps, Badoo is relatively easy to use and provides access to local singles. You can check it out by creating a free account.
Video Chat Options Before Meeting in Person
Online dating gives you the chance to get to know someone pretty well before setting up an in-person date. While you'll start with chatting, you can get to know your matches even better through video dating. Check out some options so you can get the most out of our favorite Thai dating sites.
Use Great Dates on Zoosk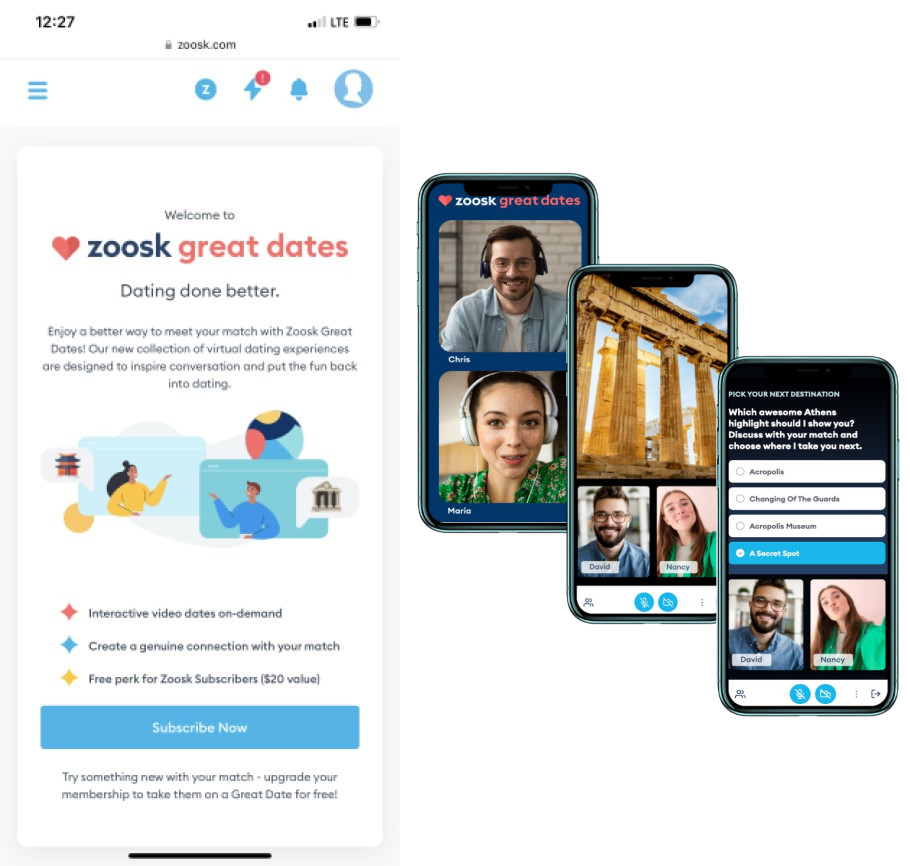 You can learn a lot about people by going on vacation with them – but you don't exactly want to book a trip around the world with someone you just met. Well, you can engage in some traveling without leaving home with Great Dates on Zoosk.
Right now, the feature lets you and your match travel virtually to the following places:
Paris
Naples
Athens
Kyoto
Plus, it plans on adding more destinations in the future. Just invite your match, choose a tour, and get ready to see the world together.
Video Chat on Badoo
Badoo joined the video dating trend when it added the feature to its app in 2017. You can access the feature as soon as you exchange the first message with a match. If you want to meet up on video, just send a request. If accepted, you'll be able to spend some face-to-face time online.
Video Chat with Skype Translator
We know the language barrier can be tricky when Thais and Westerners get together, but there's an easy fix to that. You can use Skype Translator to translate your video chats in real-time. Then, you won't have to worry about awkward pauses while trying to figure out what each other is saying.
Thai Dating App FAQ
What is the Best Dating App in Thailand for Foreigners?
ThaiCupid is our favorite dating app for connecting Thai singles with Western men and women. However, Zoosk is ideal for casual international dating. It's also ideal for travelers that want to meet Thai singles on vacation.
What is the Best Thai Dating Site?
eHarmony is the best Thai dating app for finding love in the United States, while Thai Cupid is our top pick for international dating. If you're interested in local dating in Thailand, we recommend The League.
Are There Free Dating Sites in Thailand?
Yes, there are free Thailand dating sites, but they're full of fake profiles and they don't have many if any premium features. However, you can sign up for a free account on all the apps we recommended and only upgrade if you want to access additional features.