Filipino men and women have a charm that is hard to match, so we understand why there is such an interest in Filipino dating apps. If you search around online, you might be overwhelmed by the number of websites claiming to offer the best online dating experience.
Unfortunately, you have to be careful when choosing dating apps. That's why we've done all the leg work for you! From apps with the most Filipino singles to an app where you can find your future spouse, we have created a list of the best and safest Filipino dating apps.
The Best Filipino Dating Apps of This Year
---
1. Zoosk: Best Dating App for Filipino Singles Around the World
It's a big world out there. In 2019 it was estimated that there were over 12 million Filipinos living outside of the Philippines. If you're one of those, Zoosk may be an excellent fit to your online dating needs.
Zoosk has over 35 million accounts registered from singles in over 80 countries. What this means is that while this is not strictly a "Filipino dating app" like some of the others on our list, you are sure to find other Filipinos (and Filipinas) using it to date online.
Key Takeaways
More than 3 million messages sent daily.
Premium pricing as low as $12.49/month
Good for all types of relationships (Serious, casual, etc…)
The Final Scoop – Whether you're in the Philippines looking to date or just someone looking to date Filipinos singles this dating app will help you find millions of options worldwide.
---
2. Filipino Cupid: The Best Place to Find Millions of Filipino Singles
If you are looking to find a partner who lives in the Philippines or comes from the Philippines, you can't do better than Filipino Cupid. The app has over 5 million Filipino singles and is responsible for thousands of great relationships. Whether you are looking for something casual or a little more serious, this is the best Filipino dating app for a well-rounded experience. If you are interested in signing up for a free trial, click the link below.
Key Takeaways
Easiest way to meet Filipino singles
Prices for paid members start at $10/month
Sign up in under a minute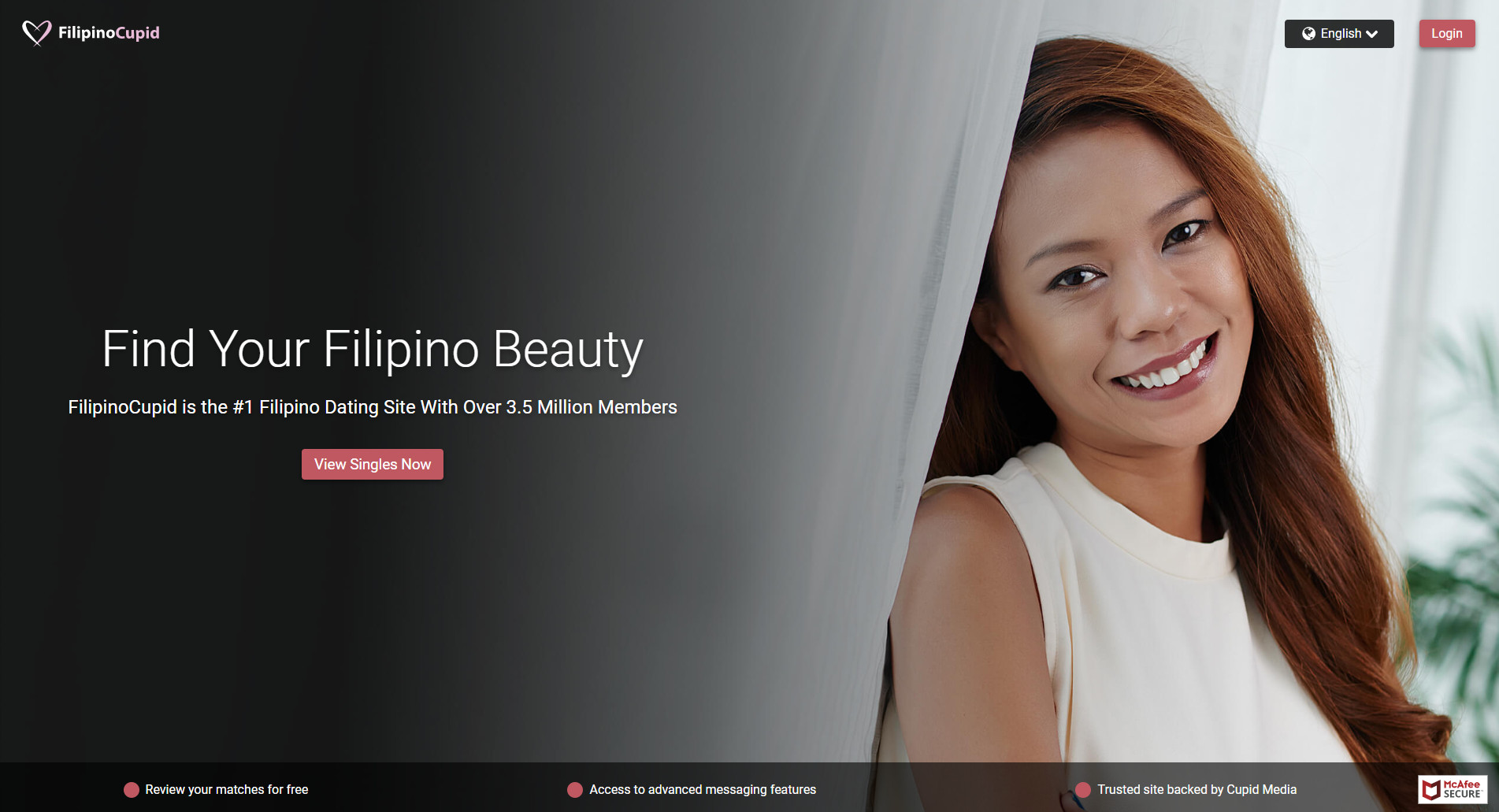 The Final Scoop – No matter what level of relationship you're looking for, Filipino Cupid has millions of like-minded singles for you to choose from.
---
3. Christian Mingle: Best for Faith Based Filipino Dating Online
Maybe you're wondering why this is so high on our list? Well, that's because religion plays a huge role on dating culture in the Philippines.
Since over 92% of the population of the Philippines identify as belonging to some Christian denomination this is a great option for Filipino singles who want their faith to be the driving factor in their relationships. Using a Christian dating site will help you avoid wasted time matching with singles who don't share your values.
Key Takeaways
100% faith focused online dating platform
Prices for paid members start at $24.99/month
Unlimited free trial includes a lot of great features.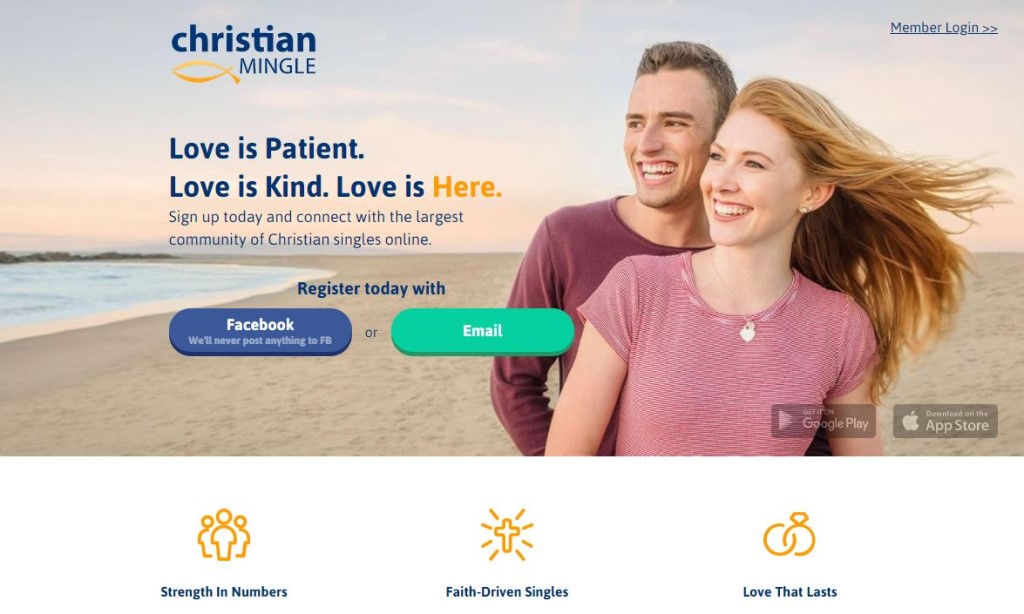 The Final Scoop – If you're a single Filipino Christian looking for your other half we strongly recommend trying Christian Mingle or another top-rated Christian dating site.
---
4. International Cupid: The Best App for Global Dating Options
Sometimes love can't be found close by. After all, there are over 7 billion people living on earth. What are the odds that your soul mate is living around the corner? International Cupid makes it to our list of the best Filipino dating apps because it allows you to find love anywhere. You can find your Filipino soulmate, no matter where they live. Check out the trial link below for more information.
Key Takeaways
Take your search for love to a global scale
Monthly membership as low as $10/month
Get a feel for the app with a free trial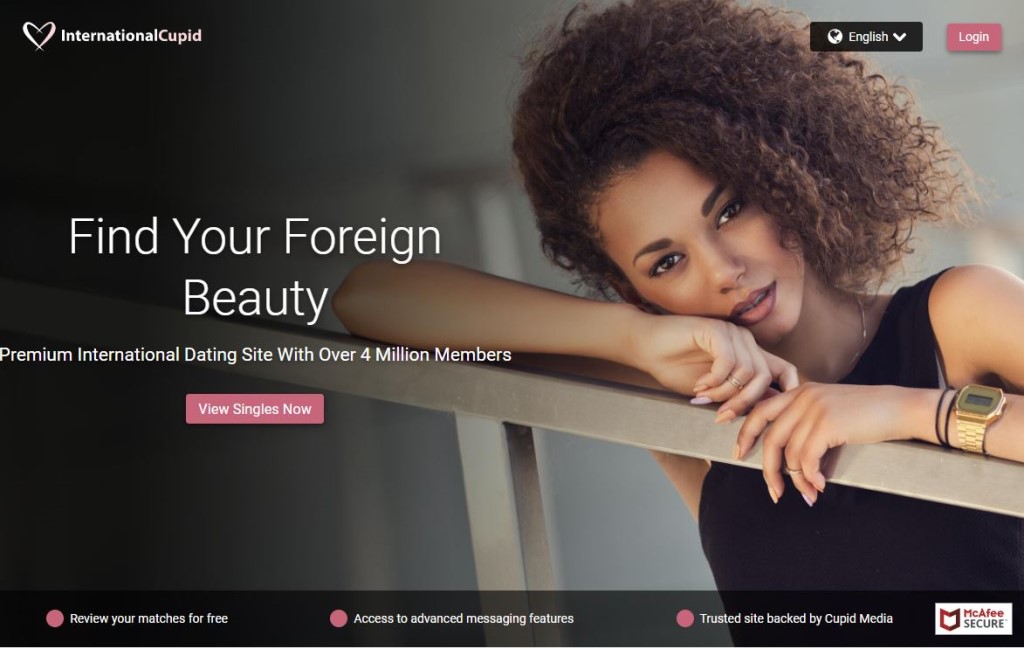 The Final Scoop – Don't miss out on love by limiting your search for a Filipino partner. International Cupid can broaden your dating experience to find you true love.
---
5. eHarmony: The Best Option for Connecting on a Deeper Level
If you are looking for a dating app that supports your goals of finding lifelong romance, marriage, or serious commitment, eHarmony is the place to go. Their dating and matching model caters to those looking to connect on a deeper level. If you aren't open to a serious relationship, eHarmony isn't for you. However, those ready to settle down will find this Filipino dating app's scientifically backed matching algorithm super useful!
Ready to find your future husband or wife? Check out our free trial link, below.
Key Takeaways
The top app for finding a spouse
Membership starts as low as $15/month
In depth questionnaire helps you find deeper connections
The Final Scoop – eHarmony uses an expertly crafted questionnaire and personality test to create matches that lead to the most marriages of any dating app.
---
6. AsianDating: Meet Singles in the Philippines and other Asian Countries
What if we told you you could sign up and try the number one site for Asian dating online in just 5 minutes? What if we continued by saying you could do it completely free?
That's right, you can start connecting with Filipino and other Asian singles right now with this dating app's unlimited free trial. The site is easy to use and has been online for over a decade. To learn more read our review or click the free trial link below.
Key Takeaways
Over 4 million Asian singles registered
Lots of Filipino singles with accounts
Premium membership is very affordable.
The Final Scoop – If you want to expand your horizons past the Philippines this might be a great way to start meeting singles in other countries close to home.
---
What Makes These the Best Filipino Dating Apps?
Though the stigma around online dating has dissipated over the years, some of the negativity is based in fact. Not all online dating sites and mobile dating apps are looking out for your best interest. That is the main factor we consider when finding the best Filipino dating apps.
Our choices not only have the highest number of Filipino singles, but they also have the safest platforms and most dedicated team of professionals working to keep you safe from scammers and catfish.
Beyond safety, we also focus on a dating app's success rate, user reviews, and the usability of the app. All three of our top choices have impressive user success rates and positive feedback. You simply can't find any better places to find Filipino singles than Filipino Cupid, International Cupid, and eHarmony. Be sure to check out their free trial links so you can see for yourself!
A Sea of Underwhelming Options – Filipino Dating Sites to Avoid
If you've been looking at other lists of the best dating apps for singles in the Philippines you may have noticed our list is a bit different than some of our competitors. Why?
It's pretty simple really. Whether you're in the Philippines or just want to find a nice Filipino/Filipina to love there are a sea of options online. Unfortunately many of those options are outdated, have painfully few users, and will ultimately waste your time and money. We want to help you avoid that!
Just to prove out point here's two Filipina dating sites you'll find on a lot of our competitor's recommendation lists:
PinaLove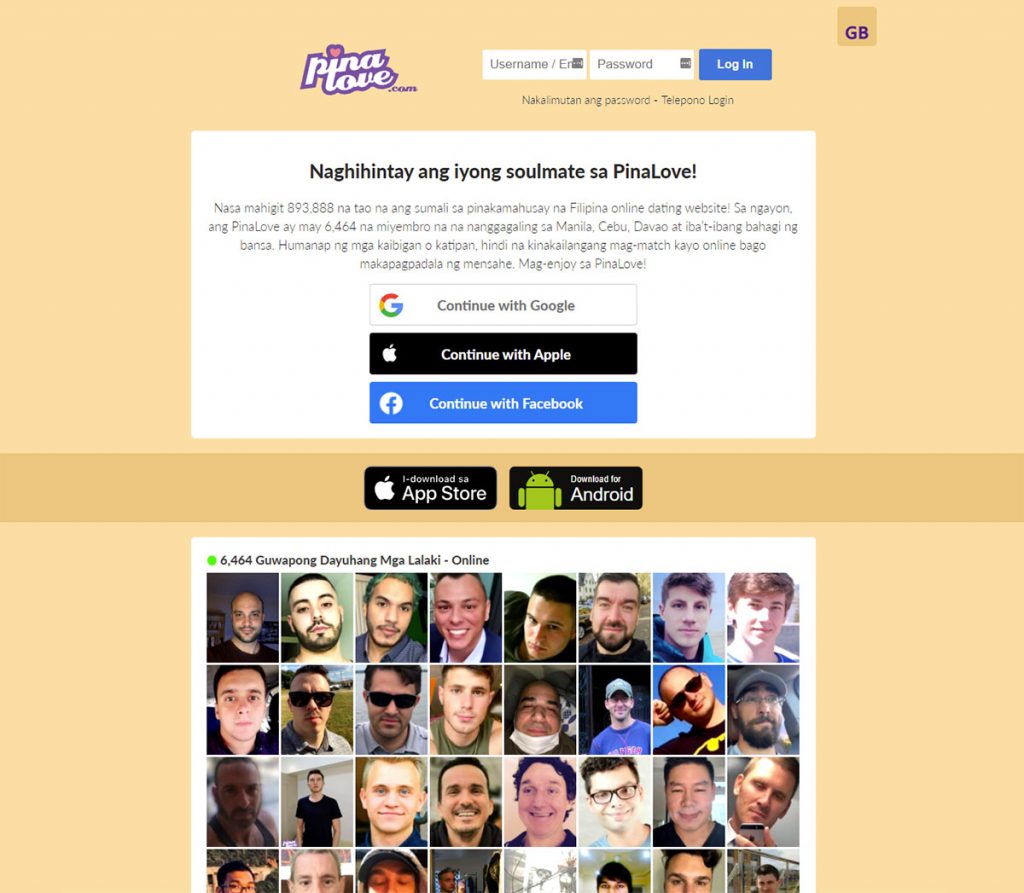 FilipinoKisses
Key Takeaways
You can tell just by looking that these sites aren't on the same level as our recommendations. We'd like to take this opportunity to point out a few key differences between sites like these and high quality Filipino dating apps.
Outdated Design – A picture is worth a thousand words, maybe more in this case. Compare the screenshots of these Filipino dating sites to the ones in our recommendations. We think you'll quickly notice a difference.
Fewer Features – In addition to "retro web design", sites like PinaLove and FilipinoKisses have a very limited number of intuitive user features. With the top sites constantly evolving these sites will only continue to fall behind.
Small User Bases – By nature niche dating sites appeal to a smaller market. For this reason, these sites may only have thousands of members as opposed to millions on sites like Zoosk or eHarmony. The irony of that is that you'll find more Filipino singles on those mainstream dating apps than on most sites that are strictly built for Filipino online dating.
Privacy Issues – In efforts to prove they have users these niche Philippines dating sites show all user profiles to anyone and everyone visiting the site. If you don't want just anyone to be able to see your picture and personal details this should be a huge red flag.
Just because a dating app is built for Filipinos doesn't mean it's the best fit. As you can see, these niche dating apps sometimes leave a lot to be desired.
Dating Culture in the Philippines
If you're going to date someone from the Philippines online it's important to understand their culture if you want things to work out. Here are a few points we thought you should know.
Chivalry is not dead in the Philippines – Filipinas are typically looking for a gentleman. Be the kind of guy that picks up checks, opens doors, pulls out her chair, and is always respectful of her family. If you want to be Mr Right you have to act right.
Who makes the first move? – The world's always changing, but if you're dating in the Philippines don't expect the woman to make the first move. Culturally it's even abnormal for a Filipina woman to ask for a second date. We're not saying it's right or wrong, just that it is what it is. If you want to date a Filipino woman you're gonna have to put yourself out there.
First Date Ideas? – Overall the dating culture in the Philippines is very conservative. First dates will either be held in public areas like parks or at the home of the woman (and her parents. Impressing her parents is also going to be important).
Religion – we've talked about the conservative nature of dating in the Philippines, but why is it like that? A large part has to do with religious beliefs. Over 92% of Filipinos Identify as Christian and much of the remaining population practices Islam. As a result, Filipinos singles will not generally have sex or live with their partner before marriage.
Harana – We talked about being a gentleman already, but thought it would be fun to bring up this Tagalog term. The Filipino tradition of Harana is when a young man sings beneath the window of the woman he's trying to impress. While this type of movie-like romantic gesture might not be your cup of tea, it does bring up a helpful tip for dating. Be thoughtful, spontaneous, and try to sweep your partner off their feet. Filipinas (and let's be honest most women) will appreciate it.
Remember, while these Filipino dating traditions may play a role in the culture not everyone will share all these values. It's crucial to get to know your partner to understand exactly what he or she is looking for if you want your relationship to succeed.
Can You Really Find True Love on an App?
The world is much smaller than it used to be. Before, if you wanted to find friends, a job, love, or anything else you had to hope there were options for you within travel distance. Don't have a car? Well, your search radius just narrowed by quite a bit.
As the internet and social media has expanded, so has our access to further parts of the world. People use the internet to find work and friends, so why not partners?
Studies show that large portions of the population say they met their committed partner online. In fact, relationship counselors and dating coaches, and matchmakers all agree that finding love has nothing to do with whether or not you meet your partner digitally.
The only thing that matters is that you follow the right steps to meet a genuine match for you.
Doing Online Dating the Right Way
When it comes to dating online, you need to remember that certain social cues are hard to spot. For instance, if you are on a real-life date with a woman and she is uninterested, uncomfortable, or distracted there are visual social cues that will help you understand the situation.
Unfortunately, that isn't so straightforward when chatting online. So, to help you out, here are so helpful tips to make sure you communicate appropriately online.
Communicate through phone calls or video chats whenever you can.
Take "no" as an answer. Groveling or begging someone is a form of manipulation.
Never pressure your partner into doing anything they aren't comfortable with.
Take your relationship slow/ don't overshare too early.
Make appropriate compliments (One dating coach advises not to compliment a person on things they didn't choose like their body type or features. Instead compliment things they put effort into like their outfit or makeup.)
Take rejection with grace. If an online match chooses to move on, don't take it personally.
---
Written By: Brandi Brown
Brandi Brown is a daytime copywriter and nighttime novelist. Her projects range from marketing content and commercial scripts all the way to narrative poetry and short fiction. Her debut novel, Bleached, is set to release in 2023.
✉ Contact Brandi: [email protected]