Online dating is a great way for anyone to meet new people, but it is especially handy for gamers. There are a lot of features and concepts that translate so well to the gaming community, you just need to know where to look!
If you are a gamer who is ready to find love, take a look at our choices of the best dating apps for gamers!
Need some tips on setting up your profile and starting conversations? Just read on for some of our best tips and tricks to making online dating work for you!
This page will cover everything you need to successfully use gamer dating sites, find other single gamers in your area, and with any luck complete your quest to find your perfect player 2.
| Rank | Site | Free Trial Link | | Why? |
| --- | --- | --- | --- | --- |
| #1 | Zoosk | Free Trial | | Our Top Gamer Dating Site Pick |
| #2 | eHarmony | Free Trial | | Best for Lasting Love |
| #3 | Gamer Dating | Free Trial | | Best for Serious Gamers |
| #4 | LFGDating | Free Trial | | Largest Gamer-Only Platform |
| #5 | Kippo | Free Trial | | Modern, Inclusive, and Growing |
| #6 | SoulGeek | Free Trial | | Completely Free Forever |
Should I Use A Gamer Dating Site?
Honestly we don't think so. Now we're not saying, "don't date online", but right now we don't think the gamer-only dating market is quite where it needs to be. Here's why…
Since around 60% of adults in the US claim to play video games you're likely to find quite a few gamers on any dating platform. So while going with a brand built strictly for gaming might make sense on paper, there are probably more single gamers at Zoosk or eHarmony than there on any of the other gamer dating apps mentioned on this page.
Another big thing to consider is pricing. Many of these gamer dating sites cost just as much if not more their mainstream counterparts when you want premium features, but they often have a lot less to offer.
If you're on the fence we recommend grabbing a free trail for a mainstream site and then claim a free trial for a niche gamer dating site. Once the accounts are made compare the following points:
Check the number of singles in your area as well as the total userbase.
Complete profile setup – see which is more detailed. More details lead to better matches.
Check the pricing of premium features and upgrades.
Explore the interface. Which one feels more complete as a free member?
Make a list of the pros and cons of each gamer dating app.
By doing this you can rest easy that you've made the best decision for your needs. And hey, if you like both that's even better! There's nothing wrong with using more than one dating service if they fill different needs.
14 Relationship Sites and Dating Apps for Gamers
In this section, we'll break down the options gamers have for online dating. Before we get too far into the weeds, we do want to warn you that not all gamer dating apps are created equal. In fact some of them are downright crummy. We strongly recommend that you check out our list of the top dating apps. That being said, here's the full list of gamer dating apps for 2022:
#1 – Zoosk – Our Top Gamer Dating Site Pick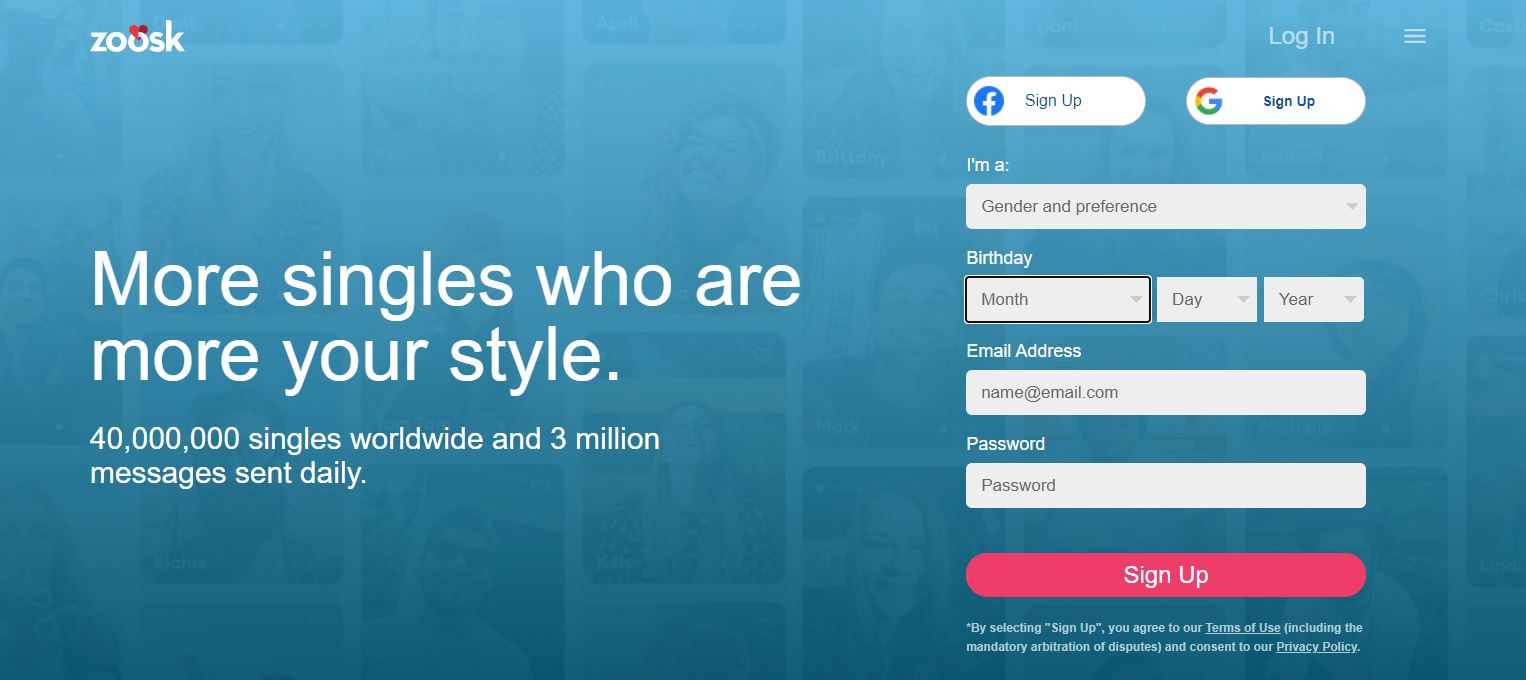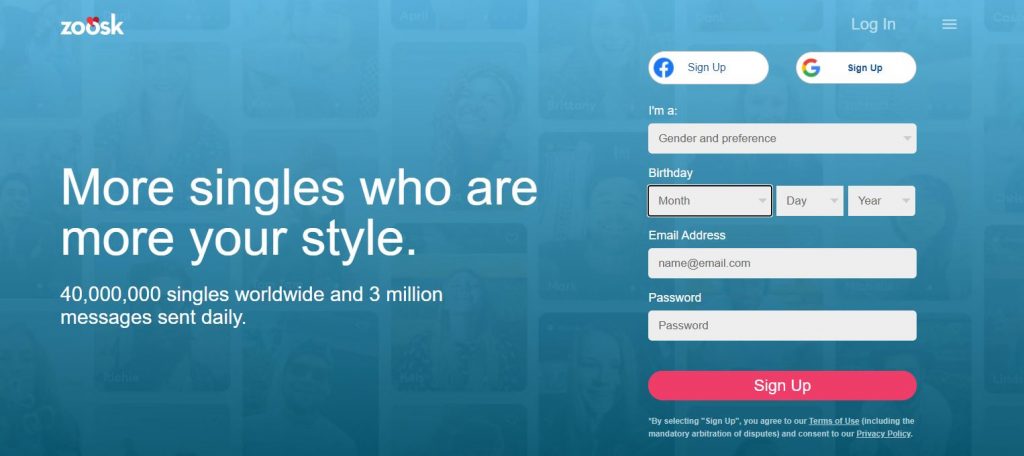 While not strictly a gamer dating site Zoosk is a great option for any young singles looking to date online.
The site has over 40 million users in over 80 countries around the world. What this means is that even though this is not a gamers only dating app you will probably be able to find more singles that share your interests (and are gamers) than if you were using a smaller niche site like the ones we'll talk about in the remainder of this section.
Zoosk is rated incredibly well by our staff and has lead to millions of successful relationships. It caters to both casual and serious dating with modern features and is one of the most affordable premium options on the market. If we were gamers looking for lover this is the dating site we would use.
---
#2 – eHarmony – Best for Anyone Looking for Lasting Love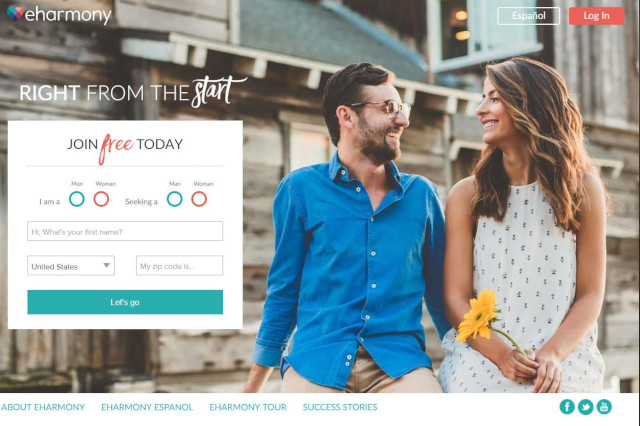 Like Zoosk, eHarmony is not strictly a gamer dating app, but we think the success rates of this brand should earn it a place on this list. If you're a gamer looking for marriage here's a glimpse at what you can expect:
Majority of singles are looking for serious relationships and marriage.
Well over 10 active million members.
One of the most user friendly interfaces of any online dating service.
Extremely detailed questionnaire and user profiles.
140 point compatibility system.
Over 2 million have found lasting love.
---
#3 – GamerDating.com – Best Dating App for Serious Gamers
Of all gamer dating sites available online this has to be the most legit. It caters to only gamers meaning it has a smaller user base (approx 2,500 daily users), but the interface is a lot more modern than most of the other niche dating apps out there. On top of that it truly feels gaming oriented since part of the matchmaking process is based on your game library.
This site is not set up for endless browsing. The singles you see will be gamers who match the compatibility settings you input on account creation. If you're looking for a gamer dating app that lets you search page after page of singles you might be interested in our next option…
---
#4 – LFGDating – Largest Online Dating Platform for Gamers
LFGDating is branded as 100% custom built premium gamer dating. But how is it really? In our opinion a dated.
The first thing that hit us was the outdated design. Clearly the team at LFGDating is aware of this, but the promise of an update in 2021 lead our team to the conclusion that this gamer dating app is probably a bit out of touch with modern trends and best practices.
That being said, there was a seemingly endless sea of single gamers to scroll though so if you're someone who likes to have unlimited options this site has that going for it. Their team claims to have tens of thousands of users.
There were definitely some duplicates, incomplete profiles, and other redflags of fake profiles, but even with that considered this has to be the largest network of singles on any gamer dating site.
---
#5 – Kippo – Inclusive App for Gamers to Meet New People
With just over 20,000 active users Kippo is probably the best option for gamers who want to meet other gamers for relationships or dating from their phones. Unfortunately there is no web friendly version of kippo which limits the potential user base.
Even without desktop users this gamer dating app has turned some heads since it's launch in 2018. It's rated over 4 stars for both iOS and Android users with over 300,000 downloads since launch.
This platform is incredibly inclusive and we think it's primed for growth as the gaming and esports scene continue to grow. To learn more check out our full Kippo review or click the link below:
---
#6 – SoulGeek – 100% Free Gamer Dating Site
Looking for single geeks and gamers? This gamer dating site may not be perfect but it's completely free!
This free gamer dating site is dedicated to matching singles interested in sci-fi, horror, fantasy, animation, comics, anime, and of course gaming! If you're new to the world of gamer dating this free option may be a great way to get your feet wet.
---
More Gamer Dating Apps Available in 2022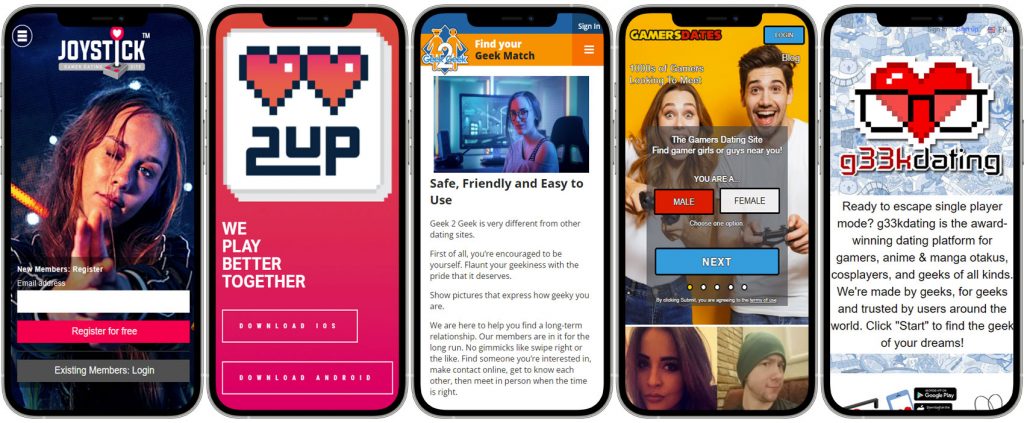 #7 JoyStick – This gaming-centric dating app offers a convenient way for singles to connect for friendships or relationships based on their love of video games.

Advanced search features for better matches.
1 on 1 conversations and gamer chat room
LGBTQ+ friendly

#8 2UpDating – Free gamer dating app with premium subscription upgrades including…

Weekly charms to help you get noticed
"User quests" that reward you for interactions
Unlimited swipes

#9 Geek2Geek – This platform encourages you to flaunt your geekiness and find people who will love you for it. It's focused on helping gamers find long term lasting relationships by removing "gimmicks like swipes and likes".

While we admire the goal we honestly can't recommend this site.
We like the branding and design but the site is too buggy.

#10 GamersDates – Online gamer dating for geeks, gamer girls, and cosplayers. A simple mission and a simple site.

A modern and user friendly design with a lot of decent features.
Unfortunately, free members cannot see who's viewed them or see messages.

#11 g33kDating – This gamer dating launched in 2015 making it older than a lot of gamer-only dating services. In addition to an eye catching retro design it has a few unique features that caught our eye.

New accounts have to be approved by admin.
You can easily report profiles you suspect of being spam.
Mobile apps available but poorly rated (2.2/5 on the App Store).

#12 Girl Gamer Dating – This is another completely free gamer dating site. while it may not be the perfect gamer dating experience, if you're a gamer, nerd, or geek looking to give online dating a try the price is right!

Unlimited free messaging.
Short and simple signup.
Always free.

#13 Lupper – This dating app was built by gamers for gamers. The team is dedicated to building an inclusive and respectful gamer dating community.

Active moderators on 24/7 to prevent harassment.
Free app available on Google Play and the App Store

#14 Dates4Gamers – We're not here to make your decisions; just to give you all the options. But if you're asking we say this is a great example of a gamer dating app you should avoid.

Site terms claim they will use fake profiles to message you.
Very young gamer dating site (Launched in 2021)
No mobile app for Android or iOS
---
Is That All the Gamer Dating Apps That Exist?
Definitely not! Honestly we can't even put a number on exactly how many gamer dating sites are out there. But when you get past the 14 sites we've talked about you're really getting into questionable territory.
We've already talked about the benefits of using mainstream dating apps as a gamer, but as we're sure you already know the internet is full of lousy sites with the sole goal of scamming and hurting anyone naïve enough to use them. Be smart and protect yourself!
Using a legit gamer dating site is not only important for finding great matches, but also to keep you and your personal info safe.
Why Our Recommendations are the Best Dating Apps for Gamers
They Help You Expand Your Horizons
Sometimes we can get caught up in wanting to find a partner that matches all our hobbies and interests exactly. However, by focusing on all compatibility factors these dating apps can help show you that great matches exist outside any strict criteria you may have built up in your mind.
They Have Features and Functionality Gamers Can Appreciate
Gamers will love all the features of these sites and feel right at home using the filtering systems, advanced communication features, and more.
The Virtual Communication Feels Natural to Gamers
Gamers know all about communicating online and building friendships virtually. These dating apps and their communication platforms will keep gamers in their comfort zone, which makes dating a whole lot easier.
How to Find Gamer Girls (or Guys)
Gamer or not finding other singles who share your interests can be tricky if you don't know where to look. In this section we'll give you 3 great places to start your quest:
Gamer Dating Sites/Apps – Whether you're a PC gamer, die hard console fan, or even mobile gamer, one thing is for sure; you spend a lot of time online. For this reason it just makes sense to take the next step to online dating.
Play Popular Multiplayer Games – Find love by doing what you love! Sure this won't work for everyone, but instead of always going it solo try to play some games where you can be on a team. While you might not find the love of your life playing squads of Fortnite you're going to get better at talking to new people online so when Mr or Mrs Right comes you'll be ready.
Go Where Other Gamers Are – This one is pretty self explanatory but needed to be said. If you want to find single gamers in your area then you have to go where gamers go. Arcades are way past their prime, but try game stores, comic shops, and of course conventions. You can also look for online communities like r/GamerPals.
5 Good Chat Openers for Gamers
If You Know They Game, but That's It: "PC, Xbox, Nintendo, or PlayStation?"
If You Aren't Sure if They Game: "What's your favorite hobby and how did you get into it?"
If They Are a PC Gamer: "What is a game mod you can't live without?"
If They Are a PlayStation or Xbox Gamer: "What's your favorite two player game?" (Note: You can easily use this as a segue to set up a game together.)
If They Are a Nintendo Gamer: "What are your thoughts on people who throw blue turtle shells?"
Helpful Tips for Shy Gamers Dating Online
We firmly believe that the idea of gamers being nerdy is totally outdated. Many gamers are super outgoing, focus on sport-based hobbies as well, and blow that stereotype out of the water. But, some gamers (just like any single really) will be a little less skilled at dating and other intense social interactions.
So, if you are a shy gamer who needs a little help, below are some dating tips for you:
Put Your Best Foot Forward – We've all seen the cringe worthy posts online of the people who flirt too hard with someone only to turn on them and call them horrible names when their feelings aren't returned. That's no way to live life. Focus on being the best person you can be and trust that your kindness and geniality will reward you when the right person comes along.
Know That You Are a Catch – Being a gamer does not take away from your desirability. Never let someone treat you badly or walk all over you just because you think you can't do better.
Be Yourself – It is always best to be yourself when getting to know people. Sure, you may be able to put on a persona and fake your way through interactions, but eventually the shroud will fall and the relationship will be severely damaged. Focus on finding someone who loves you for you.
Don't Settle Just to Avoid Being Alone – Unfortunately, this happens all too often. Lonely singles will settle for bad partners just because they don't want to be alone. You owe it to yourself to hold out for a partner that will treat you right and make you happy.
Share Your Hobbies – Often, singles might try to hide their "nerdier" hobbies, but we have seen that dates actually love to be involved in these hobbies. Try setting up a gaming date and share your passion with your potential partner!
Gamer Dating App FAQ
What is the Best Dating Site for Gamers?
Right now we have to award that title to Zoosk. While it's not strictly build for gamer dating it does have some of the best features and largest userbase of young singles. As the industry continues to evolve we'll be sure to keep this updated so you always know what gamer dating site is #1.
Are These Dating Sites Good for Girl Gamers?
Yes! We know that being a girl gamer can be a struggle when it comes to dating. These apps are great because they have some really great searching features but also great moderators. So, the first time a match tries to pull the whole, "you aren't a real gamer," or any other prejudice-type nonsense, you can get the mods to help you out!
Is Dating a Gamer Hard?
Honestly it can be. A lot of it really depends on you and your partner being able to have a healthy balance between your passion for gaming and your passion for each other. If your significant other disappears for weeks every time a new game drops it can put huge strain on a relationship.
Are There Good Dating Apps for LGBTQ+ Gamers?
Yes! Many of our apps are some of the best apps on the market for LGBTQ+ singles, gamers or otherwise. We want you to be able to find your perfect love, no matter who they are! Be sure to utilize the great search and filtering features on these apps to help you properly narrow down your results.
Are There Any Swipe Style Gamer Dating Apps?
Yes there are! Swipe style dating has taken the world by storm. People love the convenience and casual feel. As a result, apps like Kippo have sprung up to serve that same experience to the gamer dating niche.
What is the Future of Online Dating for Gamers?
Since the start of the Covid pandemic, online dating has seen an unparalleled spike. Many gamer dating apps have worked to provide more unique and interactive ways of connecting with singles online. Apps like eHarmony have made huge strides with video dating.
But this is just the start! With VR becoming more accessible to the world at large we think VR dating may be the next up-and-coming craze for gamers looking to find love online.