Surviving a divorce can often feel just like that—surviving. But as you start to come out the other side of things, you're hopefully realizing that just because your past marriage didn't work out, it doesn't mean you don't deserve a chance to start over and make something special with someone new.
And with the rate of divorces in the US on a steady incline since 2016, more and more people are finding themselves right where you are. Thankfully, no matter how long you were married for and no matter how old you are, there are dating apps for divorced singles that are ready to help you start making new connections.
Here's a look at the four best dating apps for divorcees you can sign up for now. Our team intentionally thought about all the unique wants and needs that come with starting over in the dating world to find the sites and apps best suited for helping you regain that relationship happiness.
1. Zoosk – Best Divorced Dating App for Starting Over


Depending on where you are in the divorce recovery timeline, Zoosk or eHarmony (our second recommendation) may be the best option for you. Let's explain.
If you're fairly fresh out of the divorce and you've just gotten to the point where you're ready to dip your toes back into dating, Zoosk is going to be the best option for you. The reason for this is that Zoosk has the most flexibility when it comes to relationship goal options. The app can be used for short-term dating, casual dating, or for more serious options (when you're ready). Changing between these goals and seeing singles with the same goals is as easy as clicking a button on your profile.
What's also nice about Zoosk is that it has several different ways for you to match. This flexibility is imperative because the chances are high it's been a while since you've dated and you'll want to use the option you're most comfortable with. This includes curated matches picked by the app, the option to search for matches in your area with your own criteria, and even a swipe-style feature called Carousel for quicker and more casual connections.
The flexibility of Zoosk makes it an amazing dating app for divorced people. And the price of a Zoosk membership is very affordable, which may be important if your divorce was more expensive than you expected. Take a minute to click the link below and see who is available in your area within minutes.
2. eHarmony – Best Dating App for Divorced Who Have Moved On

As mentioned, Zoosk is a divorced dating app that has a lot of flexibility for people who are just getting over things. But what happens if your divorce is handedly in your rearview mirror and you're ready to find a new partner. If you're not looking to date casually after your divorce, eHarmony is going to be the best option.
Unlike Zoosk, the only goal that eHarmony works for are people who are looking for more serious relationships that can develop into a commitment of some sort. Yes, you can still take things slowly with eHarmony, but you'll only want to join if you are okay with and are emotionally at a point where you're open to it developing into something more serious.
Signup takes about 45 minutes on eHarmony, which is longer than other apps but is intentional to reflect and drive the more intentional nature of the app.
Here's our final takeaway. If you're not 100% ready and open to a serious relationship, stay away from eHarmony. If you are over things and are ready to move on to someone new and special that could develop into something real, you'll love eHarmony as a dating app for divorcees.
3. Stir – Divorced Dating App for Single Parents

It's no secret that divorce can be tough on kids, and thus, dating needs to be approached delicately when you're ready to get back out there. One potential resource that might be helpful is Stir, a dating app for single parents with unique features designed to meet the unique needs that come with parenting and dating.
Bear in mind, Stir is not specifically for divorced parents, so you'll see some people on there who maybe never got married but are still parents. But you are only going to see singles who currently have kids, and most all of those will be kids who live at home. While this sounds inviting, it really alienates a huge part of the single population who don't have kids but are open to dating someone with kids. This is why apps like Zoosk or eHarmony might be a better fit and the reason Stir isn't too high on our list of dating apps for single parents.
But if you really want to date someone who was experience with kids (because they have their own), Stir could be the divorcee dating app for you. It's available through iOS and through the Android platform, but not via desktop.
4. Match.com – Good Second Dating App for Divorcees

While we think taking it slow after coming off a divorce is important, some people may be a little more ready to move on than others. If that's where you find yourself now, you may want to consider trying out more than one dating app at once.
If you're going to only do one divorced dating app, we'd recommend starting with one of the other options on the list. But if you want a secondary option that fits well as a complimentary backup, you may want to check out Match.com.
As a dating app, Match.com has been around since the mid-1990s (founded by Gary Kremen who allegedly lost his girlfriend to a guy she met on Match), making it one of the oldest and most established options on this list. The only other divorced dating app that is close is eHarmony, which was founded in 2001, about six years after Match.
On Match, you'll be able to select "Divorced" or "Currently Separated" as your relationship status, which does give you an easy way to share with others where you are in your relationship journey. You can also use this to search for other singles who might be going through a divorce or have also experienced it in the path (if that's what you're looking for).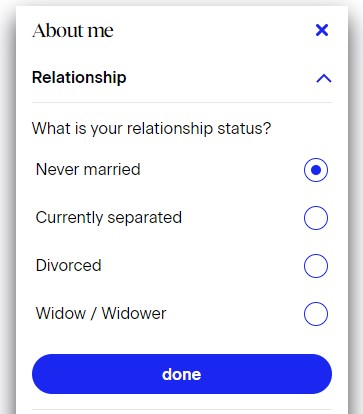 Ultimately, we think Match.com is not quite a strong enough dating app for divorced singles to be your primary choice, but with it's large userbase and establish track record, it's a good option as a backup or number two.
What Makes a Dating App Great for Divorcees
As there are no dating apps specifically designed for people who have gone through a divorce, it's a bit of an important task to find which mainstream dating apps are the best fit. Thankfully, by using these types of apps, you're able to date people who have also been through a divorce as well as those who have not.
Here are a few of the key factors most important to us when it comes to dating apps for divorced singles.
Options to Share that You're Divorced or Separated
While being divorced is not some scarlet letter you have to wear, it is probably something important to share at some point with new matches. For some people, especially certain religions that have issues with divorce, they might not want to date you—and that's okay. By allowing you the opportunity to share that on your profile, it eliminates the need for any conversations about the topic.
And for those of you who are still separated, you can probably also understand that some people would prefer to wait until your divorce is final to date. This helps you only get messages from singles who are interested in you and okay with your status.
An Environment Open to People Who Are Divorced
Speaking of people who are okay with your status, we want to recommend dating apps for divorced people that are open to your new chapter of life. Generally, most dating apps fall into this category, but it's still something we think deserves to be checked to ensure there aren't any policies or language that would be unhelpful to you.
The Ability to Block and Report Users
When you get divorced, your former spouse is also going to be out there dating as well. And for a lot of people, the thought of seeing someone they know on a dating app that they used to be married to is not a great thought. While you can't just input your relationship history and hit block, good divorcee dating apps do allow you to block any user you don't want to see (or who you don't want to see you).
Affordable Pricing
Lastly, as we already mentioned, divorces can be expensive. And if you happen to end up owing alimony as well, it can get even more expensive. For that reason, we think great divorce dating apps are ones that are affordable. No, they don't have to be the cheapest option on the block, but they need to mix quality with affordability in a way that brings you amazing value.
---
---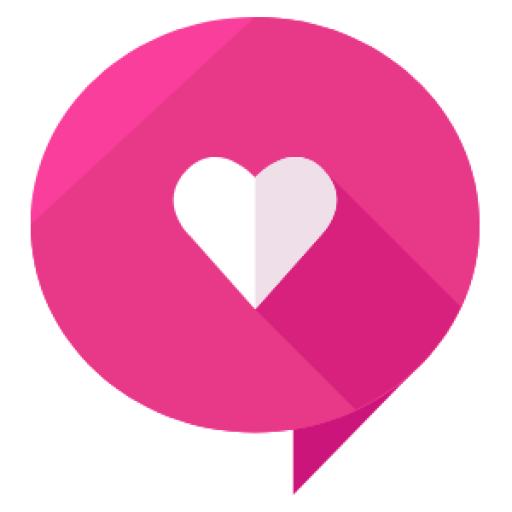 Written By: Healthy Framework Team
The Healthy Framework team has a combined 50+ years of experience in the online dating industry. Collectively, the team has reviewed over 300 dating apps and is known as one of the leaders in the relationship advice and information space. The team's work has been featured on Zoosk, Tinder, The Economist, People Magazine, Parade, Women's Health, Her Campus, Fox, and more.