Being a college student is one of the most stressful and rewarding parts of young adulthood. You get to stretch your wings, experience independence, and try out your adult pants. Unfortunately, that also comes with a lot of annoying stuff like stress and overloaded schedules that can make dating a bit of a challenge.
Sure, Hollywood makes college seem like the perfect place to meet someone. You know, with all the parties going on and all the random frisbee games in the quad. How could you not meet someone special?! Well, in real life college students spend the majority of their time in class or studying, and a large portion even have part time jobs.
If you haven't met someone on campus, don't fret! You just need to expand your search to a place where other singles congregate specifically looking for romance. That's right, we're about to school you in the ways of online dating and give you a run-down of the best dating apps for college students.
1. Christian Mingle – Best for Faith Focused Dating
Search for singles by faith and denomination
Find singles with a focus on marriage and commitment
Easy-to-use and frequently updating user interface
The Bottom Line – College can feel a bit like the wild west, especially to those who live a life of strict faith. You might be worried about losing yourself, but Christian Mingle specifically works to match you with a compatible partner who can help foster your faith. If you want to find a Christian partner to lift you up in love and life, check out our free trial link below.
---
2. Tinder – Best for Quick Fun and Short-Term Romance
Fastest way to find singles ready to meet in person
User base is fairly young and filled with college students
Free to use on both IOS and Android
The Bottom Line – You might be feeling a little overwhelmed by the talk of long-term commitment and marriage. We know that not all college students want life-long love and instead prefer a match for casual dating that might turn into something more. Tinder is here for you! Whether you want love for tonight or love for life, you can find it by following our free trial link!
---
3. Elite Singles – Best for Graduate Students
Filled with professional singles who are more established in life
Over 80% of the user base is college educated
Focuses on long-term partnerships over hookups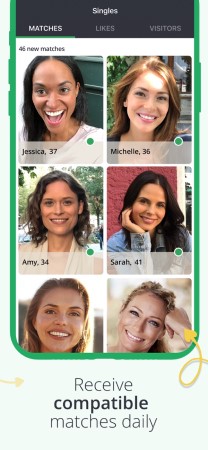 The Bottom Line – We aren't just focusing on undergrads here; we know that some college students have already begun establishing their career and want to meet singles just as far along in life. That's where Elite Singles comes in! If you want to find a love that can champion your success and understand your career goals, follow the Elite Singles trial link below!
---
4. Hinge – Best for Students Tired of Hookup Culture
Modern app for those unimpressed with other options
Exclusively for singles seeking long-term romance
Premium membership is only $7/month
The Bottom Line – Hinge describes itself as the dating app meant to be deleted. They want you to find a partner for the long-term and get you out of the online dating game. They are a pretty new addition to the online dating world, but their modern matching techniques and communication options make them an attractive choice for college students! You can try them out with our free trial link below, but even if you decide to pay for premium it is a super manageable $7/month!
---
5. Jdate – Best for Students with Jewish Faith and Heritage
The number one place for Jewish singles to meet
Users are looking for marriage and commitment
Some of the best community moderation of any dating app
The Bottom Line – If you are of Jewish faith and heritage, we understand how important it is for you to find a partner who can understand your culture. Whether you are looking for a Jewish single or someone who is comfortable learning about your faith, JDate can lead you to your perfect match. There are no flings here, just Jewish singles looking for true love. If you want to give it a try, simply follow our free trial link!
---
Do College Students Use Dating Apps?
College students do use dating apps, but their choice of app depends on what they are looking for. Those seeking fun for a night often use Tinder. Those looking for marriage love Christian Mingle. Students looking for a modern approach to online dating love Hinge. No matter what you are looking for, you can find it from our list of the best dating apps for college students.
Is Dating in College a Good Idea?
Like any other secondary responsibility in college, it comes down to prioritizing your goals. Nurturing a relationship takes work, but you get to share that workload with your partner. A healthy relationship can easily be maintained during college and can even cultivate your success.
Is Dating Easier in College?
Every singles group thinks dating is easier in a different singles group. It is simply human nature to try and find reasoning in a difficult situation. However, dating can be easy for anyone as long as they are looking in the right place. If you want to experience easy dating, utilize the options on our list of the best dating apps for college students.
How Do I Meet Other College Students?
You will find that meeting college students is easy. You will run into them in class, in your dorms, out to eat, at the bookstore, in the cafeteria – I mean they are all over the place. The problem isn't finding college students, it is finding those with mutual interests that are looking for the same thing as you (whether that is a relationship, hookup, or a friend). That's why dating apps are such a great option – you can even specifically search for college students through the use of filters and preference settings.
---
Written By: Brandi Brown
Brandi Brown is a daytime copywriter and nighttime novelist. Her projects range from marketing content and commercial scripts all the way to narrative poetry and short fiction. Her debut novel, Bleached, is set to release in 2021.