Sometimes as a Catholic single it might feel like finding someone with the same religious beliefs as you makes things harder by shrinking the dating pool. However, we think it's the exact opposite! When you know what you want, it helps you to eliminate the men or women who aren't going to be a great fit. Remember, you're not trying to date a thousand people, you're trying to date one.
And just for clarification, there are over 62 million Catholics in the US, so it's not like the dating pool is really that small.
But even so, how do you go about finding that one person who is smart, funny, in your desired age bracket, and shares in your Catholic beliefs? One of the easiest and most effective ways to do that is through Catholic dating apps. Technology helps put you in front of tons of high-quality Catholic singles in a way that makes it easy to find what you want and make a connection without having to muster up a truck load of courage.
Top 5 Catholic Dating Apps
1. Higher Bond

Higher Bond is a Christian dating app that has seemed to just flourish within the Catholic community. While the entire site is not dedicated to Catholic singles, reports say that over 25% of the userbase does identify as being Catholic. Additionally, you have filters to easily sort your matches by denomination, so you can see only Catholic matches if you want.
One of the big reasons we love Higher Bond for faith-based and Catholic dating is that they take intentionally take an intimate focus on faith and values, offer a safe and welcoming environment (all profiles and photos are 100% manually approved through some rather strict criteria), and a quality over quantity approach (batch style matching, systems to prevent message spamming, etc.). The one drawback to the app is that it just launched in 2022, so the userbase is still pretty small.
If you're a Catholic single who wants to date online, we'd encourage you to read about how Higher Bond is different and then consider giving it a try!
2. eharmony

As we dig a bit more into our recommendations for the best Catholic dating apps, you'll start to see a trend of a common issue—the number of users a site has, either as a result of being new or being very niched down. eharmony is the one option on our list that absolutely does not have that problem. While the exact number of users is unknown (because they're a privately held company), it's safe to estimate that it's easily in the 10s of millions.
And when it comes to why we like eharmony for Catholic singles, here are two of the biggest reasons. One—you can sort and filter through the massive userbase by your faith and turn a big traditional dating app into a niche Catholic dating app with the luxury of the massive userbase still. Two—Catholic singles have a desire for wholesome online dating, and eharmony delivers with quality standards, extensive filters, and reporting and blocking features to help keep the experience as wholesome as possible.
For Catholic singles, eharmony is a slam dunk.
3. Catholic Match

When it comes to fully-dedicated Catholic dating apps, the options get a little chintzy—minus a few options we're about to talk about. The big problem with heavily niched-down dating apps is the userbase tends to get small and the overall experience diminishes. However, that doesn't seem to be the case with Catholic Match. First, before we talk about what we like about the app, let's talk results. The app has pages and pages of real success stories of happily married couples who met on the app.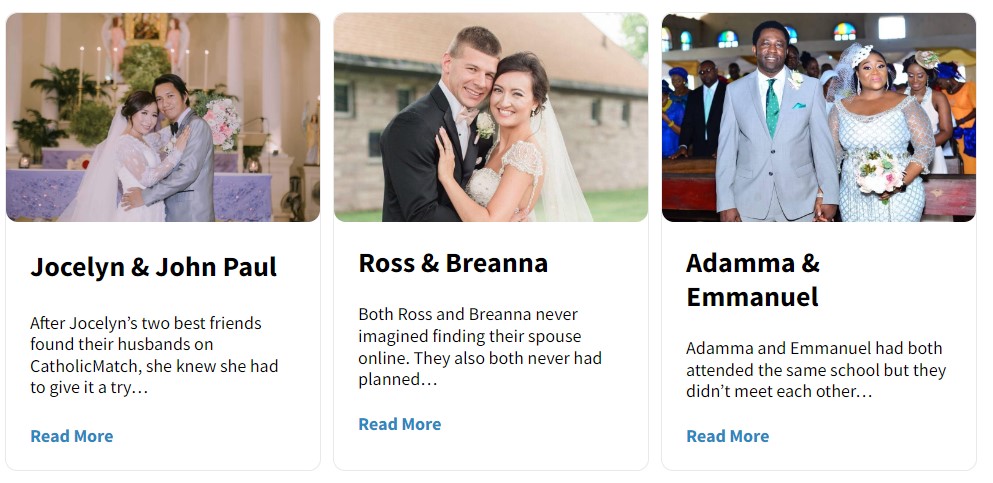 What we like about Catholic Match? First, it's supported by the Catholic Church through endorsements and partnerships with groups, causes, and even some universities. Second, there's a massive education and learning section (that's free) attached to the platform that you can use to learn more about successful dating as a Catholic. The drawback, as we mentioned, is that any niche dating app is going to have a much smaller membership base. However, if that membership base is 100% what you're looking for, that may not be a problem.
4. Catholic Chemistry
There's quite a bit to be happy about with this site. The website looks modern, it's backed by leaders in the Catholic Community, and it was developed by actual Catholics. Our only concern has to do with the size of the userbase. While we don't have numbers, our internal metrics lead us to believe that this site has some growth to do before it becomes a real viable option in the industry. Still, it's on our radar and we like what we see so far.
The drawback here is the same that we've mentioned with a lot of these Catholic dating apps—the size of the membership base. And while we think it's something the other apps we've mentioned have overcome, we just don't have any public data yet that tells us Catholic Chemistry has achieved that goal. Still, they say they're the fastest growing option out there, which if true is great. Again, though we don't have any data we can see to back that up. Still a good option to consider checking out though!
5. CatholicSingles.com
We're about to throw you for a loop here. We actually included a Catholic dating app that is no longer in service on our best-of list. Why? Well, because a lot of people still think the site is open and aren't aware of the change. In 2010, Catholic Match (number 3 on this list) purchased Catholic Singles and all of its assets. In the years following the purchase, the site moved all users over to their current platform.
For some reason, the URL and app information is still live and can be a bit misleading. But we can confirm, if you want to use CatholicSingles.com, you need to go to Catholic Match because that's where all the users from that app were moved to. So, while you technically can't join this app anymore, you can see that they joined forces with another industry powerhouse and we wanted to make sure we could clarify that for anyone confused.
4 Reasons We Love These Catholic Dating Apps
With online dating, you have a lot of options. And even when you're looking specifically for Catholic dating, you have a ton of options. Why? Well for starters, there are over 62 million Catholics in the US and 1.33 billion Catholics in the world! For a "niche", this is a pretty dang big one, which means a lot of dating app companies are going to be looking to serve your needs.
So, how do we go about selecting the best of the best? What criteria must we see to select something as one of the best Catholic dating apps? While we don't have time to share all the reasons, here are five of the biggest.
1. Safe and Predominantly Wholesome Environments
Anytime you're dating in a religious context, you probably have some concerns about the types of things you'll see and the people you'll run into. Heck, even if you weren't looking for Catholic singles, you might want the same thing! It just becomes more important when more people's morals may have an impact. This is why we make sure the best Catholic dating sites are the ones that promote a safe and wholesome environment. They can't protect you from everything, but if they're not doing a great job of trying, it's not a good option.
2. Support From the Catholic Church and Its Leadership
For mainstream dating apps that service Catholic singles, you won't be able to get this (which is okay). However, when it comes to Catholic-only options, we like to see that they've consulted with the Church. We don't need a signature of approval from the Pope, but it's nice to see a nod of approval from some leading figures in the Catholic community.
3. More Options than at Mass
For many Catholic singles, outside of online dating, Mass is the only spot you have to look for love. For that reason, an online dating app better have more options (and similar or higher quality options) than you're seeing at church! Otherwise, what's the point of investing time and resources?
4. Advanced Search Features
What you may have noticed is that a lot of our recommendations are more mainstream dating apps that serve all religions and even the secular community. As we'll explain later, this is on purpose. But with that comes the importance of having features and search functionality to filter through and find the Catholic men and women you're looking to meet.
Other Niche Catholic Dating Apps
We already touched on Catholic Match in our best of listings as one Catholic-only niche dating app. But is that the only one? It's not! There are several other sites out there that are 100% dedicate to this particular religion. Are all of them great? Not really. But in the spirit of completeness, we wanted to share them with you and at least give a quick review of our thoughts on each option.
Ave Maria Singles – Something we really like about Ave Maria Singles is the site is heavily dedicated towards finding marriage. And also, the overall look and feel of the site looks great. The one area that we have some concerns (and why they didn't make our list of the best Catholic dating apps) is because of size. While we don't see any public numbers about the size of their membership base, our indicators point to the site probably being quite small—potentially too small. This could be an option to consider if nothing else works out, but it wouldn't be our first stop.
Catholic Friends Date – Often, we have to guess if certain options for Catholic singles are outdated or potentially a security risk. Thankfully, Catholic Friends Date makes that pretty easy for us to figure out. The homepage looks like it's straight out of the 1990s (and not in a good way), and there is no encryption used on the site at all. These are big red flags for us and reasons that this site won't make our list of the best Catholic dating options without a major overhaul and some serious security work.
Catholic Mates – Much like Catholic Friends Date, Catholic Mates looks to be stuck in the past. What we really weren't fans of is that they show real member photos and profiles to the general public. This really isn't great when it comes to privacy and security. Sure, anyone can join any site and see you, but those are a lot of hoops to jump through. This one is an easy no from us.
Catholic Dating App FAQ
What is the best Catholic dating app?
The best dating apps for Catholic singles are Higher Bond, eHarmony, and Catholic Match. These apps are either fully dedicated to Catholic singles or have extensive search filters to allow you to turn a top-notch mainstream app into an option for laser-focused religious dating.
Should Catholic singles use online dating?
There is no real difference between online dating and real-world dating. Online is just a place, like the library, school, or anywhere else. So, if you and your personal beliefs allow you to date in general, then you are all set to date online. The most important thing is to maintain your morals and beliefs through dating and don't let the prospect of "love" change your core values.
Are people at my church going to look down on me for using Catholic dating apps?
According to polls from multiple sources, religious individuals judge more on the type of dating app you use versus judging you for online dating in general. The consensus seemed to be that hookup sites are frowned upon, but dating apps for Catholic singles focus on marriage, which is fine.
At the end of the day, it is important to remember that your relationship goals and dating history is nobody else's business. If you are worried about judgmental people, you don't need to share your dating journey with them.
Will I see people from my church online?
The likelihood of matching with a member of your own church varies based on your search criteria. If you opt for singles in your exact town, you are probably more likely to run onto familiar faces. Instead, you can broaden your search to areas outside your town to try to avoid acquaintances.
If you do meet a familiar face on a dating app for Catholic singles, don't feel embarrassed. After all, they are there for the exact same reason as you.
Where can I meet Catholic singles?
There are a lot of places you can meet Catholic singles. You might try your church, a local religious event or convention, concerts, the library, even the grocery store! The problem with meeting singles in the real world is you don't know about their religion and other important factors up front.
Our preference is to use a dating app for Catholic singles. This allows you to meet people you already know share your faith, beliefs, and relationship intentions.
Is it safe to use Catholic dating sites?
Yes, it is safe to use Catholic dating sites. The only caveat to that is that you need to stick to trusted app options and you need to uphold your end of the safety bargain (not doing anything to jeopardize your safety). Together, you can have an amazing online dating experience with other likeminded Catholic singles.
---