Just because there may be a little more of you to love doesn't mean you don't deserve to find someone special in your dating life. Anyone that tells you anything different can go ahead and…well, we have nothing nice to say to them. Thankfully, there are plenty of dating sites for BBW singles that can help connect you with likeminded people looking for casual dating, serious relationships, marriage, and love.
The Best BBW Dating Sites
---
1. eHarmony – Best Mainstream Dating Site for BBW
While eHarmony is a mainstream dating site, the creators of the software have made things extremely useful for anyone looking for something specific. When you create your profile, you'll answer a ton of questions about you, your lifestyle, your wants, your needs, and everything else about you.
It's a longer signup process, but the results that come from it are incredible. Over 2 million people have found love on the site, and that's people from all walks of life and all body types. eHarmony is easily a top option for dating sites for BBW singles.
2. WooPlus – Best 100% Dedicated App for Plus Size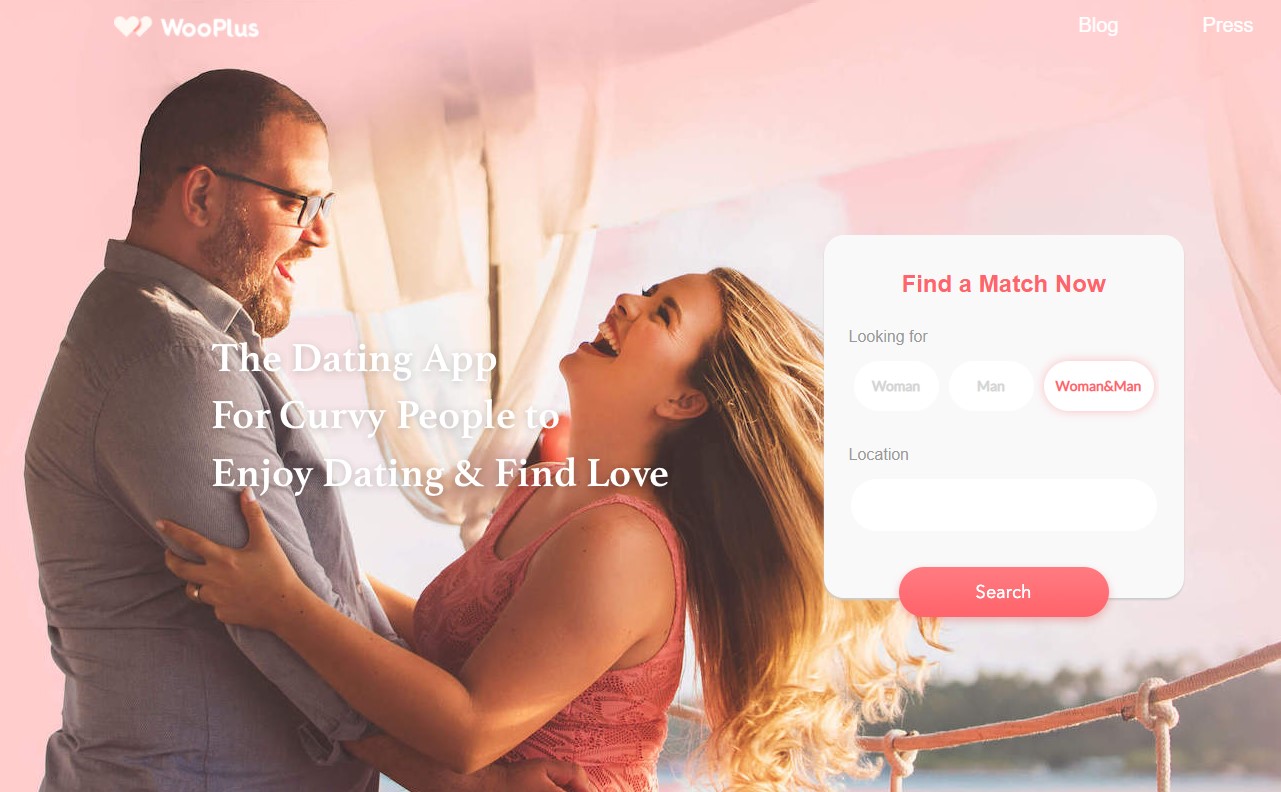 The flagship site for BBW dating is WooPlus. This website and app offer an incredibly inviting and welcoming environment for plus size singles to meet and mingle with other likeminded singles.
The app boasts an impressive 5 million+ members with an iOS app and an Android app option. Not only do we like the site, but it's been popular in the media with mentions in places like BBC, Yahoo, Vice, and more. It's certainly worth a peek if you're looking to get into curvy dating.
3. Zoosk – Best for People of All Shapes and Sizes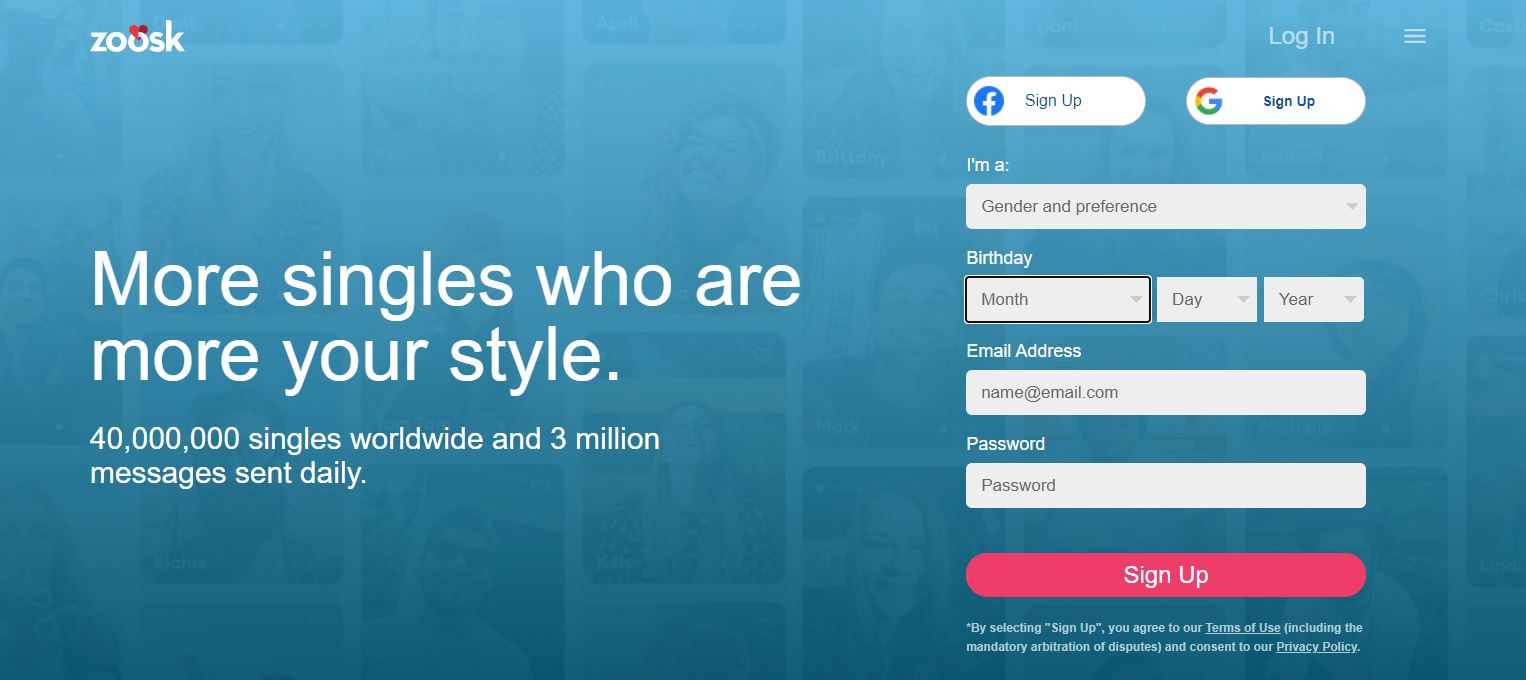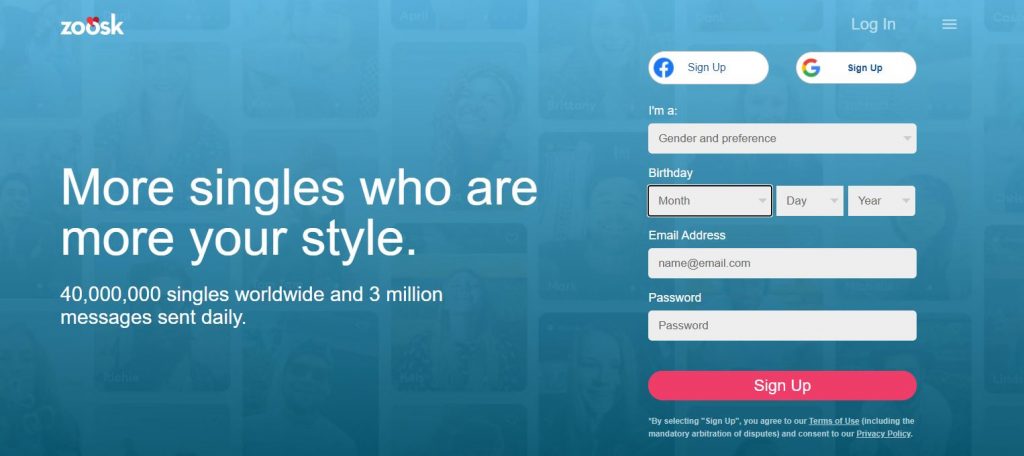 Zoosk is another mainstream dating app that's going to have people of all shapes and sizes—over 35 million people to be exact.
What's great about Zoosk as a BBW dating site is that if you're open to dating people of different shapes and sizes, it will be a great fit for you to expand your horizons.
4. Large Friends – 100% Niche Focused BBW Site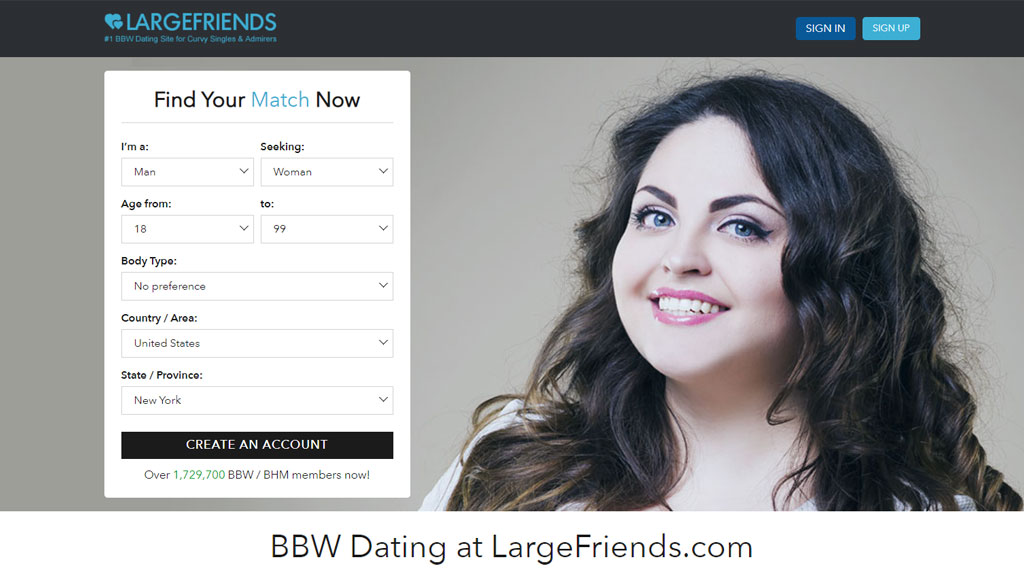 Another great 100% niche-focused BBW dating site that's grown in popularity over the past few years is Large Friends. The site is backed by a company that's been in the niche dating industry for over two decades, which means you can expect them to get a lot of things right.
The user-base is smaller on Large Friends, but it's still 100% a BBW dating site you'll want to check out. You can always search through the available singles before choosing to upgrade to make sure you find what you're looking for.
5. Christian Mingle – Best Faith-Focused Dating App
Don't worry 🙂 The pictures are not blurred when you log in.
If you're looking for a faith-based relationship, Christian Mingle should be at the center of your radar screen. This online dating site has been around for years and if filled with millions of Christian singles from all denominations and walks of life.
Again, this site is not 100% dedicated to dating for BBW, but it's still an incredible option. The searching, matching, and profile features can help match you up with the perfect Christian singles.
---
Table of Contents:
---
What Makes These Great BBW Dating Sites
While we've alluded a bit to what makes these online dating sites stand out to us as great options for BBW singles (and those looking for BBWs), we wanted to share a bit more. In this section, our expert team shares a few of the main factors we look for when working through the thousands of options to find a top-rated list that we can stand behind.
Here are a few of the most important reasons we love these sites.
A safe, welcoming, and inviting atmosphere – While this is a requirement from us for any dating app for any group of people, it's especially important when it comes to BBW dating. Why? Because people can be mean. And while a dating site can't weed out all the jerks, we want them to try; and we want them to do a pretty dang good job of it. You should feel safe, welcome, and like you belong when you use an online dating app.
Robust and expansive profile options – As we'll say multiple more times in this guide, you're not only defined by your size (unless you want to be). There's so much more that makes you—you. The best BBW sites provide profile fields where you can showcase what makes you special.
Proactive and reactive ways to protect the quality of your experience – That's a mouthful to say, but it's an important one. The best BBW dating apps and sites need to have functionality to protect the quality of your experience. Proactive functions refer to things like account verification, removal of spam accounts, and inappropriate content filters. Reactive functions refer to things like your ability to report users, your ability to block unwanted users, and a way to get in touch with customer support when something goes or feels wrong.
Customizability of your experience – We're not all looking for the same thing—and that's okay. But if a BBW dating site isn't designed to accommodate these differences, that's a problem. We want to see things like the ability to sort and filter matches, options to use the app from any device, and options for all different types of relationship goals.
Other BBW Dating Site Options
You've already seen our list of the best BBW dating apps, which should be more than plenty to get you started on your journey. That being said, these aren't the only options out there. As it is with any niche, there are tons of companies vying for your business with their version of what they think is best.
The problem is that a lot of these niche sites miss the mark with either a lack of features, too few members, minimal product updates, or they have safety issues you need to be worried about. That's why we put so much time and effort into building our top-rated list.
That all said, some of you may be curious what else is out there. Here are a few of the other BBW dating app options available and a few of our quick thoughts from a quick glance.

What Can I Expect From a BBW Dating Site?
Curious what you're considering getting into? We totally get it! You should already be starting to have a pretty good idea from our site recommendations and the previous section on what makes a great BBW dating site or app. To round out the conversation, we want to share a little more about what you can expect with these dating sites.
Plenty of Accepting Singles
Some of the options we recommended are dedicated dating sites for BBW, and some of them are mainstream sites. What's great is that both of these options provide a ton of accepting singles looking for singles just like you.
On the dedicated dating apps for plus size singles, you know you're only going to find singles that understand you. These sites create a safe space to be who you are and find the love that you deserve.
The mainstream options we've selected shouldn't be ignored, though. We hand-selected these sites and apps because they have an incredible accepting community of singles. So, if you're looking for someone who is also plus size or someone regardless of their body type—these are the options you'll want to try. Effective dating sites for BBW don't have to be 100% dedicated to deliver outstanding and lasting results.
The Ability to Sort Matches by Preferences
Your body type is only one of thousands of different characteristics that make up who you are. All of the dating for BBW sites we've recommended understand this. These sites give you the ability to sort singles based on tons of different characteristics.
So, if you really do want someone with a particular body type, you can sort by that. Or if you're more interested in other factors like interests, relationship goals, faith, and things like that—you're covered as well. Ultimately, these dating sites for BBW singles deliver the ultimate in customization options. If you're looking for a simple way to find exactly what you're looking for, you're going to love these options.
Affordable Pricing
Dating apps for plus size singles don't need to be expensive. Sure, you're going to get what you pay for in this industry, but that still doesn't mean that you need to spend more money than is reasonable. All of the options we recommend come with extremely affordable prices.
Additionally, you're going to be getting a lot of bang for your buck. We will never recommend any options that we don't think give you the most value possible.
An Overall Great Dating Experience
Here's something that we can confidently say about these options. All of these dating sites for BBW singles are going to deliver you that quality, safe, fun, and exciting dating experience you're looking for. We know this because we've tested the sites, asked other singles, and done a ton of due diligence to make sure we're recommending the best options available.
Tips for BBW Dating Online
Using BBW apps or mainstream apps to find love as a BBW doesn't have to feel scary or like it's work. The process can be fun and provide a lot of success if you know how to approach it properly. We've already walked you through how to pick out the best online dating app for BBWs. Now let us share a few tips on how to use the properly to get the results you deserve.
Highlight Your Best Attributes
It's important to remember that what you look like is only a portion of who you are. There are so many other great things that make up who you are. You've got interests, accomplishments, goals, and personality traits that make you—you. Embrace them! Show them off!
Don't Be Misleading With Your Photos
It may be tempting to take pictures in a certain way that hide that you're a plus-sized woman. Or you may be tempted to pick out photos that don't genuinely show what you look like. This might make you feel a little better, but it's unfair and misleading to the singles you're talking to. We're not saying you shouldn't try and take awesome photos that showcase your best light! But make sure you're taking honest pictures that show what you genuinely look like. Otherwise, you're setting yourself up for an awkward first date, and it's just unfair to the other person.
Don't Accept Abuse of Any Kind
This is a non-negotiable for us and it should be for you too. Whether you're online or dating in-person, any verbal abuse, bullying, or anything like that is 100% unacceptable. If it happens to you online, utilize the tools you have at your disposal.
Block the person
Report them to customer support
Try not to let them affect your emotions or how you feel about yourself. Remember, people bully people because they themselves have low self-esteem.
If it escalates or continues, contact the authorities. People have to follow the same laws whether they're dating in-person or online.
You Don't Have to Use BBW Dating Apps Only
Your size doesn't define you. Sure, it's part of who you are, but it's not everything that defines you. There are a lot of other things that make you into you. For that reason, don't feel obligated to use BBW-only dating apps. If you want to use traditional mainstream dating websites, go for it! In fact, you'll notice that we do encourage it. You may need to wade through some people a bit more, but anything worth it takes a little work!
Be Wary of Fetishist
Tons of people find different things attractive and sexy, which is awesome. That being said, some people can get fixated on certain things (especially physical traits). When this happens, it can make people want to enter a relationship for the wrong reasons. This isn't something that happens that often, but we want you to at least be on the lookout for people who might only be interested in you because of the way you look. Healthy relationships are ones built on substance and not just the way someone looks—no matter if they're bigger or smaller.
Challenges of Using Dating Apps as a BBW
We wish we could send you out the door and tell you that everything is going to be rainbows and unicorns when you start your online dating journey. And while for the most part you're going to have a great experience, there are some unique challenges you may face dating online as a BBW.
The most annoying part is that these are mostly going to be as a result of other people's issues and not something within in your control. However, being aware of what you may encounter can help you to be prepared and can set you up to brush off anything that looks to get in the way of you finding love.
Here are some of those challenges to be prepared for.
Not Everyone is a Nice Person
Sometimes people are just mean. And, unfortunately, just because you choose to date online doesn't mean you'll be able to avoid these people. Being completely blunt, yes, there are some people who are just as rude online as they are in person. The one perk online, though, is that you can block these people and take control of the situation.
We anticipate you'll have a great experience dating online as a plus-sized woman, but we want to make sure you understand there still are some people with low self-esteem that have to be mean to make themselves feel better.
BBW Dating Apps Might Have Fewer Members
Anytime you use a niche online dating app or website, it lowers the number of members. The tradeoff is that you end up with almost 100% of that smaller membership group looking for the same thing or having the same shared niche attributes.
For that reason, you'll notice that we recommend niche BBW dating apps as well as traditional mainstream dating apps. You'll have plenty of people on the mainstream apps who are totally down with dating a plus-size woman or man.
BBW Dating Site FAQ
What is the best BBW dating site?
eHarmony, WooPlus, and Zoosk are the best BBW dating sites with the most options, the best results, and the most inviting atmosphere. Out of these three options, WooPlus is the only 100% BBW option, while the other two are mainstream online dating apps that function well as BBW dating sites thanks to their large number of users, welcoming community, and helpful sorting and filtering functions.
Are there dating sites specifically for plus-sized people only?
Yes, there are dating sites that are specifically for plus-sized people. Some of the most popular options include WooPlus, Large Friends, and BBW Cupid.
Do BBW dating apps attract "chubby chasers"?
Yes, BBW-only dating apps tend to attract people who could be defined as chubby chasers (skinnier singles interested in big beautiful women). What this means is that BBW apps may be good for singles of all sizes, much like the mainstream options.
Is online dating safe for BBW singles?
Yes, online dating is very safe for BBW singles so long as they use quality dating apps and practice good online behavior. Good online behavior includes things like using strong passwords, trusting their intuition, verifying users before meeting up, and avoiding situations that might seem too good to be true.
---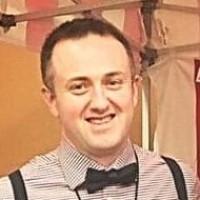 Written By: Jason Lee
Jason Lee is a data analyst with a passion for studying online dating, relationships, personal growth, healthcare, and finance. In 2008, Jason earned a Bachelors of Science from the University of Florida, where he studied business and finance and taught interpersonal communication.
His work has been featured in the likes of The USA Today, MSN, NBC, FOX, The Motley Fool, Net Health, and The Simple Dollar. As a business owner, relationship strategist, dating coach, and officer in the U.S. military, Jason enjoys sharing his unique knowledge base with the rest of the world.