There is some serious misinformation out there that Android users can't get good apps like IOS users. We aren't entirely sure where that idea comes from, but we do know that it definitely isn't true when it comes to dating apps!
If you are looking to find a long-term partner through digital dating, you don't need to run out and upgrade to an iPhone! We have compiled a list of the best dating app for Android and, spoiler alert, the best dating apps on the market are totally available in your app store. Don't let all this IOS vs. Android propaganda fool you, it is easy to find love no matter what kind of mobile phone you own!
So, if you are ready to find love, give one of these fantastic dating apps a try.
List of the Top Android Apps
1. eHarmony
eHarmony is one of the most prolific dating apps on the market, so you better believe it is available on Android! The creator of eHarmony focuses on matching singles based on a super complex personality assessment in tandem with relationship goals and basic standards of attraction. In short, you are definitely going to find singles you find interesting, attractive, and compatible.
Their platform is consistently updated to make it simple to use on Android, which is one of the most important aspects of online dating. You don't want to use a dating app that can't even function on your phone! You can message your matches, find new matches, read articles and dating guides, and anything else you'd like all from your phone. This lack of limitations makes eHarmony one of the best dating apps for Android.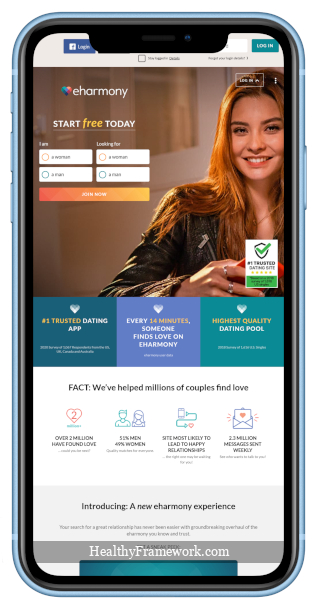 ---
2. Elite Singles
Elite Singles is on the higher end of dating apps. I mean, just look at the name. They focus on matching singles that are well-established in their lives to create a place where career-oriented singles can find one another. It doesn't matter if you are a doctor, professional musician, teacher, or grad student, Elite Singles can connect you with a love built to last.
We aren't disparaging non-college educated singles. People from all walks of life are deserving of love and marriage! However, when you have put a lot of work into your education and career, you want to bring people into your life that are equally as driven. Elite Singles is one of the best dating apps for Android because you can find the perfect match for you with all the ease of using a desktop app but on your phone!
---
3. Christian Mingle
Christian Mingle is one of the most popular dating apps available thanks to their focus on Christian values, finding marriage, and bringing together singles with similar values. Their platform is often regarded as one of the easiest to use and that is true for the Android app as well. The interface is clean and the mobile communication options are some of the best in the industry.
No matter which denomination you belong to, Christian Mingle has the search functions and filtering options to lead you to your best matches. Users are looking for love and marriage, so you don't have to worry about wasting your time on someone who's afraid of commitment. If you are a Christian single, you won't regret trying Christian Mingle.
---
4. JDate
JDate is the number one app for finding Jewish singles, so we are pretty stoked that it is available on Android! Whether you are looking to convert, were raised in a Jewish household, or anything in between, you can find your perfect match on JDate. Once you download the app, getting started is as easy as filling in your profile information and choosing your match parameters. The app is beautiful and considered one of the easiest to use.
Singles on JDate are looking for love and marriage. Don't waste your time on emotionally draining flings or partners who don't know what they want. JDate brings marriage-focused singles from around the world right to your fingertips. The app even has some of the best moderation and security to give you some peach of mind.
---
5. Catholic Match
Catholic singles know that there are some pretty tight standards around goas, family values, and overall morality when it comes to dating. Catholic match provides you a space to find potential partners that meet all your religious and relationship standards. This can save you a lot of heartache and time, which is why it is one of the best dating apps for Android.
Catholic Match is filled with singles looking for long-term commitments and marriages and is easy to navigate through your Android app. Signup is free and you can get a good feel for everything the app has to offer before committing to a paid membership. That means you basically have nothing to lose except for your single status!
---
How to Online Date with an Android
Online dating with Android is easy and safe as long as you follow a few basic tips. Take a look at this guide to prepare yourself for a successful online dating experience.
1. Utilize the App the Best Suits Your Needs
We have shown you a lot of options for online dating on Android. While we believe each app is a great choice for singles, you should try the app that best suits your needs. If you have a strong religious background, you might have better luck on one of the niche religious app options.
2. Focus on Safety and Security
As with any online dating app, the best dating apps for Android need to be approached with an eye for safety. Don't share private information with your matches or link to your personal social media pages in your bio. If anyone makes you feel uncomfortable or asks for inappropriate information, report them to your dating app's customer service immediately.
3. Don't Take Rejection Too Personally
There are a lot of singles on these apps, which means you and your matches will be given a lot of choices. If someone you are interested in passes over you, don't take it personally. Remember that your perfect match is out there, you just need to find them.
---
Written By: Brandi Brown
Brandi Brown is a daytime copywriter and nighttime novelist. Her projects range from marketing content and commercial scripts all the way to narrative poetry and short fiction. Her debut novel, Bleached, is set to release in 2021.