In the old days, Androids were like the little brother of the "mighty iPhone". However, over the past decade the percentage share of Androids vs. iPhones has grown immensely and it's now reported that there are over 3 billion active Android devices in the world—that's billion with a 'B'. And in the world of online dating, we've seen a rapid increase in the number and quality of dating apps available to users through the Google Play Store.
But with an increase in options also comes a need for discernment. How do you know which Android dating apps are quality and worth your time and money? Can you just blindly trust the Google Play ratings or is there a better way?
Well, forgive us for tooting our own proverbial horns, but we have got you covered. In the coming sections, you'll see our picks for the best Android dating apps for all different types of people and relationship goals.
1. Zoosk – #1 Overall Android Dating App
While the Zoosk dating app doesn't have the absolute highest Google Play review rating on our list, we think that overall it's the most complete package. And for the record, it still has a 3.3 star review average over 10 million downloads—so nothing to scoff at. The point we're making, though, is you can't just judge an Android dating app by it's review score; you have to look deeper.
Zoosk, the #15 grossing dating app in the world, is an all-in-one, everything to everyone type of dating app. The app has casual options and serious options, search-style dating and swipe style dating, and caters to users all the way from their early 20s to seniors.
One common complaint we saw throughout the Google Play reviews was that the swipe-feature (called Carousel) doesn't show you how close the people are that you're seeing, which could be a bit annoying if you're used to traditional swipe dating apps. But, Carousel is such a small piece of the Zoosk pie, so as long as you're okay with using the more traditional features, it's a win.
It was a pretty easy pick for us to select Zoosk as the #1 overall Android dating app.
2. Coffee Meets Bagel – Best Android Dating App for Quality Over Quantity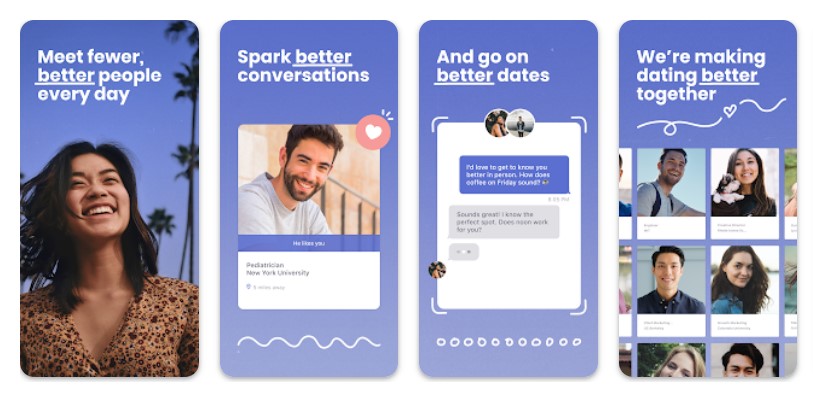 In sharp contrast to Zoosk, Coffee Meets Bagel (also known as CMB) takes a "less is more" approach to online dating. Instead of giving you access to thousands of singles to search and sort through, CMB sends you a few curated matches daily. If you want to hit the ground running full steam, this won't be the Android app for you because it intentionally causes you to slow things down.
Ratings wise, Coffee Meets Bagel has a 3.7 star review and over 5 million downloads on Google Play, which is pretty nice for user sentiment and overall size.
As we mentioned, one drawback is that the matchmaking process being slower might not be the right fit for a lot of users. Additionally, the CMB pricing structure is one that has monthly membership fees as well as a la carte addons. We're never really fans of this because it allows others to pay for an advantage and also can add up quickly without you realizing it.
But if you're okay with online dating playing a smaller role in your daily schedule, you'll enjoy CMB.
3. WooPlus – Impressive 4.4 Star Rating on Google Play
While WooPlus isn't going to be ideal for everyone, it is one of the leading plus size dating apps with an impressive 4.4 star review on Google Play with over 1 million downloads. In fact, we didn't find a single dating app with a higher rating anywhere on the store (or the iOS store for that matter).
One of the biggest positives that users report is the fact WooPlus is truly a safe environment with the right safeguards in place to cater to a niche that sometimes can find itself at the wrong end of cyberbullying. For example, we saw in WooPlus' terms of service, that they sometimes require video verification of accounts.
One drawback we saw from users is that even though the app uses a mutual match style process, users were able to message other users even if a mutual match hadn't occurred. We're not totally positive if this is just a bug in the process of if it's how WooPlus is intended to work, but some people weren't fans of it. Still, though, the overwhelming number of positive reviews shows this is probably a non-issue.
If you're a curvy single or BBW looking for a safe and inclusive environment to date online, this is the Android app for you.
4. Bumble – Android Dating App with Over 50 million Downloads
While we're always pushers of quality over quantity, there are times when you have to realize that quantity might be an indicator of quality. This is the case with Bumble, an Android dating app that has a 4.0 star rating over 50 million downloads. To put that into perspective, if you add up all the other downloads of the apps recommended here, they don't total up to 50 million!
What's neat about Bumble is that you can use it for dating, for finding friends, and even for finding business partners. Each of these different paths is separated (so you won't find an investor while looking for a boyfriend), but can all be accessed through the same account.
The one drawback to Bumble is, well, only a drawback if you think it is. Women must send the first message after a mutual match is created. In a hetero scenario, if a man wants to message first, tough luck. Unless the girl takes the lead and messages first, the match disappears. Some women report they don't like always having to take the lead, and some men report missing out on matches because the time expired.
Again, it's either a drawback or a big pro if you like the idea of allowing women to "break the gender norms" (as Bumble puts it) when it comes to online dating.
---
Reasons These Are the Top Android Dating Apps
For the sake of transparency, we want to share a few of the reasons we determined these to be our top picks for singles dating on Android. Of course, the bulk of the ranking comes from actual testing, looking at other user reviews, and studying industry trends, but there are some factors that tend to be most important that we want to point out.
Solid Google Play Reviews and Ratings
While ratings and other reviews aren't the only thing to look at when ranking Android dating apps, it certainly doesn't mean they're not important. As you've seen, each of these apps has a great Google Play Store rating, as well as positive remarks from other users that we read when going through those reviews.
Consistent Updates for Security
On average, Android does one major update per year and a lot of small patches for safety and security. What we'd like to see is the same cadence or more from Android dating apps. One—this allows them to stay up with the current operating system so you don't experience any bugs and two—it adds more security to ensure a higher quality online dating experience.
New Features When Called For
Okay, so occasionally we're fans of not breaking something that isn't broken when it comes to dating apps. For example, if a dating app is crushing the game, sometimes adding features can complicate things unnecessarily. But, when there are ways to improve the quality of the experience, we love seeing new features.
For example, Zoosk added a really neat video dating feature called "Great Dates" last year that allows you and a match to go on virtual dates around the world. You can explore unique countries and tourist destinations all from your phone or computer! It's a neat feature that seems to be a big hit with a lot of members.
---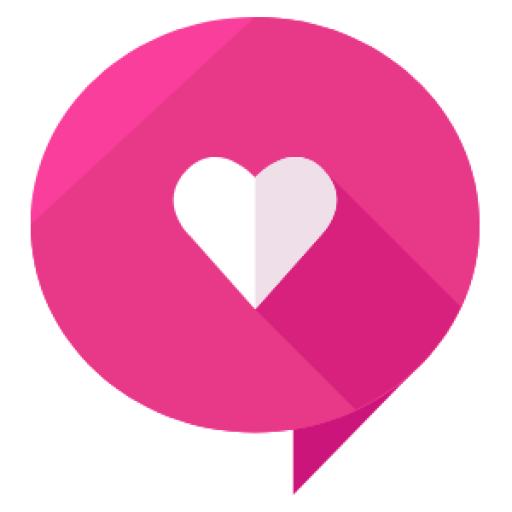 Written By: Healthy Framework Team
The Healthy Framework team has a combined 50+ years of experience in the online dating industry. Collectively, the team has reviewed over 300 dating apps and is known as one of the leaders in the relationship advice and information space. The team's work has been featured on Zoosk, Tinder, The Economist, People Magazine, Parade, Women's Health, Her Campus, Fox, and more.