Dating after 60 might not even cross the minds of a lot of seniors. You may think your time to find a relationship has come and gone. Well, rest assured, there are other seniors out there looking for partners like you. A happy, lasting relationship is not out of your reach if you know where to look!
We don't want you to waste your time researching apps and spending money of dating platforms that don't work for you. That's why we've put together this list of the best dating sites for seniors over 60.
You don't have to be technically savvy to find love. Read on to find out more.
1. SilverSingles
Free trial available to test the waters
Site made just for seniors so no worries about ageism
The app is easy and fun to use
The Bottom Line – If you want the app that has the best features and amenities specifically catered to singles over 60, SilverSingles is for you.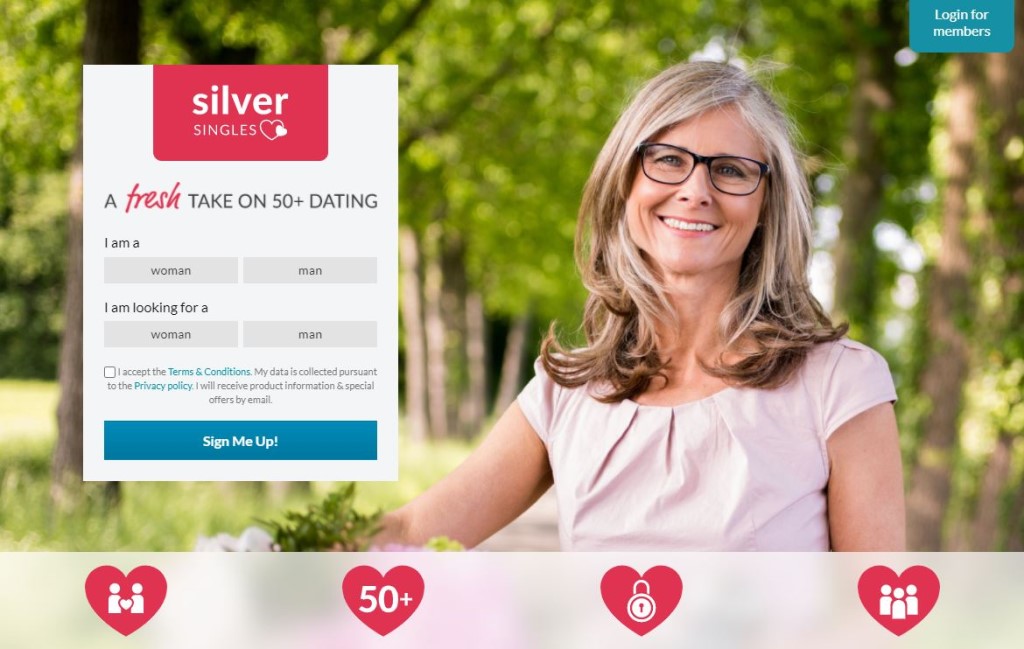 If you are considering dating after 60, you don't want to miss out on SilverSingles. The app is easy to use, which makes it ideal for users with little computer experience. You can sign up for a free trial and fill out the personality evaluation to get a feel for what the site has to offer. This app is at the top of our list of the best dating sites for seniors over 60 because it has shown year after year how effective it is at matching singles with the perfect partner.
---
2. eHarmony
Focuses on long-term relationships and marriages
Utilizes a personality test to make finding compatible singles easy
Premium membership starts at $10/month
The Bottom Line – If you want the best in matchmaking technology and a large pool of singles of all ages, eHarmony has what you need.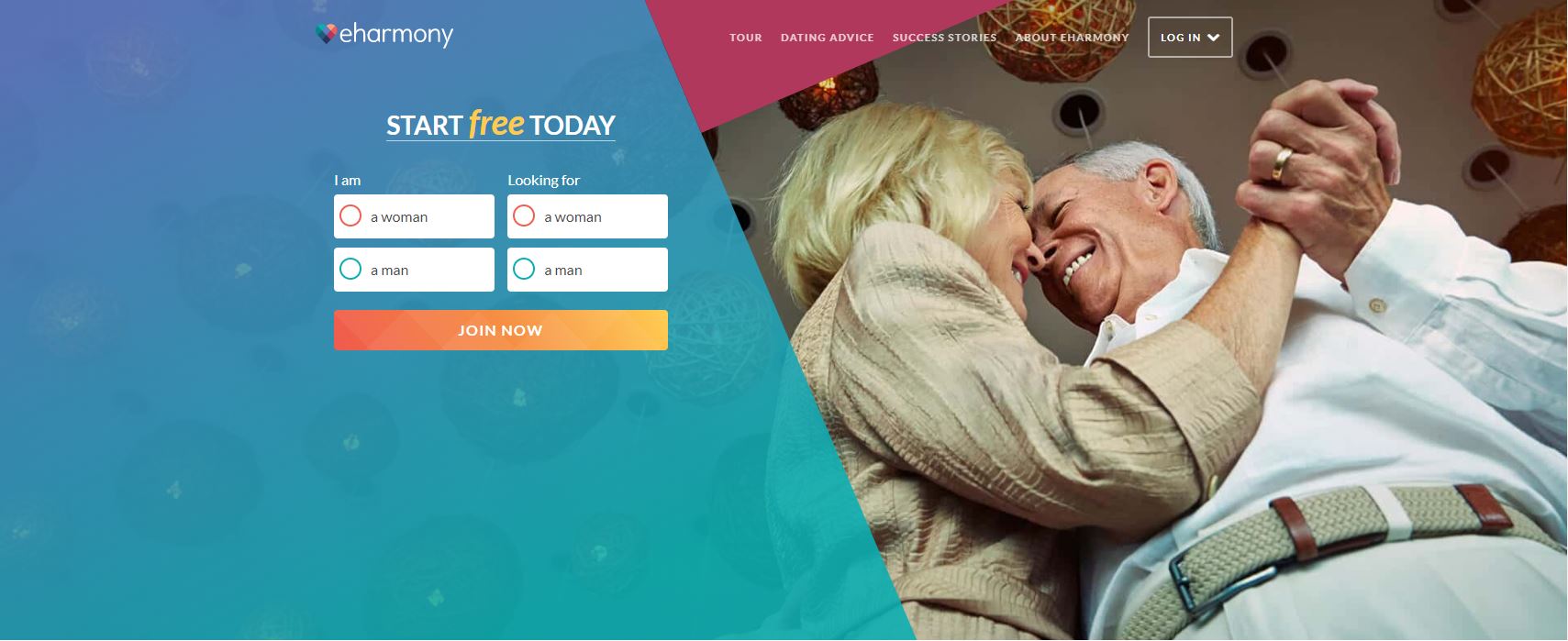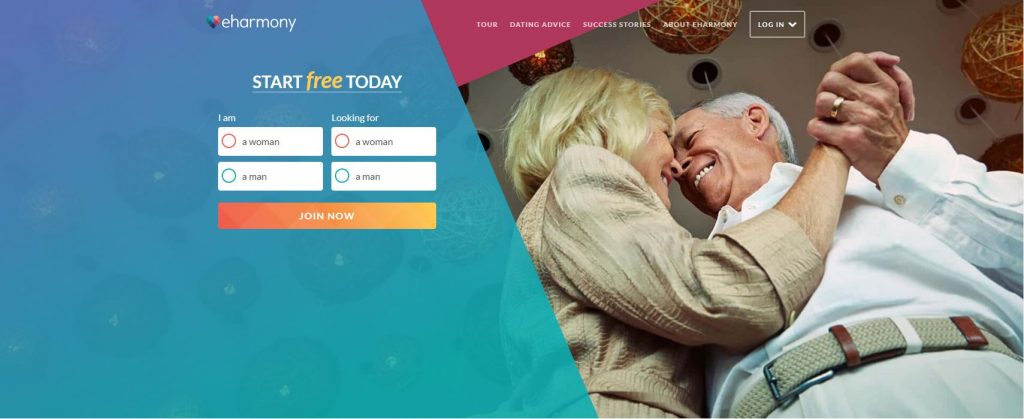 eHarmony is one of the biggest names in online dating. While it isn't intended exclusively for dating after 60, this app uses in-depth personality assessment and your age, religion, and cultural preferences to introduce you to the best matches for you. There is a large user base of singles over 60, so you don't need to worry about finding matches that understand where you are in life. eHarmony knows you don't have time to waste dealing with flings or wishy-washy partners. That's why their dating environment is for those seeking long-term companionship.
---
I'm Not Good with Technology. Are These Dating Sites for Seniors Over 60 Hard to Use?
These dating sites for seniors over 60 are easy to use. In fact, if you were able to open and read this article, you can definitely sign up for either of these apps. The process is fast, and each step is simple to understand. If you are ready to get signed up with either app, follow the instructions below.
What Makes These the Best Dating Apps for 60 Year Old Singles
User-friendly websites are great for people who might not be as adept with technology. Don't let computer glitches deter a genuine connection!
These sites allow you to fill out a more in-depth profile, rather than focusing on just photos and fun facts, so that you can better judge matches.
They work to match you with people you will be compatible with. Rather than wasting time going through hundreds of profiles, these sites suggest the matches you're most likely to have chemistry with.
How to Get Signed Up for a Dating Site for Dating After 60
1. Pick out the right senior dating site for you.
Now that you have an idea of what each of these sites have to offer, it is time for you to pick which is the best option for you. If you want a senior-exclusive community with easy-to-use features – try out SilverSingles. If you are open to a wider range of dating ages or are interested in a scientifically created matching system – try out eHarmony. You really can't go wrong with either choice.
2. Create your free trial account.
Once you know which site you want to use, follow the link to their website to sign up for a free trial. To do this, fill in the basic information the app asks for. This may include your email, gender, and the gender you are seeking.
Be certain to use an email you can easily access because that is how the app will verify your account later on.
3. Make your profile and start looking at other singles in your area.
Depending on which app you choose, you will need to complete your profile in different ways. eHarmony, for example, asks for your personal information, dating preferences, and then issues you a personality test to help match you to singles with like-minded personalities and interests.
The app will tell you what information is required of you and which is optional. Once you fill out the required information you are free to look at singles in your area! However, we highly recommend you fill out every portion of the profile because it will help other singles get a better feel for who you are.
4. Upgrade to a paid account if you like what you see.
If you are enjoying the free trial and want to access all the features of your chosen app, you need to sign up for a paid membership. At SilverSingles the prices start as low as 37.95 for six months. At eHarmony, prices start at $10/month paid annually. Each app will then give you access to advanced features like:
Enhanced messaging
Monitoring profile views
Unlimited user profile access
And more
How Dating Over 60 is Different
Age Doesn't Matter as Much – When you were 30 years old, the idea of dating a 20-year-old likely filled you with dread. However, dating over 60 makes those age gaps irrelevant. A 65-year-old and a 75-year-old are typically on the same wavelength and have no issues relating to one another.
Companionship Becomes Your Main Goal – You are far less worried with getting married and having a big wedding when you are dating after 60. Instead, you want someone who offers companionship and loyalty, but without all the need for ceremony.
Your Relationship Needs Change– What you want in a relationship after 60 is far different than when you were in your 20's and 30's.
You Have a More Mature View of Priorities in a Relationship – After decades of experience, you know that a relationship can be satisfying and healthy without constantly focusing on your partner or being with them. You will likely both have familial responsibilities that take up some of your time and attention, and that's completely okay!
Helpful Tips for Seniors Looking to Date Online
Be Honest on Your Profile/Questionnaire
It might be your first time dipping your toe back into the dating pool, which is understandably a bit nerve-racking. But it's important to put who you really are out there for it to be successful – not a version of yourself you think might be more appealing.
Use a recent picture of yourself that you like for your profile and include photos of things that are important in your life. This could be family portraits, pictures of you doing your favorite hobby or trips you've taken that you enjoyed. You want any potential match to like you, for you!
Understand that Your Matches May Be New to Using Technology
Technology has evolved rapidly, especially when it comes to dating. Don't be discouraged if it takes a few tries for a successful video chat and don't panic if your match doesn't message you back right away. It may truly come down to needing tech support and have nothing to do with your IRL (in real life) chemistry.
Be Open to Surprising Connections
It may have been a while since the last time you've dated – and that's totally ok! Just remember that what you were looking for in another stage of your life, might be different than what you would like now. Be open to matches that you might not have been interested in thirty years ago, but could be a great fit for this stage in your life.
Relax and Have Fun!
Dating can be stressful at any age, so remember this is all for fun and enjoyment. It's ok if your first matches don't work out, or if a connection proves to be more platonic than romantic. Don't judge yourself if the results you want don't happen immediately. Enjoy the process and be open to what comes your way.
FAQ
Is 60 too old to use online dating?
Just because you are in your 60's certainly doesn't mean you're too old to date online. Remember, age is just a state of mind. Many of the best dating apps for 60-year-old singles are built to cater to your specific needs.
Is online dating safe?
Like any online interaction, dating can be totally safe as long as you take reasonable precautions. Don't give out any personal information online (like your address, banking information or social security number) and when meeting someone for the first time, always do so in public. Lots of people meet great partners online when being smart!
How do you transition from online to a real date?
Once you feel you've talked enough to be interested in meeting up in person, simply ask! It can be as casual as meeting for a cup of coffee or going for a walk in a park. If you don't have a smartphone and use the dating app on your computer only, we recommend choosing a meeting place and time, or if you're comfortable, exchanging cell phone numbers to call if you can't find each other.
---