One common misconception of online dating is that is only for young adults, or those wanting to be a part of modern-day hookup culture. Some websites do heavily cater to that market, but singles over 50 don't need to waste their time with that.
You don't need to exhaust your dating efforts by swiping, clicking, and chatting away with those that don't share your interest and values. Using over 50s dating applications is the best way to match with singles who are in the same place in life – a place where love and connection are more important than constant hook ups.
We want you to find your perfect match, which is why have looked over all the dating apps for over 50 and found the best two choices for you. No more playing games and wasting time; here are our picks for the top dating sites for you.
1. SilverSingles
Key Takeaways
Intelligent matchmaking
50+ only allowed on the app
Over 800,000 monthly user
The Bottom Line – SilverSingles is a safe and easy-to-use app for singles that are 50+ and looking for a serious relationship. You can fill in your questionnaire and view matches for free, so don't miss out!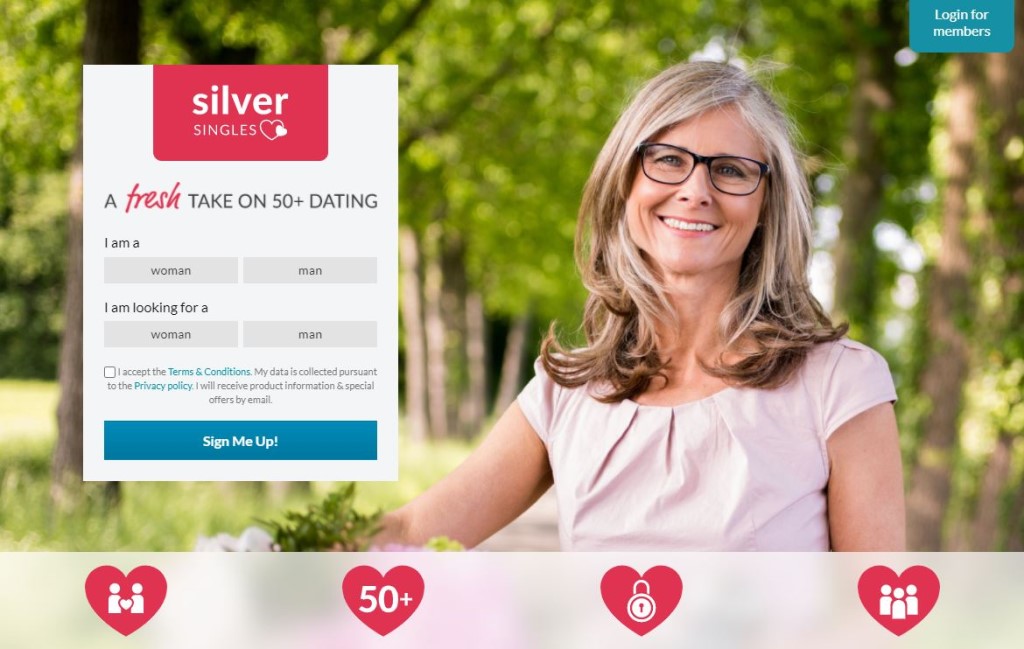 SilverSingles has everything you could want in a dating site. On top of the large selection of eligible men and women in your area, this over 50s dating app highlights the importance of keeping a platform safe and secure. They performed checks monthly to ensure that your experience on their app is a positive one. This keeps you from being taken advantage of by anyone who might be on a dating app for nefarious purposes.
The app uses an in-depth questionnaire to maximize matching potential and create a list of singles that are in the same place in life as you. These matches have compatible values, similar interests, and just enough variation in personality to keep things interesting!
If you are looking for the absolute best dating apps for over 50, SilverSingles has definitely earned its top place on this list.
---
2. eHarmony
Key Takeaways
Membership as low as $15/month
2% of modern marriages start on eHarmony
Find singles with similar interests and goals
The Bottom Line – eHarmony is considered one of the greatest dating sites for a reason. Their personality questionnaire helps create strong matches that can quickly turn into deep, loving connections.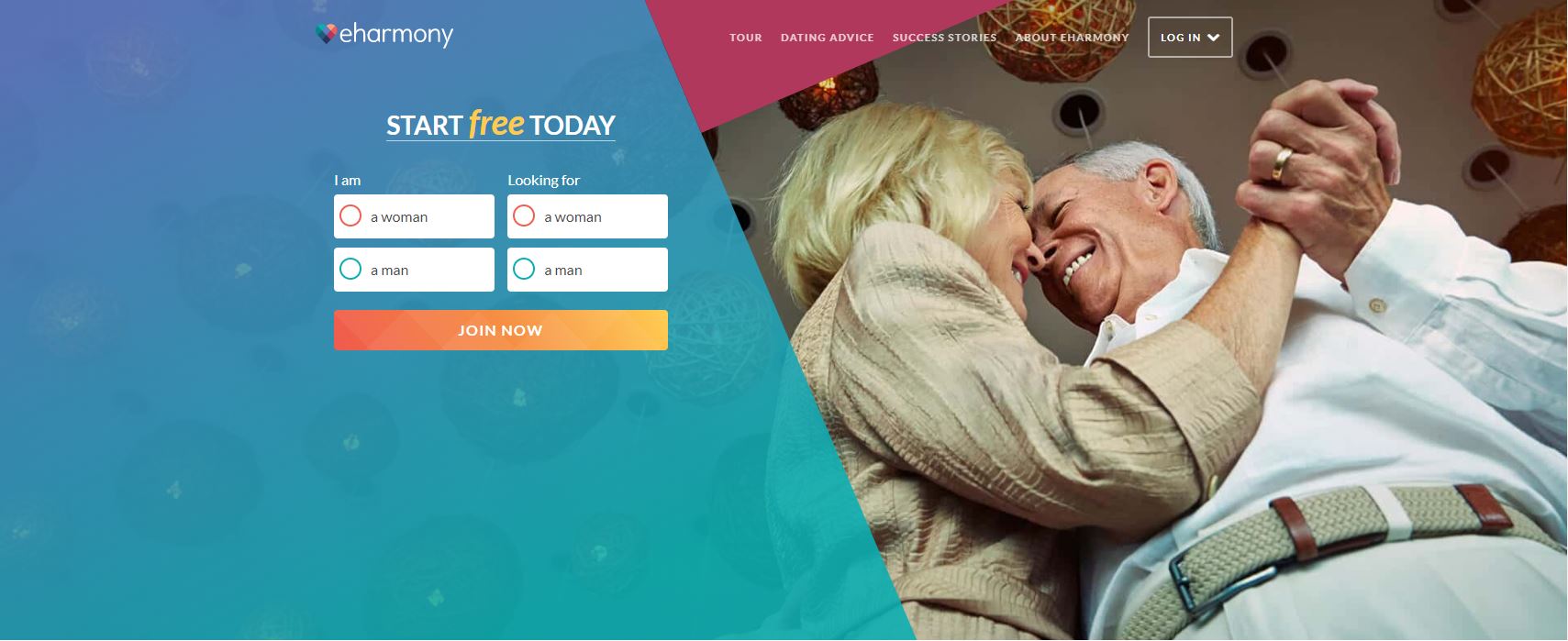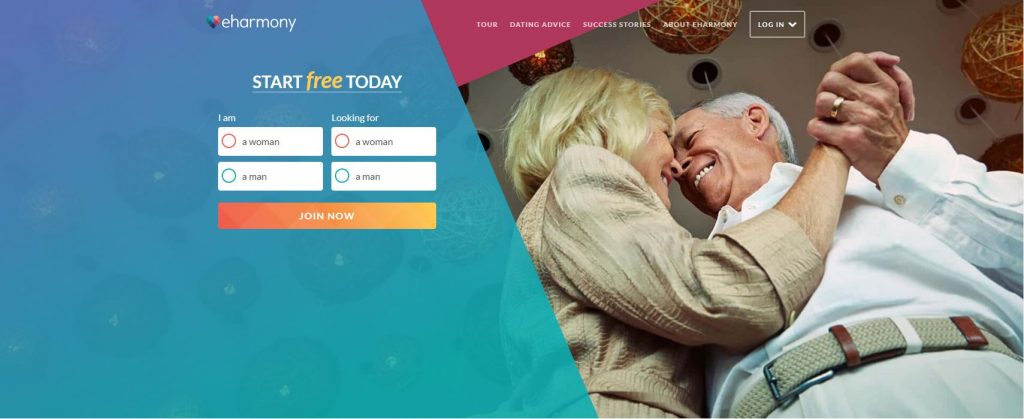 While SilverSingles is consistently rated the top in dating apps for over 50, eHarmony is regarded as the top dating app for anyone looking for a serious relationship. This dating site uses scientifically based research for their matchmaking system. The questionnaire and personality test, which is filled out upon sign up, has helped eHarmony to create thousands of happy couples that are now in long-term relationships and marriages.
while eHarmony does allow users under the age of 50, the 50 plus user base is prolific. We chose eHarmony for our list of dating apps for over 50 because you won't have to worry about finding great matches in your age range.
The website was created to help match individuals with others in a way that will keep them happy, fulfilled, and romantically satisfied. The company even boasts about their ability to match singles over 50 with others that share common goals, interests, and backgrounds.
If you are looking for long-term commitment and the possibility of true love, give eHarmony a try, today.
---
How to Sign up for an Over 50s Dating App
Signing up for one of our top two dating apps for over 50s is easier than it sounds. Take a look at these step-by-step guides.
SilverSingles Signup Guide
To open the SilverSingles website, click our SilverSingles free trial link below.
You will be greeted with a sign-up page.

Under "I am a," click "woman" or "man."

Under "I am looking for a," click the gender you want your partner to be.

The sign-up page will change to include two empty white boxes.

In the first, input your email address

In the second, input a password you can easily remember

Underneath your gender selections is a small, white square and information about SilverSingles' terms and conditions.

Click the small white box. It should turn blue and have a white check mark inside.

Click the blue button that says, "Sign Me Up!"
If a grey box pops up that says, "I'm not a robot," click the small white box next to the text.
---
eHarmony Signup Guide
To open eHarmony, click our free trial link.
The website will show you a sign-up page with questions about gender preference.

Under, "I am," select your gender.

Under, "Looking for," select the gender you are seeking in a partner.

Two white boxes will appear under your choices.

In the first box, input your email address.

In the second box, type in a password you can easily remember.

Click, "Join Now"
We get it, dating over 50 can be intimidating. However, using one of our picks for the best dating apps for over 50 can make the experience much more enjoyable.
---
Tips for Over 50s Dating
If you are ready to take the leap into online dating, we have a few tips that can help you.
Be Honest About Your Wants and Needs.
Embrace Your Age.
Have Fun!
Be Honest with Yourself About Your Wants and Needs
Being 50+ doesn't lower your worth as a partner. You are allowed to have interests and standards for those you allow in your life. be honest with yourself about what you're looking for in a partner and refuse to compromise on major disparities.
Embrace Your Age
It's natural to be wary of sharing your age online, especially if you've had experience with dating apps targeted at a younger audience. The good thing about using dating apps for over 50 is you can be open and honest about your age. Use current photos and show off who you are now. After all, you want to find somebody who loves you for you, not a fantasy of who you used to be.
Have Fun
This is the most important tip when using an over 50s dating app: enjoy yourself. Dating should be fun and not a means to an end. While the apps we've discussed today can help you find true love, it is okay to have a good time during your search.
---
Written By: Brandi Brown
Brandi Brown is a daytime copywriter and nighttime novelist. Her projects range from marketing content and commercial scripts all the way to narrative poetry and short fiction. Her debut novel, Bleached, is set to release in 2021.