DateMyAge Review
Everyone is looking for that special someone who ticks all the boxes for dating. But what about those who are a little bit more…mature?
DateMyAge is a dating app promoting "warm and meaningful connections with interesting and caring singles over 45." But is that description accurate? Is it really a community of 45s and older looking for love?
We'll answer all of your questions and fill you in on more. You focus on creating the ideal profile. Then, after reading our review of DateMyAge.com, you'll know whether or not it's the perfect place to post it.
Is DateMyAge Worth It? – The Bottom Line Up Front
One of the first things you'll want to know about DateMyAge.com is it focuses more on online communication than matchmaking.
Instead of a proprietary algorithm, members take advantage of live chats, e-letters, video chats, live video broadcasts, and other tools to connect with the community. So, if you're looking for a service specializing in pairing more mature singles with their ideal partners, DateMyAge probably isn't your best bet.
On the other hand, if being more social is your goal, you might appreciate what DateMyAge offers. The membership covers 40 countries and includes free and paid members. Free membership is a bit different than you might be used to, though, as DateMyAge rewards active participation. It partners with groups and organizations, like offline dating agencies, to build a solid base of users. As long as the free members socialize, post videos, and initiate and respond to chats, they don't have to pay. The goal is to create a livelier community for everyone
Overall DateMyAge Rating
| Category | Score |
| --- | --- |
| Quality Matches | 8.7/10.0 |
| Features | 8.2/10.0 |
| Ease of Use | 9.5/10.0 |
| Support | 7.0/10.0 |
| Cost | 8.0/10.0 |
| Overall | 8.1/10.0 |
8.1/10.0
Pros and Cons of the DateMyAge Dating App
Pros
A niche site for mature singles
Profile verification of free members
Access through iOS, Android, and website
Cons
Credits are relatively expensive
Not an algorithm-based dating service
Profile limited to men seeking women and women seeking men
Who DateMyAge Is Good For
Singles in the US who are looking to communicate with International singles, many over 45
People who love to connect with others through chats, videos, and online groups
Younger singles who are attracted to those over 40
Who DateMyAge Might Not Be Best For
Mature singles focused on committed relationships with nearby singles
Anyone who wants to pay one price for an all-inclusive membership
Singles wanting an exclusive "over 40" dating service
DateMyAge Review – Table of Contents
Fast Facts About DateMyAge
Site Name: DateMyAge.com
Paid or Free: "Pay per action" site with a limited free trial
Average Sign-Up Time: Less than 5 minutes
Paid Membership Pricing: Plans starting as low as $22.99 per block of credits
Unique DateMyAgeFacts and Figures

DateMyAge was established in 1993.
The service boasts more than 600,000 members.
Members have the opportunity to qualify for free premium membership.
DateMyAge partners with offline dating sites to build its user base.
DateMyAge Features Overview
You'll find DateMyAge.com's features are primarily communication-based. Instead of an extensive onboarding process with daily matches sent to your inbox, the goal is to connect with as many people as possible. Then, some romantic interests might emerge from your new circle of friends.
That's not to say that you can't narrow your focus. However, DateMyAge has tools, like Let's Mingle and group chats, that make it easier to reach out to a bunch of singles at once, while its filtering options are relatively limited.
The features are available in all formats – Apple and Android apps and the dedicated website. Keep in mind that this is a pay-per-action service. So, you'll need a credit balance to participate in most activities.
Chats
As soon as you register a new profile on DateMyAge.com, you're likely to be bombarded with chat requests. It seems like it's an automatic process, most likely initiated by those free members who need to be active on the site. Chats are like instant messages, but there is a video chat option requiring more credits.
Video Chats
Sorry. There's no exciting reveal here. Video chats are just video chats, period. It's a more up-close and personal way to interact with other singles. Just make a note that basic chats cost one credit per minute, but video chats are six times more.
E-Letters
If chatting isn't your thing, or you'd rather pay one price to send a complete message than be charged minute by minute, e-letters are a great way to break the ice. They're basically emails sent within the DateMyAge app.
Let's Mingle
Whether you're short on time or just want to cast a wider net, Let's Mingle is a system where you can send a message to many other users instead of one-by-one.
Broadcasts
Broadcasts allow you to send out live videos or participate in a live streaming group chat. As we mentioned, DateMyAge.com is more of an online communication service, as you can see by Let's Mingle and Broadcasts.
Video Clips
You could consider Video Clips as little commercials or a way to attract attention. Members can send or receive Video Clips (in exchange for credits, of course).
Boosts
If you've experienced other dating apps, you've undoubtedly come across Boosts. The paid feature elevates your profile, allowing other users to find you easier.
Presents
When you've made a love connection, presents can help you seal the deal. DateMyAge facilitates both virtual and actual gift-giving. For example, you can send flowers for "x" amount of credits.
The Quality of Singles at DateMyAge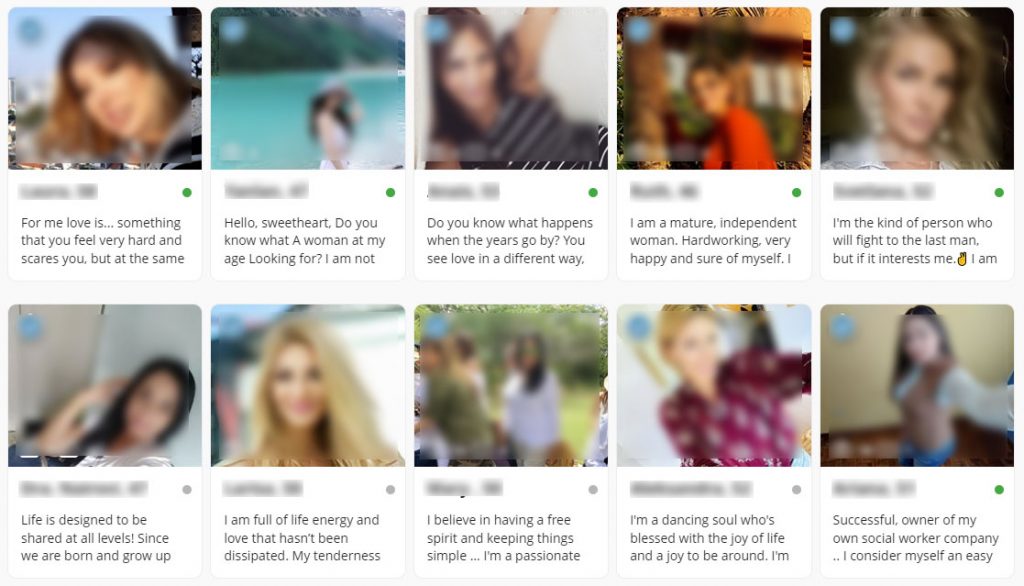 Every DateMyAge user will have a different opinion on the quality of singles using the dating app. That's because it might be a niche site for singles over 45, but it's not limited by age, location, or objective.
It's possible to connect with plenty of singles that coincide with your age range, interests, etc., as DateMyAge has a substantial membership. However, one of the downsides to this particular dating app is you can't filter by location, and it's challenging to find someone who lives nearby.
Another thing you'll want to be aware of is that the name, DateMyAge, is somewhat misleading. Yes, this is a dating app for mature singles. However, quite a few participants are younger singles (the 20s and 30s) looking to connect with people 40 and up.
How to Sign Up at DateMyAge
Depending on how much time you devote to your profile, registration can take less than five minutes or substantially longer.
No – there's no long, intricate onboarding process before you can start chatting. DateMyAge asks very few questions. Required information is pretty much limited to your height, weight, age, hair color, eye color, and occupation. You'll also upload up to four images and tick a few boxes about your ideal partner. But that's the extent of it.
However, there's a text box you can use to create a much more detailed profile. So, if you're willing to take the time, write at least a few paragraphs. That way, other singles get a better idea of who you are and what type of people you're interested in interacting with through DateMyAge.
Price | How Much Does DateMyAge Cost?
DateMyAge provides a credit-based, pay-per-action service instead of monthly memberships.
| Membership Type | Total Payment Cost |
| --- | --- |
| 150 Credits | $22.99 Total (auto-renews to $69.99) |
| 400 Credits | $144.99 Total |
| 950 Credits | $269.99 Total |
Credit packages auto-replenish unless members specifically opt out of the renewal program.
Reviewing DateMyAge Customer Support Options
DateMyAge provides three customer service options: phone, live chat, and email. We recommend calling or emailing, though, as the live chat feature doesn't always work. Additionally, the help/contact page is designed to pull up answers based on your search term. However, we couldn't get that to work either.
DateMyAge FAQ
What's DateMyAge.com in a nutshell?
DateMyAge is a combination dating and communication service for, but not exclusive to, singles 45 and over. Instead of an authentic matchmaking site, DateMyAge features chats, messages, and video chats for both one-on-one interaction and group participation. It's not a typical membership type of site. Instead, users pay per action, meaning per message or minute for chats.
Are there DateMyAge apps for Android and iPhone?
Yes. Users can access the DateMyAge service through Android and iOS apps, as well as the desktop version.
How much does it cost to join DateMyAge.com?
It's free to join DateMyAge and create a profile. However, credits are required to take advantage of the communication tools aside from the first chat message or response. DateMyAge.com offers a choice of three paid packages starting with 150 credits.
Do I have to be 45 or older to use DateMyAge?
No. Anyone 18 or over can join DateMyAge. It's a dating site that caters to mature singles and younger members hoping to meet someone older.
What types of matchmaking features does DateMyAge provide for its users?
DateMyAge doesn't rely heavily on traditional online matchmaking services. While members have some search capabilities, this particular dating app focuses on individual and group communication. It's building an active network of singles, some looking for casual encounters, others hoping for long-term commitments, and some are happy being in the friend zone. Regardless, users decide who and how to communicate with instead of reviewing a shortlist of the best possible matches.