Coffee Meets Bagel Pricing
When we talk about the Coffee Meets Bagel cost, we're not referring to the price of a latte and a schmear. However, we will cover bagels and beans, as they're the key to success in this uniquely named dating app. Bagels might soon be your objects of affection, and beans are the way to reach them.
Intrigued? We were too, so we spent some time researching the cost of Coffee Meets Bagel (aka CMB). And, we're going to share all of the juicy details with you so that you can place your custom order.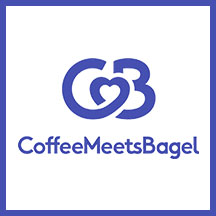 Coffee Meets Bagel Membership Cost
| Membership Type | Membership Length | Monthly Cost | Total Cost |
| --- | --- | --- | --- |
| Basic | Ongoing | $0 | $0 |
| Mini | 1 month | $15 | $15 |
| Mini | 3 months | $10 | $30 |
| Mini | 6 months | $8.33 | $50 |
| Premium | 1 month | $35 | $35 |
| Premium | 3 months | $25.00 | $75 |
| Premium | 6 months | $20.00 | $120 |
Key Details of Coffee Meets Bagel's Pricing
CMB pricing is a hybrid of subscription-based and a la carte purchasing. With subscriptions, the Mini level of service is available at $8.33 per month, $10 per month, or $15 per month. The Premium level of service is available for either $15 per month, $20 per month, $25 per month, or $34.99 per month, depending on how long of a subscription term you sign up for. As is standard in the industry, the longer of a term you commit to, the more you'll save per month (even though the total purchase cost is higher).
All CMB subscriptions are purchased upfront as a one-time lump sum payment, and can be purchased via any of the payment options offered through the iOS store or the Google Play store. As there is no desktop version of Coffee Meets Bagel, you're limited to the available payment options through these app marketplaces (which are usually fairly robust).
With a premium or mini CMB membership, you get access to a lot of features like activity reports, read receipts, monthly boosts, and additional avenues to create matches. Premium users also get access to see which members have selected that they like them and also the ability to give other users a virtual bouquet of flowers to bring special attention to the match.
On top of purchasing a membership, you have the option to purchase additional "CMB currency" known as beans. Think of beans as digital tokens or credits that you can redeem for things like more likes, more daily matches, or to temporarily unlock premium features if you haven't paid to upgrade yet.
Here are the prices for beans on CMB:
Bag of 200 – $2.99
Medium Bag – $4.99
Bag of 3,000 – $24.99
If you purchase a premium CMB membership, you'll receive 6,000 beans for free with your initial purchase. You'll also get a lot of the perks purchased with beans for free with the premium upgrade, so the need to continually purchase these is lowered.
Do Coffee Meets Bagel Memberships Auto-Renew?
Much like you see with most apps, Coffee Meets Bagel is set up to auto-renew automatically at the same rate and term you selected and in accordance with Google or Apple's guidance. Cancelling the auto-renewal is the same process as it is with any other app, though, so you don't have to worry about jumping through a lot of hoops to complete the cancellation.
But, while the cost of Coffee Meets Bagel is automatically renewed depending on your plan, you don't have to jump through too many hoops to stop it whenever you want. You could even make your payment and stop future debits from the Google Play or App Store. That's handy if you wish to give the app a try for a month or take advantage of the multi-month discount but avoid future charges.
---