BlackPeopleMeet Pricing
If you want to have unlimited messaging (and a host of other cool features), you'll need to upgrade to a paid BlackPeopleMeet account. They have several paid subscriptions to choose from and they are all a reasonable value. A paid membership is worth it to find the person you've been dreaming of!
If you're searching for a breakdown of the latest BlackPeopleMeet costs, you've come to the right place. Our team is here to keep you up to speed on pricing, premium features, add-ons, billing, and more.

Updated BlackPeopleMeet Membership Pricing
| Membership Type | Length | Monthly Price | One-Time Payment |
| --- | --- | --- | --- |
| Standard | 6 Months | $9.99 | $59.94 |
| Standard | 3 Months | $13.29 | $39.87 |
| Standard | 1 Month | $20.64 | $20.64 |
| Premium | 12 Months | $10.25 | $123.00 |
| Premium | 6 Months | $12.10 | $72.60 |
| Premium | 3 Months | $18.32 | $54.96 |
| Boost - 10 Pack | N/A | N/A | $14.90 ($1.49 each) |
| Boost - 5 Pack | N/A | N/A | $9.95 ($1.99 each) |
| Boost - 1 Pack | N/A | N/A | $2.49 |
| Message Read Alerts | variable | $4.99 | variable |
| ConnectMe | variable | $4.99 | variable |
| Reply for Free | variable | $6.99 | variable |
| Private Mode | variable | $4.99 | variable |
BlackPeopleMeet Cost Details
Above we showed you a quick breakdown of all the potential costs of BlackPeopleMeet, but we imagine you still might have some questions. In this section we'll be further breaking down the different features available for purchase and how much they will cost you.
Standard vs Premium
The two main membership plans available on the BlackPeopleMeet app are Standard ($9.99/month) and Premium ($10.25/month)
At its base level of one month the Standard membership starts at $20.64, but while this can be purchased it is largely for demonstrative purposes (Percentage savings on all other plans are based on this base cost).
Here's a quick rundown of the benefits of each membership:
Overall we feel that standard membership offers plenty of bang for the buck without breaking the bank. It gets you core features like unlocking conversation and unlimited messaging. Beyond that there are a few extra perks that you can unlock by paying a bit more monthly for premium of activating profile powerups with your purchase, but we don't really see them as being essential to success.
Profile Power Ups (Membership Add-Ons)
Once you've selected to purchase a BlackPeopleMeet membership you will then see a new screen prompting you to consider some add-ons. These profile powerups are each about $5 per month and will span the duration of the membership you've selected.

Now it's worth noting that not all of these add-ons will be available with all memberships. Message read alerts for example are included with all Premium membership packages (so it's worth considering an upgrade to BlackPeopleMeet premium if this is a feature that you're looking for). The Private Mode power up on the other hand is available with all membership plans.
Expert Tip – If you can get a sale on your membership the prices of these add-ons will be cut equally with the sale. (So during a 50% of membership sale these will be about $2.50 each.)
Boost Packs
Looking to get more eyes on your profile? Boosts are exactly what you need.
By activating a boost you push your profile to the top of your potential matches search results for an hour. According to the app this can increase engagement with your profile by up to 4 times.
But you have to time it right. Your first boost session starts as soon as you complete your purchase. At between $2.49 and $1.49 per boost pack it may not be the end of the world, but you don't want to waste your money on boosting when not many users are online. Keep an eye out for "rush hour" notifications in the app to help you time BlackPeopleMeet boost purchases (or activations). They should look something like this: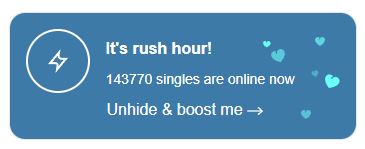 (Very) Random Sales – Memberships for 50% Off
While confirming BlackPeopleMeet prices for this post, we noticed a strange quirk in the membership purchasing process. Get this, sales up to 50% off can come and go in the blink of an eye (or more accurately the refresh of an app). As we would opt in and back out of purchases or refresh the page we would have sales offered and then pulled away by what seemed to be completely random chance.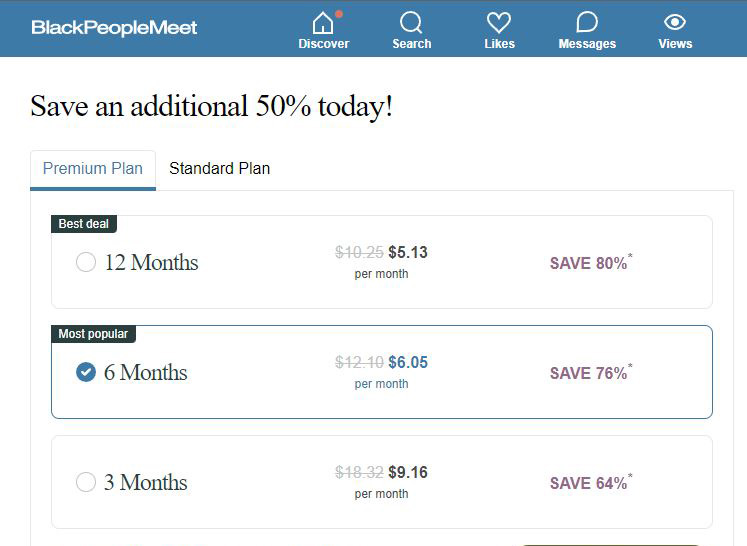 During our testing we confirmed this quirk for all purchases except Boost packs (Which unfortunately always maintained their original prices even during "rush hour"). So, why do we mention this? To save you money of course!
If you're looking to buy anything on BlackPeopleMeet we would strongly recommend refreshing or closing out the app a few times to see if you can trigger one of these sales and get whatever you wanted for half off.
BlackPeopleMeet Pricing FAQ
Have more questions about the cost of premium features and power-ups at BlackPeopleMeet? We've listed some of the most common questions our readers have below, but we would strongly recommend checking out the Paid Features FAQ on BlackPeopleMeet.com for any questions you may still have.
Does BlackPeopleMeet still use tokens?
No. In the past tokens were sold in packs of 50, 110, and 280 ranging in price from $0.99 to $9.99 respectively (or about 4 cents per token). With the recent redesign the use of these tokens has been discontinued.
What's the best paid BlackPeopleMeet feature?
In the opinion of our review team it has to be the ConnectMe feature. This is a great step towards making sure premium BlackPeopleMeet users feel safe and confident while using the app.
Do BlackPeopleMeet purchases auto-renew?
Yes. It's really important to note that at the end of any subscription's term you will automatically be charged whatever it costs to renew that plan. The app has done their best to make sure this is a well known. You should see something like this before purchasing any BlackPeopleMeet membership package.

In some instances, this repeat charge could be over $100 so you'll want to keep an eye on the end date or cancel preemptively to avoid unwanted charges to your credit card.
Does BlackPeopleMeet issue refunds?
According to their Terms of Use (which you automatically agree to by making any purchase), all purchases are generally seen as final and non-refundable. We strongly encourage all users to read and understand this document.
---
---