2 years! You've now been married or in a relationship twice as long as the last time you celebrated an anniversary. That's certainly something to smile about, and it's also probably something to commemorate with a nice gift!
In this guide, we're going to share our picks for the best 2 year anniversary gifts out there. Whether you're shopping for him, for her, for your friends, or for your parents—these gift ideas are going to be perfect for the occasion.
Additionally, we'll also share some of the traditions (modern and classic) of 2nd year anniversaries that can really help with celebrating, planning a celebration, and gift-buying.
2 Year Anniversary Traditions
Anniversary Stone/Material: Garnet; Rose Quartz is the alternative
Anniversary Flower: Lily of the Valley
Modern U.S. Gift: China
Traditional U.S. Gift: Cotton
Best 2nd Anniversary Wedding Gifts
1. Milano Cotton Open Front Sweater 
The traditional gift material for 2 year anniversaries is cotton. It is a really broad textile that can be gifted in many forms, but our favorite way to give a cotton gift is with this stunning open front sweater by Charter Club!
Dressed up or down, this sweater looks simply stunning on any wearer. It is available up to size XXL, making it an option for a wide range of partners. Give your spouse the gift of beauty and comfort this year. They'll love it so much they may even wear it in the summer!
Best traditional gift idea.
Comes in desert, black, and blue.
Two pockets for added versatility.
Extra soft and cozy.
2. Decadent Chocolate Cake 
Want to treat your partner to an affordable, delicitable, and shareable treat this anniversary? Surprise them with a delicious chocolate cake by Chicago Steak.
This cake is called Death by Chocolate, and for good reason! It is a fudgey chocolate, walnut brownie, topped with alternating layers of chocolate mousse and chocolate cake. Chocolate powder dusts the outside for an exquisite, final touch of chocolaty goodness.
Best food gift idea.
Perfect for chocolate lovers.
Gourmet dessert at a reasonable price.
Feeds up to 7 people.
3. Garnet in a Diamond Heart Necklace
Garnet is the traditional gemstone for 2nd year anniversary gifts. If you are looking for a standout item that fits this tradition, this diamond heart necklace by Gabriel & Co is it!
The 18-diamond heart is centered by a vibrant, garnet core. No other necklace so readily expresses love and devotion. Though we adore the garnet stone at the center of this pendant, it can be exchanged for a number of other stones to match your partner's style.
Number one garnet gift idea.
Brilliant design looks great dressed up and down.
Multiple center stone options available.
14K white gold setting and chain.
4. Red Clay Serving Set by CorningWare
In the first few years of your relationship, you should be building up on your home goods and supplies. You are creating a foundation for all your future living. If you and your partner enjoy entertaining, one great item to have is a serving set!
This red clay serving set by CorningWare is a gorgeous addition to any home. It comes with a large tray and serving bowl. The double stoneware material is dishwasher safe, microwave safe, and freezer safe. The surface is non-porous, which means it won't stain! Your partner will love having guests over to enjoy treats from their amazing serving ware by CorninWare!
Best serving set gift.
Available in multiple colors.
Chip and crack resistant.
Preheated oven safe.
5. Beer of the Month Club Membership 
Got a beer drinker for a partner? Give them the gift of exciting new options by subscribing to a Beer of the Month Club membership.
There are 5 varieties of beer club memberships to choose from based on your partner's beer preferences. Do they love microbrews? Do they want to try international options? Maybe they'd like to try some rare beer selections. No matter what they prefer, there is an option they'll love!
Number one gift idea for beer drinkers.
Lots of options to match personal taste preferences.
Shopping at different price points available.
Two different brands of beer come to your partner's door each month.
6. Cool Touch Kettle by Zwilling
Is your partner a tea lover? Give them the gift of always hot tea with the Cool Touch Kettle by Zwilling.
This kettle uses double insulation to keep heated water hotter, longer. The insulation also allows a cool touch surface that helps protect your partner from burns and contact with steam. The kettle can heat water quickly and more efficiently than most standard kettles. Your partner will also love the sleek, modern design of the Kettle, which matches most major appliances.
Best gift idea for tea drinkers.
Over 6 cups capacity.
Stainless steel lining.
Steam-safety top only opens 70 degrees.
7. Audrey Quartz Watch by Sturhling 
If you want to honor the traditional gift of cotton without actually buying a cotton gift, consider this quilted-look watch by Sturhling.
The quilted look is carried through the band of the watch as well at the clock face. Each pucker of the clock face is accented by a single gem for a dazzling appearance. The watch is available in a variety of colors, each with a unique, fabric-like look. The clock face is surrounded by rose gold and the band is genuine leather.
Best cotton gift alternative.
Great choice for watch wearers.
Many colors are available.
Water resistant material.
8. Happy by Clinique
Perfume is one of the most common and well-received gift ideas for any anniversary milestone. If you want to get a stunning scent for your partner, try Happy by Clinique.
This feminine scent smells beautiful on everyone. The floral high notes are perfectly matched by the citrus tones that keep the aroma light and fresh. Your partner will love that they can wear this scent every day!
Top perfume gift choice.
Bright scent is perfect for all age ranges.
Wears well during the night and day.
A popular Clinique scent since 1997.
9. Kinley Satchel by Fossil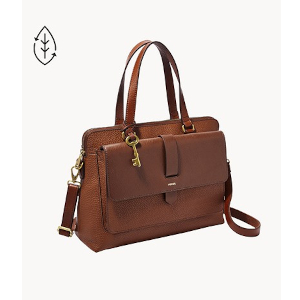 Want to get your partner a gift they will use every day? Try the Kinley Satchel by Fossil!
This classic leather handbag comes in two colors (black and brown) and has a petite design that somehow still offers a large storage space. The purse has two standard handles as well as an adjustable/ removable shoulder strap. The front pocket is perfect for carrying phones and wallets, while the inner pocket is big enough for all your partner's extra odds and ends.
Best purse gift option.
Looks great with casual or dressy outfits.
Available in two colors.
Polyester lining for inner moisture protection.
10. Gift of Knowledge with Rosetta Stone
After only 2 years together, you and your partner still have so much to learn together. Celebrate all the years to come by getting a Rosetta Stone subscription. You and your partner can learn a new language and gain a skill together.
Try choosing a language that will benefit future vacations and adventures. Has your spouse always wanted to go to Germany? Learning German is a great way to set yourself up for a successful vacation in the future!
Top education gift idea.
Dozens of languages to choose from.
A great gift you and your partner can use together.
3 month, 12 month, and lifetime subscriptions available.
11. Freshwater Pearl Bracelet by The Pearl Source
For your 2nd anniversary gift, you should choose something as lovely and interesting as your relationship. We recommend this gorgeous, multicolor, freshwater pearl bracelet by The Pearl Source.
The bracelet is flush with 8 mm, AAAA quality freshwater pearls in shades ranging from deep purple to blushy pink. There are multiple clasp options available, as well as bracelet lengths. If this is your first time looking for a nice piece of jewelry for your love, this pearl bracelet is a gorgeous, safe, moderately priced option!
Best unique jewelry gift.
Can be easily dressed up and down.
Looks gorgeous paired with other bracelets.
Easy-clasp, magnetic closure available.
12. Favorite Football Team's Jersey
Want a gift your partner will actually wear? Show them you know what they love with a branded jersey from their favorite football team!
We recommend doing a little research to figure out some of your partner's favorite players. You can even find jerseys for retired, legendary players. Your partner will adore wearing the jersey of their favorite player during game days and knowing they have it because you pay attention to their passions.
Best anniversary gift for football fans.
A top choice to pair with sporting tickets.
Jersey's available for pro and college football.
Extended sizing available for fans of any stature.
13. La Pluma Wine Taster Kit 
The La Pluma Wine Taster set is a perfect gift choice for any partner who enjoys wine. You can choose between rosé or white. Each set comes with 4 mini bottles of wine for you and your partner to get a healthy taste of all the options. It is a fun gift that sets you up for a delicious date night of wine tasting.
Want more options? There are 6 pack options available with even more delicious wine options to test!
Top gift idea for wine drinkers.
A great idea for a gift that leads to a fun date night.
Perfect amount of options to meet your budget.
A fun way to experiment with new wine options.
14. Roam Speaker by Sono
Give your music-loving partner the freedom of music wherever they may roam.
The Roam speaker is Sonos' smallest and most portable sound system. The speaker utilizes wifi or bluetooth streaming, so you can listen to your favorite music, podcasts, television shows, or practically anything you can think of. The speaker is waterproof and has an all day battery, making it a high-quality gift your partner will truly appreciate.
Our top gift option for music lovers.
A great addition to any household's sound system.
Works perfectly with other Sonos speaker systems.
A safe gift choice for anyone.
15. HyperCube Charging Station
The HyperCube Wireless Charging Station and Sleep Aid is a gift that's thoughtful, useful, and perfect for practically everyone. Your partner can easily keep all their electronics charged without fussing over available charging ports each night.
The cube even offers sleep sounds, a wake up light, and alarm. The customizable LED light on the HyperCube also makes it a fantastic mood light, which means the rest of your anniversary evening just got a little more romantic. 
Number one idea for a useful gift.
Best gift for tech heads or anyone with mobile devices.
Our top choice for a multi-use 2nd anniversary gift.
Perfect for use in the bedroom, at work, or in your living space.
16. Personalized M&M Love Box
Looking for a romantic 2 year anniversary gift that is easy on the bank? Try a personalized love box filled with delicious M&M candies. This 12.07 oz jar of M&Ms sits inside a gorgeous display container.
You can even customize the candies themselves! Want your partner to eat tiny pictures of your face? That's an option! This is a gift that can be as sweet or silly as you want it to be, and for a wildly reasonable price.
Best low-cost gift idea.
Great gift for chocolate and candy lovers.
Perfect personalized gift option.
Great for wedding and dating anniversaries.
Should You Purchase a Two Year Anniversary Gift?
Everyone knows that the 1st anniversary is a must when it comes to buying a gift. The same could be said for the "major" milestones like the 10th, 25th, 50th anniversary, etc. But should you be buying a gift on the "in between anniversaries" like your 2nd anniversary?
Ideally, this is something you should decide upon as a couple. Ask your wife or husband (or boyfriend or girlfriend) if they want to do gifts for the upcoming milestone. This is the single best way to find out if you should buy a 2nd anniversary gift or not.
Now, if you want our answer, we think you should. As you'll see in our tips section below, there are a few limitations you should be taking into account. However, anytime you make it another year in a marriage or relationship is a milestone! Just because it's not the first one or a multiple of 5 or 10 doesn't mean it's any less important!
And the bottom line, when it doubt—get something. You'd rather be with something in hand and they didn't get anything than be on the other side of that coin.
Do You Buy a 2nd Anniversary Gift for Your Parents?
So, our general rule of thumb is that if you want to buy a gift for someone, buy a gift for them (unless it's your ex or something like that). That being said, it's not really customary for kids to purchase 2nd anniversary wedding gifts for their parents. Generally, this is probably because kids are super young when their parents hit this milestone.
But in some cases with second marriages, this can be a real question. If you are older and want to do something nice for your parents on their 2nd wedding anniversary, by all means go for it! Don't feel obligated, though, if you don't want to.
Do You Buy a 2nd Anniversary Gift for Friends?
Generally, these "should I buy an anniversary gift" questions are pretty easy to break down. However, this one—it's a complete toss up. The people and experts we spoke with all said roughly the same thing—it's totally up to you. If you want to get something nice for your friends for their 2nd wedding anniversary, go for it! If you don't feel like it, that's okay too.
The one caveat we want to point out here is to make sure you don't get a 2nd anniversary gift that's going to make anyone feel awkward. Remember, anniversary gifts to other couples go to both people, not just the guy or gal that you're the closest with. In other words, don't get anything inappropriate or that could be perceived as such.
Tips to Find the Best 2nd Wedding Anniversary Gift
Think Functional Gifts
When you're at your 2nd anniversary or 2nd wedding anniversary, you're still in the earlier life-building stages (which is awesome)! What this means is that you're going to have a lot more needs for functional anniversary gifts. A couple who has been married for 20 years has probably already gotten a million blenders, cutting boards, etc.
However, newer couples might still be missing some things that you didn't get from your wedding registry. This might be a good time to gift something to yourselves that is functional and is going to carry a lot of value moving forward.
Be Fiscally Responsible
The chances are high that you're probably still financially getting back on track after your wedding, honeymoon, first year of marriage, unexpected expenses, etc. The absolute worst thing you can do is go out and buy some extravagant gift that you can't really afford and put your new family in a financial pickle. As you probably noticed, the list of the best 2nd anniversary gifts we shared are from all different price ranges including some that are very affordable.
Part of being thoughtful is looking out for your relationship's financial help, as well.
Start a Tradition
Traditions in marriages and during anniversary celebrations are amazing! And you know what makes a tradition even better? When it's been going on for a long, long time. You're only on your 2nd major milestone. This is one of the perfect times to start a tradition that can last for decades to come. Even if it's something simple like you get them personalize M&Ms ever year—that's awesome!
Talk, Talk, Talk
What's the best way to know the perfect 2nd wedding anniversary gift for your spouse, friends, or family? Ask! Listen! Have a conversation! If you're trying to decide what type of gift, how much to spend, or if you're even doing gifts, it pays to ask. It's better to have a conversation before you purchase if you're not sure than end up spending money on something that's not ideally what they're looking for.
Traditional 2 Year Anniversary Gifts – More Detailed Information
As you can see by our anniversary facts list, the 2 year anniversary is sometimes known as the cotton anniversary.
Why cotton is romantic
Cotton is traditional in both the U.S. and the U.K., and it might seem like an odd choice. However, cotton is durable because it's created with interwoven threads. It's the working together that makes the beautiful fabric.
When you look at it that way, you see cotton in a whole new light, don't you?
A modern 2 year anniversary twist
If you're still not sold on the idea, you could always switch gears and adopt the U.S. modern 2nd anniversary theme, which is china. It's also the classic 20th anniversary, so you could start a tradition now and built upon it for the next 19 years.
More meaningful 2nd anniversary symbols
The beautiful red garnet not only symbolizes love but friendship. If you ask any couple who has celebrated decades of anniversaries, they'll tell you that friendship binds them together. Rose quartz is the alternative, and it's known as the love gemstone.
Like the theme and official gemstone, the 2 year anniversary flower also has special meaning. If you're looking for a floral arrangement for the cotton anniversary, ask for a lily of the valley bouquet.
Lily of the valley meanings:
Purity
Modesty
Devotion
Joy
Youth
Sincerity
Besides the deep meaning to the flower, lily of the valley are unusual with their bell-shaped and make beautiful and fragrant bouquets.