There's so much focus on 10th anniversaries and 25th anniversaries. But our 15 year anniversary guide reveals that some of the most romantic symbols are reserved for the milestone that lies in between them.
We'll fill you in on some traditional 15th anniversary gift ideas focused on roses and rubies, as well as some of the history behind this particular celebration. We'll also share some of the celebrity couples with 15 years and counting under their belts. Who says stars aren't people too?
In This Guide:
15 Year Anniversary Facts
Anniversary Stone: Ruby, with alternatives including rhodolite garnet or alexandrite
Anniversary Flower: Rose
Modern U.S. Gift: Watch
Traditional U.S. Gift: Crystal
Traditional U.K. Gift: Crystal
Best 15th Anniversary Gifts
1. Outdoor Sofa Set
If you want to make a bold move this anniversary, surprise your partner with this outdoor sofa and table set by Westin Furniture. The wicker style, aluminum frame is sleek and easy to clean, while the plush cushioning provides a soft and comfortable seating surface. The three included sofas surround a matching table. It is the perfect place to hang outside and lose yourself in deep, loving conversations.
Best 15 anniversary gift for outdoor lovers.
Perfect gift to spice up your patio, deck, porch, etc.
The bold color is the perfect accent for all outdoor plants.
Comfortable seating option and extremely easy to clean.
2. Crystal Decanter Set
Crystal is a traditional gift for your 15th anniversary, which is why this crystal decanter set is such a hot choice. The gorgeous piece looks great on any bar or counter and the matching glasses look equally as sophisticated. The stopper has identical cross hatching to the decanter and glasses for a little extra dash of interest. Your partner will love drinking their favorite whiskey, or any liquid of their choice, poured from this stunning decanter.
Best 15 year anniversary gift for whiskey lovers.
Stunning crystal is a traditional gift for your 15th anniversary.
The set comes with matching glasses for an elegant experience.
Also a great gift option for wine drinkers.
3. Caviar Tasting Gift Set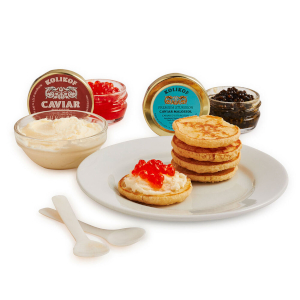 For your 15 year anniversary, take your partner's taste buds on a trip! This inclusive gift set allows you and your partner to taste the elegant and savory delicacy that is caviar. It comes with two selections for tasting, along with creme fraiche and blinis for a well-rounded experience. Did we mention that you even get two mother of pearl tasting spoons for a truly authentic experience? This is a gift your partner will never forget!
Perfect 15 year anniversary gift for adventurous eaters.
Bring a sense of adventure and high end eating to your anniversary celebration.
Comes with salmon roe and sturgeon caviar for a varying experience.
Includes opulent, mother of pearl tasting spoons.
4. Traeger 780 Pellet Grill
If your spouse is a grilling master, or even a grilling novice, then they will adore this pellet grill by Traeger. The 780 is one of the top models by Traeger and includes a huge variety of amenities. From full insulation for even cooking in all weather, to the quick heating controller not found on traditional grills. The attached table is so handy that your partner can prep and cook at the same time. Does your partner deserve a grill upgrade? It doesn't get better than the Traeger 780!
Best 15 year anniversary gift for BBQ lovers.
Includes D2 Controller and WiFire technology.
Shelving racks for simultaneous cooking.
Insulation to maintain even heat throughout the grill.
5. Chocolate of the Month Club Membership
If you tell someone you are getting your partner chocolate for your 15 year anniversary, they might give you the side eye. Sure, a simple box of chocolates might be underwhelming for such a milestone event, but the chocolate of the month club is definitely a gift worth giving for any anniversary! Each month, your partner will receive decadent creations from chocolatiers around the world. This isn't grocery-store chocolates, these are fine delicacies that your love will look forward to every month!
Amazing 15 year anniversary gift idea for chocolate lovers.
Artisanal chocolates that come right to your partner's door each month.
Confections from all around the world.
Multiple subscription lengths available.
6. XXL Air Fryer
If your partner is looking for an easier way to create healthy and delicious meals, the XXL air fryer by Phillips is the answer. This glorious product removes the unhealthy fat from foods as they cook while still providing that crisp fried finish that makes food great. The basket on the XXL fryer is so large that you can cook up to 6 servings of food or even a whole chicken! The fryer even comes with a starting recipe book to help your love learn about their new cooking options quickly and deliciously.
Great 15 year anniversary gift for healthy eaters.
Huge basin makes cooking large items a breeze.
Warm mode to maintain food temp for 30 minutes.
Sleek design looks great on any kitchen counter.
7. Infrared Therapy Blanket
The infrared therapy blanket is an amazing option for pain reduction, weight loss, and a therapeutic spa experience at home. The thermal energy causes your blood-flow to increase temporarily which can aid in healing and stress relief. The heat generated provides a sauna experience that is a great supplement to working out when it comes to weight loss and chronic pain relief. Your partner can take their therapy blanket on the go, which makes it a gift truly worth the cost!
Best 15 year anniversary gift for fitness fiends.
The portable sauna experience can go anywhere you go.
Sweat hard like you've worked out, but you just have to relax in the sauna bag.
Infrared technology may even help reduce chronic pains.
8. Skylodge Cabin Tent
If your partner likes the outdoors, then surprise them with this gorgeous Skylodge Cabin Tent. This spacious abode sleeps up to twelve adults and has a screened porch area, adding to that cabin appeal. The tent can be set up in just a few minutes without a ton of extra tools or years of camping experience necessary. Thanks to the water resistant coating, you and your partner will have a blast camping in the Skylodge, rain or shine!
Perfect 15 year anniversary gift for the outdoorsy type.
Huge tent comfortably sleeps up to 12 people.
Screened porch for further relaxation.
Easy setup in a few minutes.
9. Bujukan Bead Cuff with Ruby Caps
If you want a traditional gift option for your 15 year anniversary, look no further than this gorgeous ruby-capped bead cuff. This subtle ode to tradition looks beautiful paired with any outfit and alongside your partner's standard selection of jewelry. We loved the look of the ruby against the bright yellow gold, but you can change the gold selection to a shade that more closely matches your partner's style preferences. This bracelet is a show stopper, so be prepared to have to impress even more as the years go on!
Top traditional 15 year anniversary gift.
Gorgeous beading is capped by traditional ruby gemstones.
Three gold color options (white, yellow, rose).
No-clasp makes the bracelet easy to wear.
10. Colorado Ski Vacation
Whether your partner loves sports or just wants a relaxing cabin getaway, Colorado is a gorgeous place to spend your 15th anniversary. An all inclusive vacation package can be chosen for a vacation that is simple to plan. Don't waste your vacation looking for something to do or researching activities. Vacation packages are a great way to pre-plan fun events and find resorts that have all the amenities you could want, right on site!
Top luxury 15 year anniversary gift.
Perfect way to get out of the heat and enjoy a snowy paradise.
Inclusive resorts make planning a vacation easy.
Options for beginner skiers and experienced winter sportsmen.
11. Sonos Entertainment Set
Does your partner love movies, tv, music, podcasts, all of the above? If so, the entertainment set by Sonos is a solid choice for your anniversary gift! This set includes everything they need to create a crisp sound display in the home that is perfect for all kinds of listening. The bass speakers are clean and booming, Sonos Beam controller is voice controlled, and the installation process is super simple (though professional installation is always an option). Your partner may never want to bother with the theater again once they hear their Sonos speakers!
Best 15 year anniversary gift for movie and tv lovers.
Everything you need to create awesome theater sound in your home.
Professional installation is available if needed.
Intense bass without all the buzzing.
12. Water Pearl and Diamond Earrings
For an anniversary gift that is as beautiful as it is elegant, consider these water pearl and diamond earrings by The Pearl Source. These exquisite, dangling earrings are lookers from every angle. The top of the earring contains a single diamond for a shiny sparkle. Underneath that is a complex spiral of gold that holds a showpiece water pearl. You can even change the hold and pearl colors to make these earrings truly perfect for your love!
Most elegant 15 year anniversary gift.
Pearl available in a variety of shades (pink, peach, and white).
Gold available in yellow and white.
Accented with diamond for an even fancier feel.
13. XX by Clive Christian
Perfume is a great gift for all romantic occasions, but XX by Clive Christian is a stand out choice that your partner will never forget. The gorgeous notes of water, flowers, and cashmere swirl together to create a light and arousing scent. XX makes a great gift for partners of any gender! The bottle is simply stunning and is perfect for those who collect perfumes and colognes to display.
Best 15 year anniversary gift for perfume wearers.
Gorgeous, unisex scent is perfect for everyone.
Aquatic scent with notes of water lily and iris.
Stunning bottle you'll want to display prominently.
14. 6-Quart Pressure Cooker
Does your spouse like to cook? Then add a tool to their collection that they will actually use! This 6-quart pressure cooker by Instant Pot is the ultimate multi-use kitchen supply. You can sous vide, slow cook, pressure can, create stock, cook rice, slow cook, make yoghurt, steam, the options are nearly endless. Not only are there settings to cook basically anything, but all settings and times are customizable – making cooking stress free. Your partner will wonder what they ever did before their Instant Pot pressure cooker, all while you are enjoying delicious homemade meals!
Top 15 year anniversary gift for convenient cooking.
9-in-1 functionality for all your quick and simple cooking needs.
Temperature precision for delicate cooking techniques like sous vide.
Inner pot and lids are dishwasher safe for easy cleanup.
15. Stella Diamond Ring
As the years go on, wedding rings tend to become damaged or fall out of style. Some people choose to replace or repair the ring, while others opt for an anniversary band that adds a sheen to the bridal set while not taking away from the beauty of the original ring. This Stella Diamond anniversary ring is a beautiful gift that can stand alone or make a great addition to your spouse's existing jewelry. No matter how they choose to wear it, your partner will adore this bold, 19-diamond ring.
A safe 15 year anniversary gift that matches any style.
Exquisitely chosen diamonds create an eye-catching shimmer from all angles.
Looks great as an accent next to existing jewelry or as a stand alone piece.
Multiple gold variations for a customizable finish.
16. Wood Fire Pizza Stove
Everybody loves a good pizza, especially one made in a traditional, outdoor pizza oven. Unfortunately, we don't all have the space for a huge stone pizza oven in the middle of our yards. Luckily, this Wood Fire Pizza Stove by Gyber Fremont makes it simple to cook delicious pizzas in your backyard! Give your partner the gift of amazing pizza anytime you want it! The oven runs on the same wood pellet you would use in a grill and heats up in as little as 10 minutes. It's a great way to spice up your partner's outdoor space.
Best 15 year anniversary gift to liven up an outdoor space.
Modern and sleek design with the safe great taste as a traditional pizza oven.
Uses wood pellets and heats up in only 10 minutes.
Cook a perfect pizza every time with ease!
Traditional 15 Year Anniversary Gifts
If you're well on your way to 15 years, you've already passed some unusual anniversaries. Pottery for the 9th, steel for number 11, and ivory on the 14th, but the big 1-5 is your year to shine.
When you make it to the 15th anniversary, you're looking at some slam dunk gifts. You don't have to twist and turn your ideas like pretzels to fit the mold, as you did with paper or tin.
Sticking with the 15th anniversary theme
Traditional 15 year anniversary gifts are crystal, whether you're in the U.S. or the U.K. Your flower is the rose, and the gemstone is the ruby.
Even if you opt to go with the more contemporary U.S. anniversary, which is a watch, you've got plenty of options and can still be creative. There are so many different watches these days. You could take the artistic, expensive, or practical route.
Why crystal for the 15th anniversary?
There are quite a few interpretations about the dedicated anniversary symbols, and crystal is no exception.
Transparency with your feelings for each other
The transparency that also applies to how well you know each other after 15 years
Pure, sparkling love
Classically elegant and timeless
Crystal and roses scream romance, but how about the watch?
Precious time together
The modern gift for a first anniversary is a clock, signifying the beginning of time together. But as a 15 year anniversary gift, the watch can represent three things. You could come up with the most memorable card or inscription based on any of them.
The time that's passed
A happy future
Staying in the present
Passionate gemstones
Not every anniversary resource lists the ruby as the 15th anniversary gemstone.
However, whether you opt for ruby, rhodolite garnet, or alexandrite, you're still looking at a symbol of red hot passion and devotion. Even alexandrite starts as a bluish color but is red by night and candlelight.
Regardless of which symbol you decide to adopt for your 15 year anniversary gift, we've got you covered with some special ideas signifying your long-lasting devotion.
How Many People Reach their 15 Anniversary Milestone?
Forget about all of the pessimism about marriage longevity, especially in the United States. Rumors fly around about 50% or more of couples divorcing, but the numbers are more encouraging than that.
Did you know that in 2019, the divorce rate in the U.S. hit a 20-year low, with just 2.7 people per 1,000 of the total population?
So, more and more couples are well on their way to 15 year anniversaries and beyond.
Time flies when you're having fun
Close your eyes and try to remember what things were like 15 years ago. What clothes were you wearing? What was new and hot at the movies or on T.V.? Who were the celebrities and politicians that dominated the news cycles?
Time might fly when you're having fun, but 15 years is still a significant amount of time. So, the U.S. Census Bureau statistics demonstrating that a decade ago, more than two-thirds of married couples made it to their 15 year anniversary is significant. That's fifteen years and still going strong.
If you're reading this, then chances are you're approaching the same milestone. You deserve more than a simple congratulations, as it takes commitment, communication, and cooperation.
How about commemoration and celebration?
Celebrity Couples Who Hit the 15 Mark
You're in good company if you're approaching your 15th anniversary. Despite having a spotlight shining on them, some prominent celebrities have moved beyond 15 and are well on their way to their 20th anniversaries.
| | |
| --- | --- |
| Couple | Years |
| Robert and Susan Downey (Robert Downey Jr.) | 16+ |
| Julia Roberts and Danny Moder | 19+ |
| Sarah Michelle Gellar and Freddie Prinze Jr. | 17+ |
| Matt Damon and Luciana Barroso | 16+ |
| Pink and Cary Hart | 15+ |
| Chip and Joanna Gaines | 18+ |
| Viola Davis and Julius Tennon | 18+ |
| Elizabeth Banks and Max Handelman | 18+ |
Celebrate a Sparkling and Rosy 15 Year Anniversary
You don't have to stick to literal definitions of anniversary themes. Instead of giving crystal, you could set off on a crystal-based adventure or set aside the vase and surround yourself with roses in Morocco.
The Crystal Caves in Bermuda – Mark Twain, the famed author of The Adventures of Tom Sawyer, embarked on his own adventure. He was the first tourist to visit Bermuda's Crystal Caves, formed during the Ice Age. You don't have to spend all your time underground. But isn't it a great reason to pack your bags and head to an island paradise?
One-hundred thousand Roses in Morocco – You don't need convincing to plan a 15 year anniversary celebration at the five-star Mandarin Oriental Marrakech. However, if you're sticking to tradition, which includes the anniversary rose, then the 100,000 flowers surrounding the private villas should do the trick.
Plus, if you're up for some outdoor activities, like hiking, you can also spend a few days in the Valley of Roses. It's about six hours away, but the aroma of potpourri and essential oils will lead you right to it.
A Crystal Cruise – It's right there in the name. Cruises are synonymous with anniversary celebrations, so why not a Crystal Cruise?
Your 15 year anniversary will be unforgettable, as Crystal is all about luxury. You'll eat Michelin-inspired cuisine, reserve in-suite massages, enjoy top-notch entertainment, and cuddle up together under mohair blankets. With the luxurious amenities available on board, you can probably request to have your room filled with roses as well!