AmoLatina Review
Looking for Latino singles? You're on the right review! AmoLatina is a niche dating site that features gorgeous men and women from Latin American counties like Mexico, Columbia, Costa Rica, Panama and Brazil.
Users can browse through a seemingly countless list of options for that one perfect match. But, how good is AmoLatina really?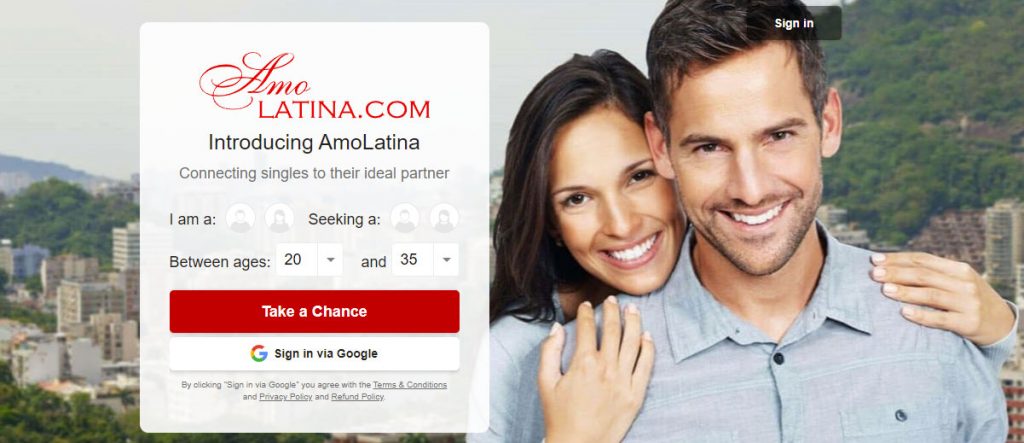 While the app has a bunch of interesting features for you to interact with, there are also features that may be off-putting to some users. If you'd like more details, read on for our complete AmoLatina review, to help you decide for yourself whether or not this Latina dating app is worth your time.
AmoLatina – The Bottom Line Up Front
If you were to use AmoLatina to look for a serious relationship with a beautiful Latina woman, our advice is to tread with caution. With all the gorgeous profiles you see on this site, it is easy to be tempted, but with its chargeable features and propensity to encounter fake accounts, you may have to seriously consider who you wish to pay to chat with.
However, once you find the one perfect match on the site, you should use the communication features the site has to offer to confirm the profile's authenticity. We liken the experience to striking a lottery, but sometimes, you've got to keep trying until you get it.
In short, if you're looking for a serious relationship with a Latina woman, you might be better off, spending less money, time and effort, looking at other online dating sites of a similar niche.
---
You've Got Options! – Still on the fence about AmoLatina? We encourage you to read this full review to answer any questions you may have, but we just wanted to let you know there are some great alternatives available. Click here to learn more about the top Latino dating apps.
---
Overall AmoLatina Rating
| Category | Score |
| --- | --- |
| Quality Matches | 8.0/10.0 |
| Features | 8.0/10.0 |
| Ease of Use | 8.0/10.0 |
| Support | 7.0/10.0 |
| Cost | 6.5/10.0 |
| Overall | 7.5/10.0 |
7.5/10.0
Pros and Cons of the AmoLatina Dating App
Pros
Quick and simple sign-up process with free credits
A variety of communication options with translation services, such as emails, live chats, phone calls and CamShare
Majority of the profiles found on the site are very attractive
Cons
Expensive to access communication features, where every minute is chargeable
Many reports of scam accounts especially with high-quality, but non-responsive users
Site presentation is rather dated
Who AmoLatina Is Good For
Those who are keen to get to know Latina women
Those who are willing to pay to chat with stunning Latina women
Those who love to watch and interact with other live streaming users
Who AmoLatina Might Not Be Best For
Those who have no interest in Latina women
Those who prefer free communication features on dating sites
AmoLatina Review – Table of Contents
Fast Facts About AmoLatina
Site Name: AmoLatina
Paid or Free: Paid site with a limited access
Average Sign-Up Time: Less than 3 minutes
Paid Membership Pricing: Plans starting from $19.99 per month
Unique AmoLatina Facts and Figures:

Launched in 1993
Community of over 20 million verified users
Covers more than 32 countries
AmoLatina Features Overview
AmoLatina has a simple and somewhat dated interface as compared to modern online dating sites, but it has some useful communication and broadcast features that facilitate interaction among users, such as email, live chat, phone calls and CamShare, which are all chargeable by the minute. There is also translating service available for live chats and calls, should you require it.
Call Me
Should you find text messages to be insufficient in getting to know someone, but too shy to move on to a video chat, the Call Me function on AmoLatina may come in handy. With this feature, you can communicate with your match through voice calls, after your match accepts it. The platform also has translators on standby, should you require their service during the phone call, so that both of you won't be bothered by the inability to understand each other. Do note that the calls that require translators cost more credits as well.
CamShare
CamShare is a video chat feature that provides a real-time connection between users, beyond text messages. You can access the CamShare feature with any member that has the CamShare button on their profile photo. Click on it and you can see each other as you chat, not only verifying the profile's authenticity, but also building a stronger connection with them before an actual meetup.
Broadcasts
AmoLatina's live streaming function is under the Broadcasts tab, where you can view live streaming by users on the site for free. This allows you to have a better understanding of the user's personality, beyond their profile photos, before you make the decision to pay to chat with them privately.
The Quality of Singles at AmoLatina
AmoLatina is filled with attractive, single Latina ladies that you may find too good to be true. Looks like AmoLatina expected your concern as they explained in their FAQs that photos of members may be curated for quality, validity and whether they are up-to-date, but none of the members is paid to be on the platform. Should there be any violation of this rule, users are free to report them to AmoLatina's customer support team.
That being said, you will find no lack of high-quality profiles on this dating site. Not only are the profile photos attractive, but their detailed profile description is also useful in deciding if they are compatible with you and worth you spending credits to chat with them.
How to Sign Up at AmoLatina
The sign-up process for AmoLatina is pretty straightforward and probably takes less than 3 minutes to complete. You simply need to fill in some basic information, such as gender, gender preference, age range, name, email address, password, birthday, and hometown.
The subsequent prompts on details about yourself, your ideal partner, your interests, and even uploading of profile photos are all skippable. The last step is to verify your email address and you can access the site to start browsing.
It is highly advisable for you to build your profile by uploading your profile photos and filling in the details about yourself as well as your preferences, so that you have a higher chance of matching with someone. After all, who would make the first move on a faceless, empty profile?
Price | How Much Does AmoLatina Cost?
AmoLatina does not have a monthly subscription plan with access to specific features. Instead, it provides monthly subscription plans for credits, so you can use them to access any feature you like, with the option to purchase additional credits, if needed. These credits are available for renewal on a monthly basis:
| Amount of Credits | Credit Cost |
| --- | --- |
| 150 credits | $19.99 per month |
| 600 credits | $149.99 per month |
| 1500 credits | $299.99 per month |
With these credits, you can:
Send and receive email messages (with translation): 10 credits per message
Send videos/photos: 15 credits each
Live call (with translation): 10 credits per minute
Live call (without translation): 5 credits per minute
Live chat: 1 credit per minute
Live CamShare: 6 credits per minute
Send virtual gifts: 15 credits per gift
Customer Support Options
Instead of the web enquiry form we usually find on online dating sites, it is great that AmoLatina readily provides its email, customer support number and mailing address on the About page as well as Terms and Conditions page of its site, along with the FAQs. This way, users can have the option to receive instantaneous replies to their queries, rather than having to wait indefinitely for an answer.
FAQ – Answering Your Questions About AmoLatina
Can I access AmoLatina via an Apple app?
Unfortunately, it looks like we can only find AmoLatina on a web browser as well as Google Play store, but not on Apple App store. You can still access the site via web browser on Apple devices though.
Are there fake profiles on AmoLatina?
From all the negative reviews we have seen, it looks like there are many fake profiles on AmoLatina. However, no matter how much it may seem like a needle in a haystack, you may still wish to give AmoLatina a go, simply for a chance that you may meet a genuine, beautiful Latina woman as the love of your life.
Is AmoLatina only restricted to women from Latin America?
Although the site is specifically for those seeking to interact and get to know Latina women, it is currently available in over 32 countries. Users may also find men from Latin America through AmoLatina.
Is AmoLatina a scam?
We acknowledge that there is a substantial number of negative reviews depicting AmoLatina as a scam, as users are being lured by attractive, fake accounts to purchase credits and pay to interact with them. However, there are also positive reviews, highlighting the success stories where couples have established genuine relationships through the site. With its extensive communication features, including CamShare and phone calls, that allow you to verify user profiles, it is unlikely that AmoLatina is a scam, although one may still have to be careful in choosing the profiles to approach, since most of the features are chargeable.